Spin Me Round Trailer: Alison Brie And Aubrey Plaza Wild Out In Italy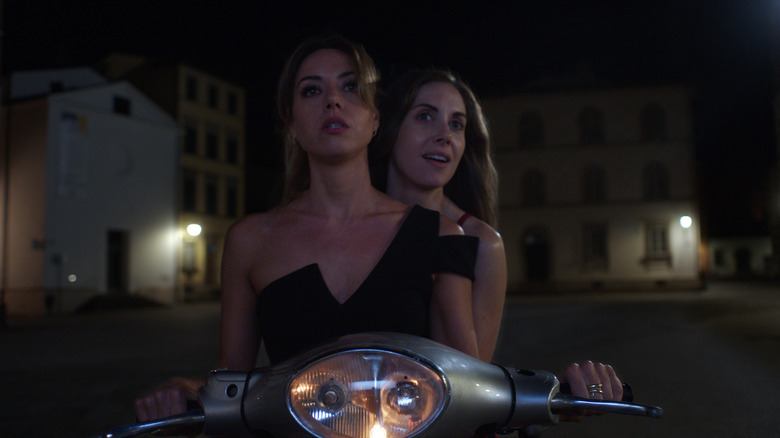 IFC Films
Move over, Brad Pitt/George Clooney, Ryan Gosling/Emma Stone, and dare I even say Al Pacino/Robert De Niro. Make way for the unstoppable force that is the Alison Brie and Aubrey Plaza team-up.
We've had the pleasure of watching both talented actors play off one another in 2017's "The Little Hours," the irreverent little comedy that put a hilariously modern twist on 14th century subject matter. Not content to strike gold only to let that collaboration turn into a one-and-done deal, filmmaker Jeff Baena decided to follow that up with a brand-new project and bring along Plaza, Brie, and even Molly Shannon for the ride.
Known for "Life After Beth," "The Little Hours," and "Horse Girl" (not to mention being Plaza's husband), writer/director Baena decided to reunite with his frequent collaborators on "Spin Me Round," the chaotic-looking dark comedy that sees Plaza, Brie, and Alessandro Nivola ("You Were Never Really Here," "The Art of Self-Defense," "The Many Saints of Newark") all caught up in a web of romance, intrigue, and mystery while on a seemingly idyllic work trip to Italy.
We already know that stars Plaza and Brie boast reams of on-screen chemistry and this newest trailer certainly doesn't shy away from that fact. Check it out below!
Spin Me Round trailer
How off-the-rails could an all-expenses-paid trip to Italy full of romantic yachting excursions, exorbitant dresses, and all the authentic Italian culture one could possibly hope for truly get? Well, the answer feels almost self-explanatory after watching that footage.
Gifted with the work trip of a lifetime, Alison Brie's lowly restaurant manager Amber finds herself swept up into a much more complicated situation than she ever could've anticipated. With her eyes fully set on a possible romance with Alessandro Nivola's charismatic restaurant owner Nick, things start to degrade spectacularly fast when his intrusive and unpredictable assistant Kat (Aubrey Plaza) enters the fray and throws everything into chaos. The rest of the cast includes Molly Shannon, Ayden Mayeri, Ben Sinclair, Tim Heidecker, Debby Ryan, Fred Armisen, and Lil Rey Howery.
/Film's Ethan Anderton reviewed the film out of the South by Southwest Film Festival back in March of this year, calling it:
...a somewhat Hitchcockian thriller with a 1970s-style international romance and an indie comedy, resulting in a movie that's somewhere between "Waiting..." and "The Talented Mr. Ripley."If that sounds like a lot, that's because it is. But somehow this genre mash-up still coalesces into a film that is quite entertaining, largely because it's so unpredictable, weird, and flat-out funny.
"Spin Me Round" comes to theaters and VOD in a hybrid release on August 19, 2022.
It sounds like the adventure of a lifetime: an all-expenses-paid trip to Italy, where a lucky few managers from an American fast-casual restaurant chain will get a crash course in the culinary arts against the backdrop of a scenic villa. Unfortunately, the getaway doesn't always match the brochure, and Amber (Alison Brie) soon finds herself juggling mundane training exercises, an unexpected love triangle, and maybe an insidious conspiracy during her sojourn.