Disney's Getting Into The BTS Business With Three Exclusive New Projects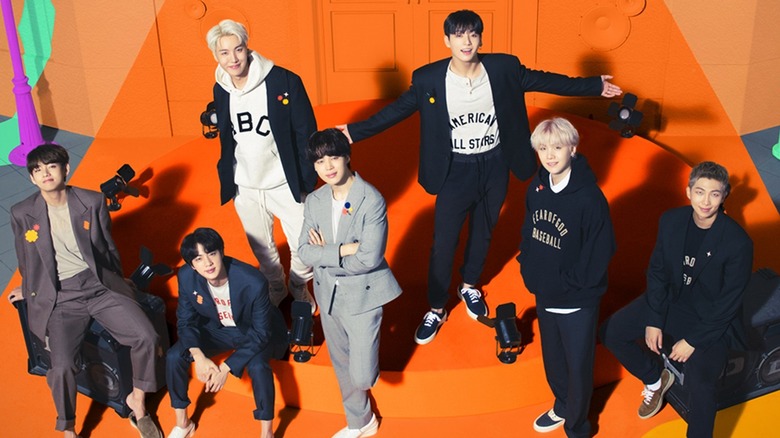 Hybe Studio
Apparently, the BTS hiatus is short-lived as Hybe studio has partnered with the Walt Disney Company to develop five new streaming titles, including three exclusives featuring the whole of BTS or select BTS members for Disney+. If this is a move for Disney+ to garner a bigger global audience, they certainly played it smart. It is impossible to explain the popularity of BTS to people unfamiliar with the world of K-Pop, but trust and believe there is no exaggeration when the group is described as being "the biggest band in the world." 
When "The Batman" hit theaters back in March, BTS usurped the superhero film at the box office in multiple territories. "BTS: Permission To Dance On Stage" set a record for the largest box office performance of a live cinema event, earning $32.6 million worldwide. 
Let me clarify that for you — they didn't beat "The Batman" with a pre-recorded concert movie, but with a simultaneous live stream of a concert performance. Meaning that $32.6 million was made all at once, in real time. Don't you dare underestimate the power of ARMY. (That's the fanbase for BTS. Saved you a Google.)
'Today we will survive!'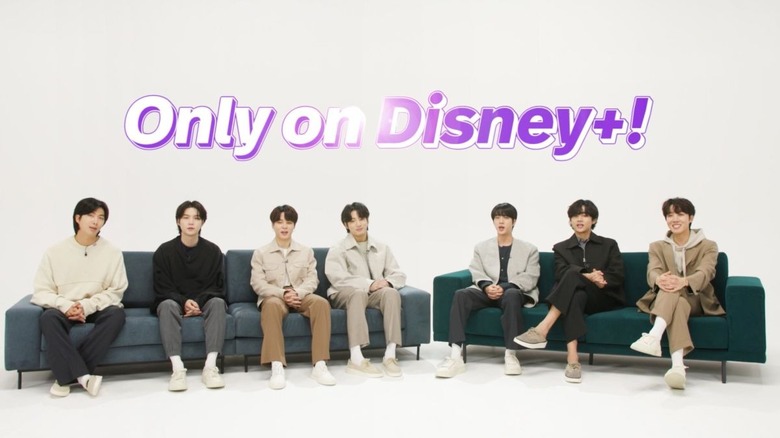 Disney+
"We are thrilled to be collaborating with Hybe to showcase their original content created with powerful artist IP on our global streaming services including Disney+," Jessica Kam-Engle, Disney's APAC head of content told The Hollywood Reporter. "This collaboration represents our creative ambition — to work with iconic content creators and top stars in Asia Pacific so their talent can be enjoyed by mainstream audiences in multiple ways. We believe these new titles will captivate consumers worldwide and look forward to introducing more music content on our service."
The three exclusive titles include "BTS: Permission to Dance on Stage — LA," the recorded version of one of the live concerts on the same tour that provided the record-breaking livestream, showing the first time the band had performed and met fans in person in two years due to the pandemic. "In the Soup: Friendcation" is an original travel reality show featuring V of BTS, Seo-jun Park from "Itaewon Class," "Parasite" and "Train to Busan" star Woo-shik Choi, Hyung-sik Park, and Peakboy as the five friends travel on a surprise trip, which sounds wholesome. I'm in. The third exclusive, meanwhile, is "BTS Monuments: Beyond the Star," a docu-series all about the group's rise to international acclaim, as well as how the group plans to move ahead for their second chapter.
Disney+ has been taking a page from Netflix and the popularity of "Squid Game" by beefing up their offerings with content from South Korea. The streamer has pledged to release 20 Korean titles this year, with at least 12 being Korean originals. As of publication, the most popular original on Disney+ to date has been "Snowdrop," featuring Jisoo of the K-pop girl group Blackpink.