Will There Be An Only Murders In The Building Season 3?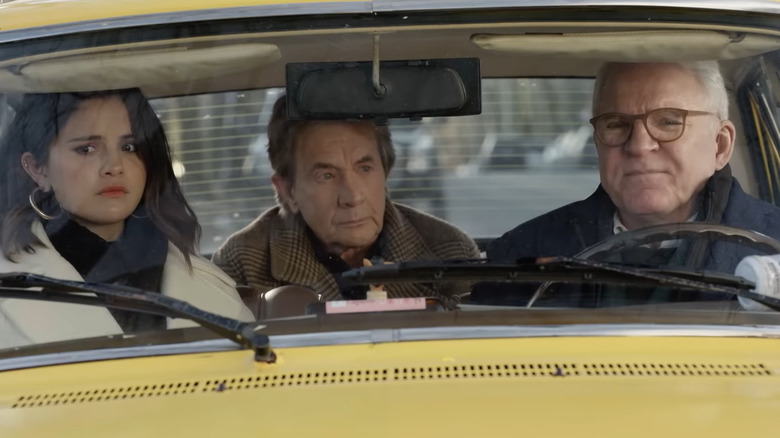 Hulu
"Only Murders in the Building" season 1 was a pandemic binge for many of us. The second season of the Hulu Original recently hit the streamer, and if possible, is even more charming than the first. Season 1 brought together Charles (Steve Martin), Oliver (Martin Short), and Mabel (Selena Gomez), who try to solve a murder in their building, tangling them in a web of intrigue, grouchy neighbors, love, and resentment. The second season has the trio accused of being involved in a second murder, leading them to become the subjects of another podcast. 
Today Hulu has revealed that the series has been renewed for a third season after only three episodes of season 2 have aired. The first season of "Only Murders in the Building," according to Hulu, debuted as the most-watched comedy on the service in Hulu Originals' history, with both seasons certified fresh on Rotten Tomatoes.  
The second season of the series brought in new regulars and guest stars including Cara Delevingne, Michael Rapaport, Amy Schumer, and Shirley MacLaine. There isn't any other info about the third season available at the moment, but we'll keep you updated once we hear more. 
Maybe it's time to move to a new building?
Craig Erwich, President, Hulu Originals and ABC Entertainment said of the renewal:
"'Only Murders in the Building' is the true crown jewel of our slate. Its appeal across generations, the intersection of humor and heart, and its truly original approach are a hallmark of and testament to Dan [Fogelman], John [Hoffman], Steve, Marty and Selena's work. We are grateful to be able to continue telling the stories of Charles, Oliver and Mabel to viewers that have consistently shown us they crave more of this story."
The show has consistently been a bright spot in the world that feels heartwarming and clever. I know that "heartwarming" is a very strange thing to say about a show about multiple murders, but while the mystery and mystery-solving is a whole lot of fun, it's the relationship between all these characters that really draws you back each week. Okay, maybe also Mabel's fantastic outfits, but mostly the relationships.
"Only Murders in the Building" comes to us from co-creators and writers Steve Martin and John Hoffman. They both executive produce alongside Martin Short, SelenaGomez, Dan Fogelman ("This Is Us"), and Jess Rosenthal. Here is the synopsis for the second season:
Following the shocking death of Arconia Board President Bunny Folger, Charles, Oliver and Mabel race to unmask her killer. However, three (unfortunate) complications ensue – the trio is publicly implicated in Bunny's homicide, they are now the subjects of a competing podcast, and they have to deal with a bunch of New York neighbors who all think they committed murder.
"Only Murders in the Building" season 1 is available in its entirety on Hulu, with the first three episodes of season 2. Other episodes follow weekly on Tuesdays.