Mykelti Williamson's Heat Casting Came Out Of An Oscar Snub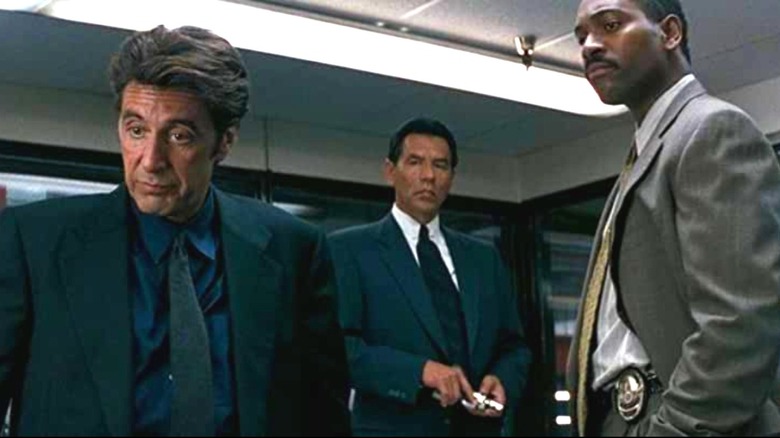 Warner Bros.
When the crime drama "Heat" hit theaters in June of 1995, it was a big deal. Even though Al Pacino and Robert De Niro both starred in the 1974 classic "The Godfather: Part II," their characters' stories take place in two separate time periods — and because neither character drives a DeLorean with a flux capacitor, the film ends without the two actors sharing any screen time together. More than two decades later, not only was "Heat" marketed as the movie in which fans would finally see Pacino and De Niro in the same scene together, but the film's trailer teased an epic collision between the two iconic actors: A cop (Pacino) pursues a violent professional robber (De Niro) in a cat-and-mouse chase guaranteed to end in deadly gunfire.
The film's writer and director, Michael Mann, surrounded the two heavyweights with a star-studded supporting cast that included Jon Voight, Val Kilmer, and a teenage Natalie Portman. He cast Mykelti Williamson as Pacino's backup, Sergeant Bobby Drucker. For Williamson, his casting came as a surprise. "I was really shocked that I got the job in the first place," Williamson said during a 2016 "Heat" cast panel hosted by the Academy. The "ATL" actor would learn that he landed the role because Pacino felt he deserved an Oscar nomination for his performance in a movie that came out a year prior: "Forrest Gump."
No Oscar nomination for Bubba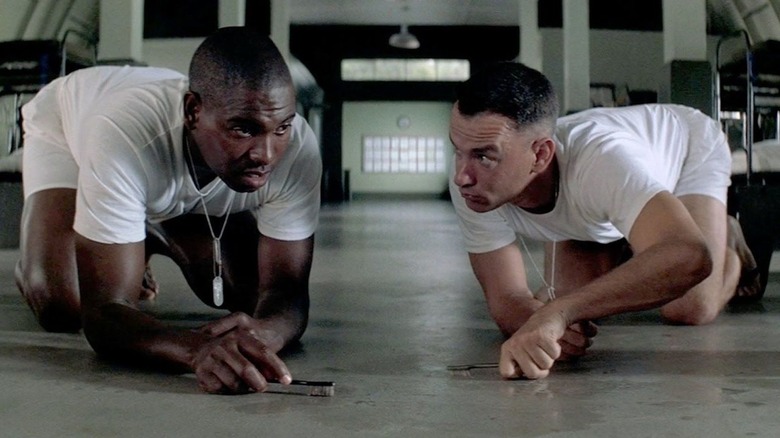 Paramount Pictures
In "Forrest Gump," Mykelti Williamson plays the innocent Benjamin Buford Blue, also affectionately known as Bubba. He's Forrest Gump's "best good friend" and Vietnam War comrade who has big dreams of someday becoming a shrimp boat captain. The role was primed to be Williamson's breakout performance. "He brought the right tone to the character," the film's director, Robert Zemeckis, told the LA Times in '94. "He can do comedy, he can do drama, he can convey emotion. He's got a real leading man quality."
One of my favorite moments in the movie is when Bubba tells Forrest all the dishes you can make with shrimp: "shrimp kabobs, shrimp creole, shrimp gumbo — pan fried, deep fried, stir fried. There's pineapple shrimp, lemon shrimp, coconut shrimp ..." Bubba goes on and on in a scene that Williamson told the LA Times was improvised. "[Zemeckis] didn't cut, so I just kept on improvising more ways to fix shrimp," Williamson said. He also recalled that working on the film was very intense. He had to go through basic training and live in a jungle in South Carolina for week while shooting the Vietnam War sequences. There, he suffered heat exhaustion, got poison ivy, and was chased by a 6-foot-long water moccasin ... Sounds like an Oscar-worthy experience if you ask me.
"Forrest Gump" dominated the 1995 Academy Awards, winning Best Picture, Directing, Writing (Screenplay Based on Material Previously Produced or Published), Visual Effects, and Film Editing. Also, Tom Hanks took home the Oscar for Actor in Leading Role as the film's titular character. Gary Sinise, who plays Lieutenant Dan Taylor, Bubba and Forrest Gump's platoon leader, would get a nomination for Actor in a Supporting Role, a consideration Al Pacino believed Williamson deserved.
'You got robbed'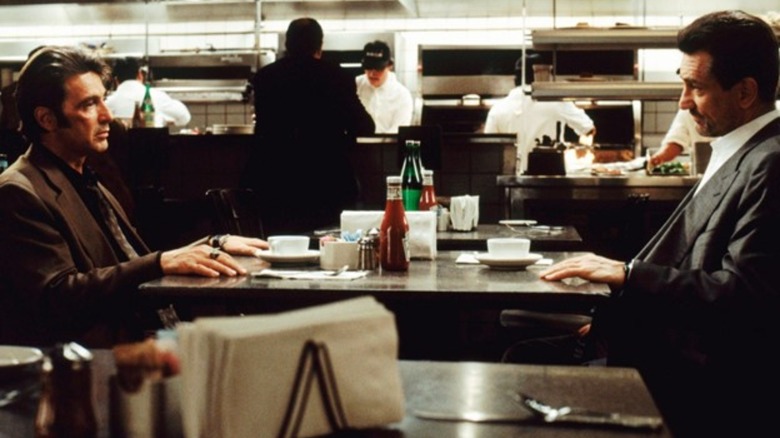 Paramount Pictures
During the 2016 panel with the "Heat" cast members, Mykelti Williamson recounted how his manager called and told him that "Heat" screenwriter-director Michael Mann and its lead Al Pacino wanted to meet him. Williamson said he met Mann at his office, then Pacino showed up and exclaimed, "You got robbed, you didn't get a nomination for 'Forrest Gump.'" At the time of the meeting, the role of Sergeant Bobby Drucker had already been filled, but Pacino wanted him so badly that, according to Williamson, Pacino and Mann paid the already cast actor off and hired Williamson ... all because he didn't get an Oscar nomination.
"Heat" isn't one of Williamson's most memorable roles — at least for me it isn't. In a movie that's three hours long, I almost forget he's in it. My personal favorite Mykelti Williamson movie role is probably a toss up between Uncle George in "ATL" and Bubba. The irony in Williamson's story is he noted that when he got the call from his manager that Mann and Pacino wanted to meet with him, he had just picked up some shrimp and was on his way to go fishing. Apparently, there's a Bubba deep down in Williamson after all.