The Color Of Money Seemed Doomed Until Disney Stepped In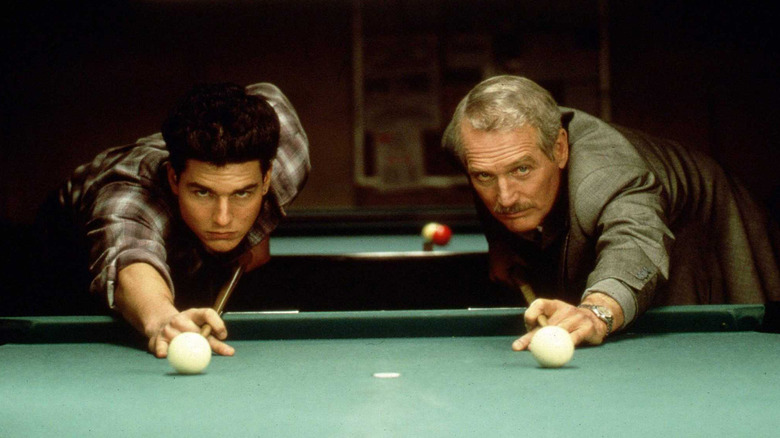 Buena Vista Distribution
One evening I was in a grotty pool hall down by the docks, absolutely battering my mate. I was on fire that night and in the last game, I was on the black once again. I had a good angle into the bottom corner pocket so I decided to do the Tom Cruise thing from "The Color of Money," sinking the winner while looking my opponent in the eye.
Except, I thought, I'll do it better than Cruise. I lined up the shot, turned to give my friend a smug grin, and banked it off the cushion into the opposite corner pocket instead. I dropped to my knees to celebrate and, with a loud ripping noise, tore the seat out of my pants. I learned two things that night: the cosmos hates a show-off, and we mere mortals can never out-do Tom Cruise.
"The Color of Money" gets a little lost in the conversation about Martin Scorsese, but it was something of a course correction for the director in the '80s. After the Oscar-nominated success of "Raging Bull," "The King of Comedy" was a major flop, and his passion project "The Last Temptation of Christ" was shelved after the studio got spooked by pressure from religious groups. He made "After Hours" instead, which has its fans but gave little indication of his later triumphs. That was when Paul Newman approached him about "The Color of Money," a sequel to Newman's 1961 film "The Hustler."
Scorsese directing a sequel to a '60s classic with a Hollywood legend reprising one of his signature roles, opposite a hot new up-and-comer called Tom Cruise, sounds like it should have been a no-brainer. But when it came to the crunch, it took an unlikely intervention from the House of Mouse to get it made.
Disney does Scorsese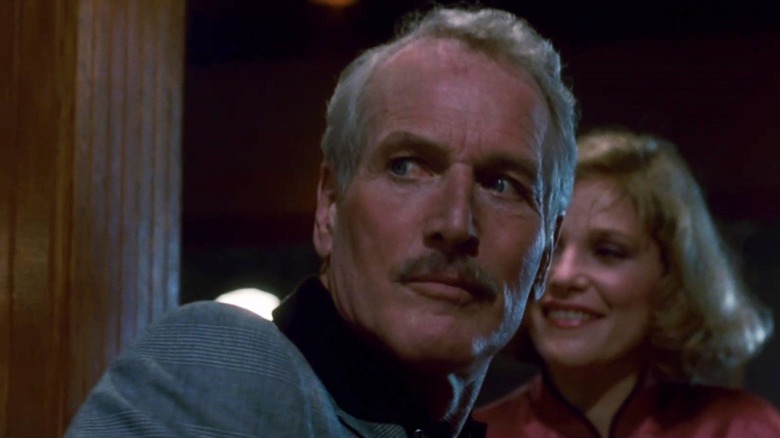 Buena Vista Distribution
"The Color of Money" came about when Paul Newman called Scorsese about a script, convinced that the "Taxi Driver" director was the guy to help him revisit "Fast" Eddie Felson, the self-destructive pool shark he portrayed so memorably in "The Hustler." Scorsese admired Newman and agreed that Felson was just the kind of unsympathetic character he excelled at bringing to the screen, but still wasn't terribly interested in doing the picture. Nevertheless, he met with Newman, discovered they were on mutual ground regarding Felson, and decided to commit.
Scorsese teamed up with novelist Richard Price for the screenplay, taking the title but little else from "The Color of Money," the book by Walter Tevis, who also wrote the original source material. With Newman also lending his input, they spent six months honing the script before they were ready to go.
The trouble was, major studios didn't want it. 20th Century Fox passed, as did Columbia. Scorsese said (via Cinephilia & Beyond, pulling from an article by Peter Biskind and Susan Linfield, Chalk Talk, comes from an issue of American Film, November 1986.):
"I think in a case like this, given the kind of film that it is, even with Newman and Cruise—it's not what the studios need. We are now talking about censorship in America, which is worse than the blacklist, and the kind of difficulties certain unique sensibilities have. We now have to do it with a lot of style, and very cheap, in order to get projects done. There's no guarantee of anything in this business any more unless it's a big epic—invading cannibals."
That's when Disney CEO Michael Eisner and producer Jeffrey Katzenberg snapped up the project for their newly formed Touchstone label. Scorsese, Newman, and Disney don't seem like a great match on paper, but Price was enthusiastic:
"They were great. I'd do a pornographic movie with them. 'Bambi Does Dallas.'"
The pay-off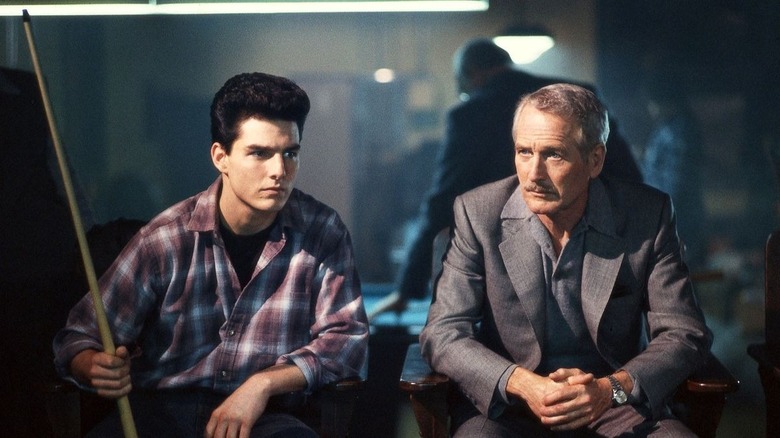 Buena Vista Distribution
Even with Touchstone green-lighting the project, Scorsese had to work with a tight budget and commit a portion of his and Newman's salary as insurance should it run over. Yet Newman's faith in the film paid off; it made decent box office, received positive reviews, and won him his first Oscar after six previous acting nominations. 
It's always a joy to watch Newman playing antiheroes like Felson, a once-talented player with the cynical soul of a lifelong loser. The film catches up with him 25 years after he walked away from the game, now making a decent living as a liquor salesman and stakehorse for other pool players. After encountering Vincent (Cruise), a gifted but immature young grifter, he senses another shot at the big time. Convincing Vincent and his girlfriend Carmen (Mary Elizabeth Mastrantonio) to go on the road in preparation for a big tournament, it isn't long before the thrill of the hustle lures Eddie back to the green baize.
"The Color of Money" is solid Scorsese; he has an affinity for the nitty-gritty of city life and the film really takes off in the pool hall scenes, the camera roaming through seedy crowds and prowling around the table as Vince and his marks play. Cruise matches Newman stride for stride; as he also showed in "Rain Man," he relishes the opportunity to play off an acclaimed older actor. Mastrantonio makes up an irresistible trio as the hard-nosed Carmen, earning an Oscar nomination.
The story meanders and the finale doesn't land with the same bitter impact as the original, but who cares when you have a director and his stars working in this kind of form? Just be careful trying to replicate those trick shots down your local pool hall.