Rise Of The Teenage Mutant Ninja Turtles Trailer: Grab The Pizza! It's Time For A New Animated Movie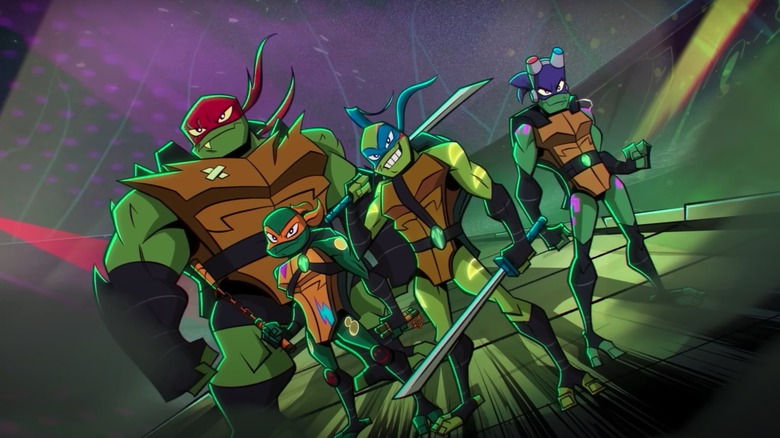 HBO
If you're a fan of the "Rise of the Teenage Mutant Ninja Turtles" animated series from Ant Ward and Andy Suriano, you're going to be very happy. Today, Netflix After School has released the new trailer for the upcoming series continuation, "Rise of the Teenage Mutant Ninja Turtles: The Movie."
Way back at the beginning of 2021, or approximately a century ago, the TMNT account on Twitter posted a synopsis:
RISE OF THE TMNT: THE MOVIE

When a mysterious stranger arrives from the future with a dire warning, Leo is forced to rise & lead his brothers, Raph, Donnie, & Mikey in a fight to save the world from a terrifying alien species...the Krang!
It's a little light on details, but you'll get it all filled in by watching the trailer. Basically, Casey Jones is a kid from the future, who has been studying with Master Leonardo. He has been given a mission before he traveled back in time by his master. He is supposed to "Find the key, stop the Krang." That's the alien race that has come to Earth to destroy it and remake it, "in the image of Krang." Something seems to take away the "mystic powers" of the turtles, while the aliens are using the key to wreck things. I think they travel forward into the future, or maybe the alien attack happens now, but either way, it's a big old mess. 
Turtle power
In the trailer, one of the turtles mentions that they have a "ninja's greatest weapon — hope." I guess I thought a ninja's greatest weapon was a sword, the stealth, or the years of training, but yeah, hope works, too. It all feels very hopeful and funny, and definitely has a "kid" feel to it. I admit it's been a while since I was aware of the Teenage Mutant Ninja Turtles, but it's nice to know that they're still cracking wise and saving the world. 
The film is directed by Ant Ward and Andy Suriano, from a script by Tony Gama-Lobo and Rebecca May. It's produced by Nickelodeon Movies and Nickelodeon Animation Studio. It features the voices of Ben Schwartz as Leonardo/Leo, Omar Benson Miller as Raphael/Raph), Brandon Mychal Smith as Michelangelo/Mickey, Josh Brener as Donatello/Donnie, Kat Graham as April O'Neil, Eric Bauza as Splinter, and Haley Joel Osment as Casey Jones.
"Rise of the Teenage Mutant Ninja Turtles: The Movie" will premiere on Netflix on August 5, 2022.