This Beloved Pakistani Heartthrob Just Made His MCU Debut In Ms. Marvel Episode 5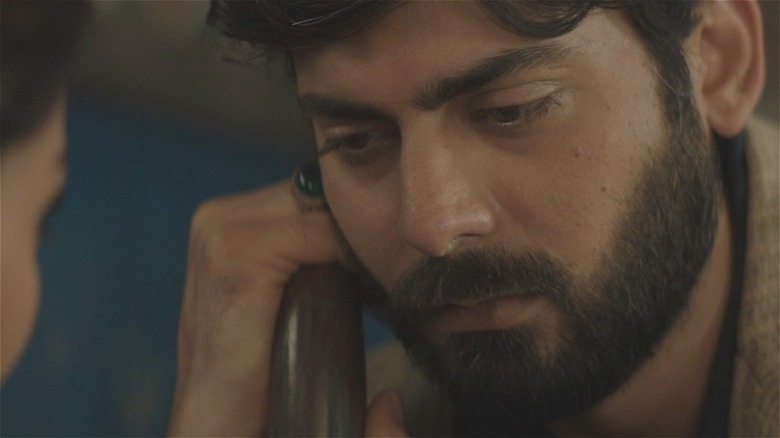 Disney+
Warning: Major spoilers ahead for "Ms. Marvel" episode 5.
"Ms. Marvel" is really the gift that keeps on giving, emerging as an underappreciated yet immensely enjoyable entry in the Marvel Cinematic Universe. Episode 4 ended with an emotional gut-punch, with Kamala (Iman Vellani) being transported back into the past in 1947, and finding herself in front of the last train that left for Karachi that fateful night. Prior to this, Kamala was made familiar with a version of what happened by her Nani, who told her that her mother Aisha (Mehwish Hayat) went missing that night and that she was briefly separated from her father, Hasan (Fawad Khan).
The fact that Fawad Khan would be making his MCU debut in "Ms. Marvel" episode 5 had been hinted at in episode 4 when Nani showed Kamala a picture of her younger self with Hasan. Although South Asian viewers are extremely familiar with Khan (in fact, fans went into a frenzy after he appeared onscreen, as they should), Western audiences may not recognize this extremely successful Pakistani actor, screenwriter, and singer.
Here's a look into Khan's acting career, both in Pakistani media and Bollywood, the significance of his role in "Ms. Marvel," and some personal film and television recommendations that feature the beloved actor.
A long string of charming, nuanced performances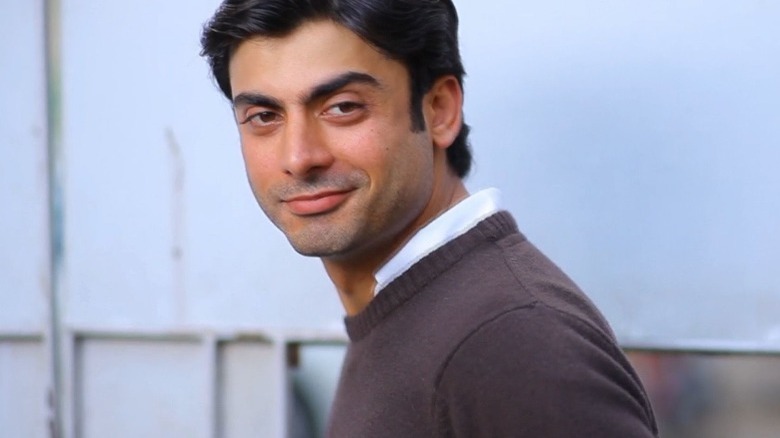 Hum Network Limited
Fawad Khan began his acting career with "Jutt and Bond," a satirical TV series based on detective storylines. Soon after, he was the lead vocalist and songwriter of the immensely popular Pakistani alternative rock band, "Entity Paradigm", alongside Zulfi, Ahmed Ali Butt, Salman Albert, and others. The sound of "Entity Paradigm" was influenced heavily by nu-metal and psychedelic rock, and the band belted out bangers like "Waqt" and "Kahan Hai Tu" as a part of their debut album, "Irtiqa." In 2007, they disbanded to pursue their individual careers, but "Entity Paradigm" made a partial comeback in 2009, with Khan and Butt returning. 
Then came Shoaib Mansoor's groundbreaking socio-drama, "Khuda Kay Liye," which featured Khan in the pivotal role of Sarmad, a musician who gives up his passion as it is considered "haram," and eventually joins a group of radical fundamentalists. Khan depicts this evolution convincingly, adding considerable pathos to the narrative in the process. "Khuda Ke Liye" still remains one of the highest-grossing Pakistani films of all time, and Mansoor etches a brutally honest tale that is absolutely worth checking out.
The period TV series, "Dastaan," which is based on Razia Butt's novel and centers on the separation of a young couple during the Partition of 1947, saw Khan shine in his role, for which he received the Best Drama Actor award at the Pakistani Media Awards. "Dastaan" is a heart wrenching Partition story, highlighting the chaos and pain that was inherently a part of the process, making it more than a love story that unfolds during trying times. As "Ms. Marvel" also situates the Partition story at the heart of its narrative, it allows for a sensitive, seminal representation of a historical event that affected countless individuals in life-changing ways.
Making a mark in Bollywood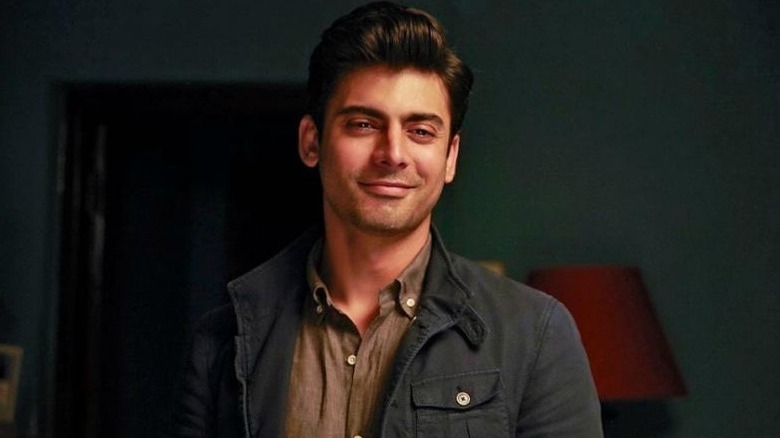 Dharma Productions
Prior to delving into his Bollywood career, I absolutely have to talk about the Pakistani drama, "Zindagi Gulzar Hai." Not only did Khan win numerous awards for his portrayal of Zaroon Junaid, but also infused his character with great complexity, as he plays an upper-class chauvinist who uses liberalism as a mere convenience. Zaroon's character is steeped in patriarchal notions, but he gradually begins to question the problematic belief systems that he was so comfortable in sporting, learning to let go of his toxic masculinity and becoming more vulnerable in the process. Khan does a great job of balancing these aspects, which makes Zaroon worth empathizing with in the end. Khan also went on to appear in several Pakistani television roles, including "Dil Deke Jayenge" Sarmad Khoosat's "Hamsafar," and "Satrangi," steadily working towards carving a space for himself as a talented performer. 
Khan made his Bollywood debut in "Khubsoorat" alongside Bollywood actor Sonam Kapoor, and his performance was well-received by critics and audiences alike (he won a Filmfare Award for Best Male Actor for this role). After this, Khan's Bollywood trajectory is simply chef's kiss (sorry, I'm biased), after he landed a crucial role in "Kapoor & Sons," in which he plays a closeted gay writer, a role he brings to life with stunning emotionality (and vulnerability). Later, in 2016, Khan appeared in a brief role in Karan Johar's "Ae Dil Hai Mushkil," adding delicious tension to the romantic dynamic between the two leads, emerging as a character worth rooting for, even if his cameo is painfully short.
Hasan and Aisha are one of the best MCU couples, fight me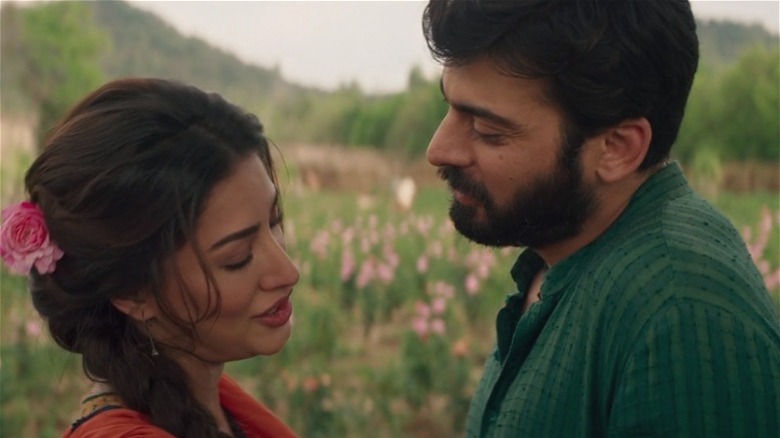 Disney+
Circling back to his role in "Ms. Marvel," the episode starts with a brief background of the socio-political situation in the Indian subcontinent prior to the Partition, introducing us to Hasan, who meets Aisha in his village. While the trajectory of their romance is brief (a little rushed, to be honest), the sentiments it evokes are beautiful, at least for me, a South Asian viewer, who never expected to see a desi romance blossom quite this way in a Marvel property.
Aisha and Hasan meet in a field of roses, and while there's bickering on their first encounter, Aisha gradually allows herself to be emotionally vulnerable (who wouldn't –– the man made her parathas right after they met). The two fall in love and have a child, Sana (who is Kamala's grandmother), and as communal tensions rise, they decide to take the train to Pakistan, which loops us back to Kamala's journey to the past in the show. 
Even though Hasan is completely unaware of Aisha's Clandestine origins, he does not flinch when she demonstrates the powers of the bangle — instead, he affirms that he will always choose her, no matter what. In a tragic turn of events, Aisha is stabbed by Najma (Nimra Bucha), and Sana, who is briefly separated from her father in the crowd, is helped by Kamala, who creates a plasma route so she can be safely reunited with Hasan on the train.
This might not be the last we have seen of Hasan, and we need to know what transpired in the past, and whether Hasan was ever reunited with Aisha (her name, after all, means "she who lives"). This episode had a lot of beautiful Fawad Khan moments, but nearly not quite enough.
Best Fawad Khan roles on the big screen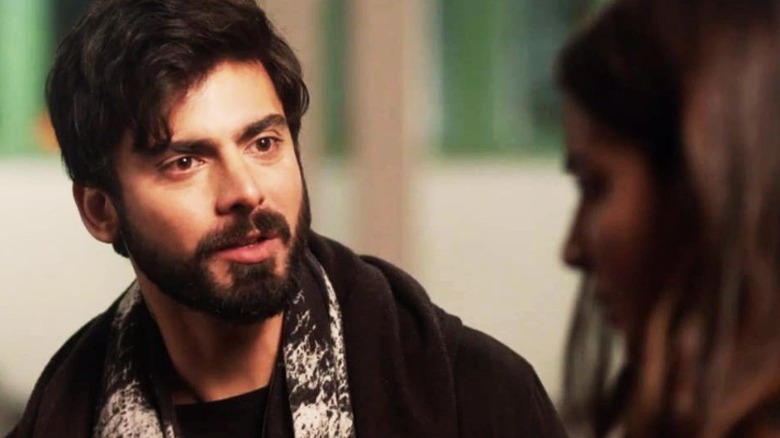 Dharma Productions
Here's a brief list of must-see films that feature Fawad Khan: 
Khuda Kay Liye (2010)
Follows two musician brothers, Mansoor and Sarmad, whose lives are altered in the aftermath of the 9/11 attacks in America, and the film delves into the misinterpretations surrounding the teachings of Jihad. A historic film for many reasons, features an electrifying cameo by Bollywood actor, Naseeruddin Shah. Khan's rendition of Sarmad is heartbreaking, as it paints a trajectory of a passionate individual who loses his way after being brainwashed by religious extremists. 
Kapoor & Sons (2016)
A story about family and homecoming, in which two estranged brothers return to their family after their grandfather suffers a cardiac arrest. Fawad Khan's performance as Rahul Kapoor is skillful and elevates the film in many ways, as he masterfully balances Rahul's outer and inner worlds, and portrays the character's struggles with his sexuality in ways that are authentic and gripping. Great, accurate portrayal of sibling relationships, replete with awkward rivalries and genuine moments of vulnerability.
Ae Dil Hai Mushkil (2016)
Fawad Khan appears in a brief cameo role and steals all the scenes he's in. His character, Ali, acts as the backbone to the central romantic conflict in the film, creating a tense love triangle in the process. Khan's character is relatable and many ways, as he is simply a man who falls in love with someone whose heart has always secretly belonged to another (as melodramatic as this sounds, the film is extremely fun). 
Special Mention: Khoobsurat (2014)
Although "Khoobsurat" is nothing groundbreaking in terms of narrative, Fawad Khan plays Prince Yuvraj, who holds back his emotions due to a disparity in social status between him and his love interest, but eventually, love obviously wins. 
Best Fawad Khan TV performances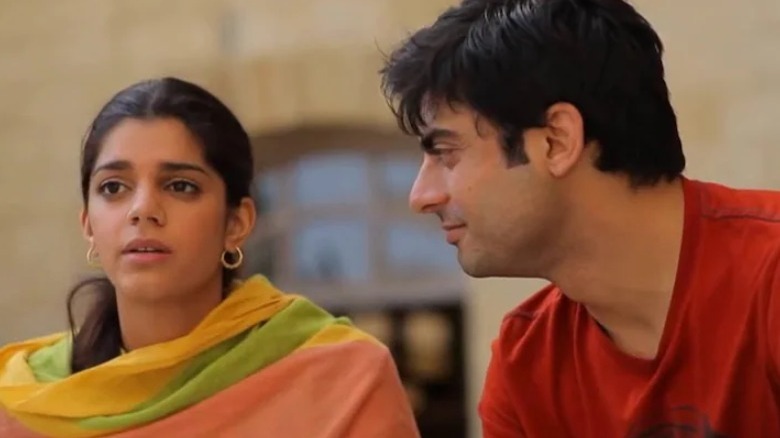 Hum Network Limited
Although Fawad Khan's TV credits consist of numerous acting stints, these are the roles that stand out:
Dastaan (2010)
This Pakistani TV series takes us through the Partition and the resulting Independence of Pakistan and depicts the tale of a girl named Bano, who hails a Muslim family living in Ludhiana, and how she later joins the All-India Muslim League. Khan plays Hassan, who falls in love with Bano, but the two are torn apart by fate and the political upheaval of the times, leading to a harrowing, unflinching tale worth checking out. Khan imbues Hassan with incredible nuance, as his transformation from a bright engineering student to a shell of a man broken by the violence around him is heartbreaking. 
Humsafar (2011)
A drama telenovela (yep) that delves into entrenched patriarchal notions in society (although the plot often heavily relies on these problematic tropes). Nevertheless, it features some standout poetic moments, there's some undeniably great chemistry between the leads, and it is a guilty pleasure. Khan plays Ashar Hussain, who belongs to an affluent family and is trapped in an arranged marriage situation with the female protagonist, Khirad (Mahira Khan). This is a classic tale of two people overcoming obstacles and gradually falling in love with each other, and Khan's Ashar is a flawed, yet lovable character. 
Zindagi Gulzar Hai (2012)
Two people with greatly opposing views and social standings come face-to-face with one another, wherein Khan's Zaroon is forced to check his privilege after crossing paths with the confident, empowered Kashaf (Sanam Saeed). The show balances romantic comedy with scathing social commentary and is a staple for Fawad Khan fans, as he plays a character who demonstrates incredible growth and gradually learns to hold himself accountable.