The Classic Stephen King Novel That Plays A Role In Stranger Things Season 4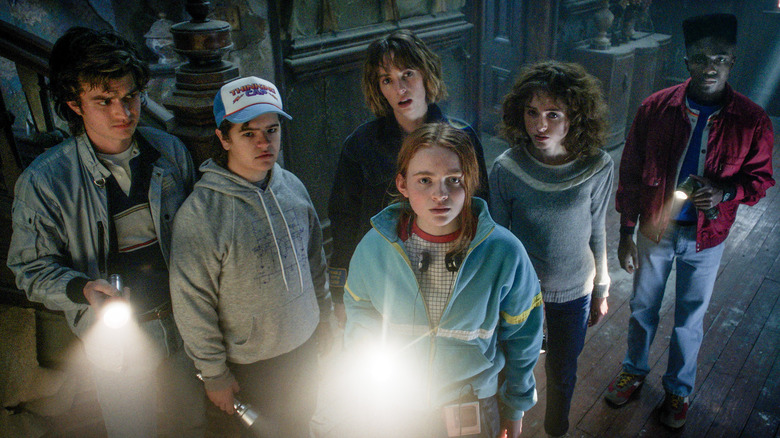 Netflix
Stephen King has been deeply ingrained in "Stranger Things" from the very beginning. Actually, strike that. King has been a part of "Stranger Things" even before "Stranger Things" was "Stranger Things."
Bear with me, this will make sense in a second.
"Stranger Things" was conceived directly in response to Matt and Ross Duffer getting shut out of a chance at making a movie based on Stephen King's "It." This was before The Duffer Brothers were a powerhouse, and Warner Bros said, "Thanks but no thanks" when they expressed interest in launching an "It" movie. Instead of admitting defeat, The Duffers created a series, then called "Montauk," that would eventually become "Stranger Things" and take over the world. That might have been for the best because we, the constant viewer, got both Andy Muschietti's take on "It" and "Stranger Things," as well.
The kid group in "Stranger Things" mirrors The Losers Club from "It" and even shares a common cast member in Finn Wolfhard. Also, that first season is all about a creepy, humanoid, monstrous figure that steals and eats children and it's up to these kids who really know what's going on to stop it.
The "Stranger Things" font is ITC Benguiat, made famous as the font on King covers like "Cujo," "Misery," and "Pet Sematary," and there's a whole lot of Charlie McGee from "Firestarter" in Eleven. Both are psychically powerful young women born to parents who were tested on by a shady government agency and hunted by that very same agency.
Point is, King and "Stranger Things" go hand in hand, so it should be no surprise when the season 4 finale had a major character actually reading a passage from a Stephen King book, but there's a lot to unpack with the novelistic cameo.
A meta nod to a future Duffer Brothers project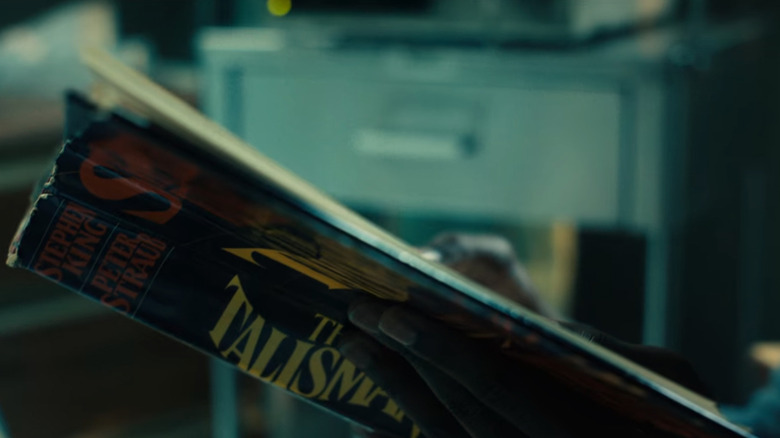 Netflix
Caleb McLaughlin's Lucas has a hardcover of King's and Peter Straub's young adult fantasy collaboration "The Talisman" cracked at Max's bedside and is reading the story to her. She's in a coma and there's no guarantee she can hear him, but he must know this is something she'd care about. "The Talisman" is about a young boy named Jack Sawyer who goes on a cross-country quest to save his dying mother. Travelin' Jack has the ability to "flip" between our reality and a darker parallel reality called "The Territories." Sounds a little bit like the Upside Down, doesn't it?
"The Talisman" is the rare '80s Stephen King book that has not been adapted. This is the era where everything with King's name was getting put on the big or small screen. Novels ("The Dead Zone," etc), novellas ("Stand By Me"/"The Body"), short stories ("Children of the Corn"), and even a weird mini-novel that started life as an illustrated calendar ("Cycle of the Werewolf"/"Silver Bullet") were all being adapted, so why not this hugely cinematic Amblin-esque adventure tale?
That's a long story, but the short version is that King and his co-writer, Peter Straub, sold the full rights to "The Talisman" to none other than Steven Spielberg. Spielberg spent years trying to crack this giant tome, enlisting screenwriters like Richard LaGravenese ("The Fisher King"), Ehren Kruger ("The Ring"), and Josh Boone ("The Stand") to try their hand at it, but nothing stuck and the movie never happened.
The Territories and The Upside Down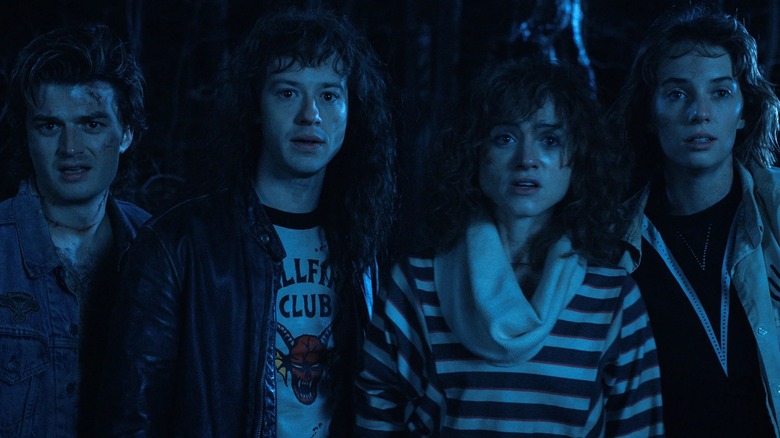 Netflix
Finally, after almost 40 years, it looks like "The Talisman" is on track to finally be adapted by, you guessed it, The Duffer Brothers. They've teamed up with Netflix and Spielberg to finally make "The Talisman" a reality, or at least they did before Netflix had its recent financial troubles. At any rate, with this talent at the helm and the crazy success of Netflix's tentpole show, it's a safe bet that "The Talisman" is still on and The Duffers will tackle it after "Stranger Things."
So, Lucas reading "The Talisman" is not only a nod to a highly influential King title but also one that we will be seeing sooner than later from the creative team behind the show.
It's also worth pointing out that the particular part of the book Lucas is reading is no accident. This passage is from the young hero, Jack, flips over to that book's version of the Upside Down for the first time. "Speedy! I'm here. My God, I'm here in The Territories." This is Jack calling out to his mentor, a wise older man named Speedy Parker, that he made it into this darker, magic-ruled realm that looks a whole lot like their own.
The Two Steves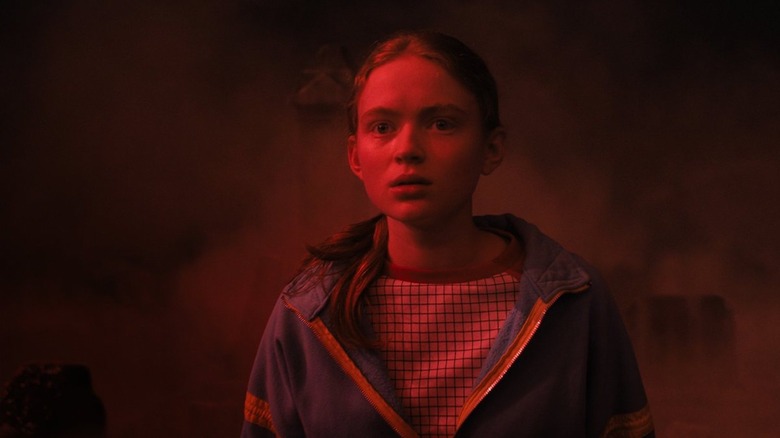 Netflix
Is this The Duffer Brothers acknowledging on Main that there are similarities between these two titles? Is it just a fun parallel to the tense last few episodes that centered on not just Eleven, but the whole Hawkins gang having to flip into the Upside Down to save the day on their own epic quest?
I had the good fortune to interview The Duffer Brothers a year or so ago for Backstory Magazine and most of that chat focused on the "Two Steves" that raised them, pop-culturally speaking. That is, of course, Spielberg and King. There's just as much "E.T." in "Stranger Things" as "Firestarter." So The Duffers tackling "The Talisman" is about as perfect a fit for that story as there can possibly be.
The only question is when they finally get to it, will they have homaged "The Talisman" so thoroughly in "Stranger Things" that the original inspiration will feel like a retread? It's happened before, and "John Carter" is a prime example. The Barsoom books by Edgar Rice Burroughs served as inspiration for "Star Wars" and a dozen other sci-fi fantasy adventures that by the time it got its day in the sun audiences turned their noses up at it. Been there, done that.
What is it with Sadie Sink and Stephen King, by the way?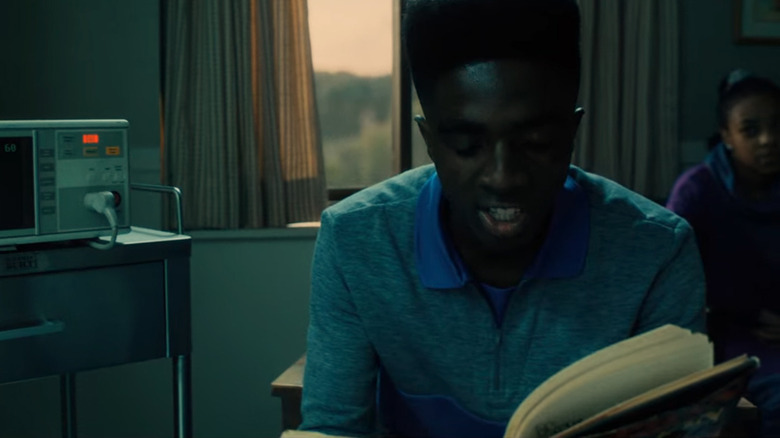 Netflix
It feels to me like the blatant, focused inclusion of "The Talisman" in "Stranger Things" is The Duffers planting a flag, signaling to their massive audience that both stories can co-exist. Maybe I'm reading too much into it and there's nothing deeper there, but if season 4 has taught us anything it's that this creative team loves to thread small details that have big payoffs down the line.
Or maybe it's all just a rider in Sadie Sink's Netflix contracts that Stephen King books have to be important to her characters. If you remember, an important detail in her "Fear Street" installment was that "Carrie" and "'Salem's Lot" were described to her in great detail.
Whatever the true answer is, this is one Stephen King fan who knowingly nodded his approval at the screen when good guy Lucas had his already battered hardcover copy of "The Talisman" out and was reading it to poor Max, who has been through hell this season. There's nothing that says "I love you" more than reading a Stephen King story. In this house, at least.