Martin Scorsese Had To Scrap Another Movie To Make The Irishman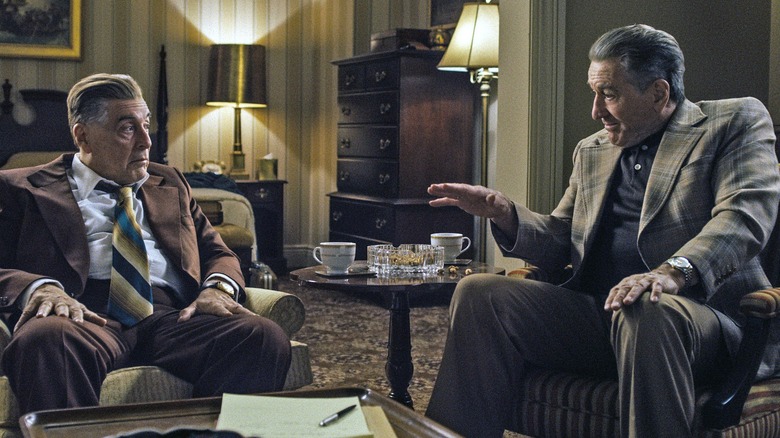 Netflix
Scorsese's star-studded magnum opus, "The Irishman," almost had a totally different plot. When the acclaimed director and his long-time collaborator Robert De Niro decided to team up again for the first time since 1995's "Casino," they knew it had to be a project they would both be passionate about. Their initial plans got derailed when De Niro fell in love with a new story. The actor then convinced Scorsese to totally reroute the project, and "The Irishman" was born.
The 2019 crime epic stars De Niro as Frank Sheeran, an Irish World War II veteran. The story is told through the lens of an elderly Sheeran, who once worked as a hitman for the Italian mafia in mid-century Philadelphia. "The Irishman" was also produced by De Niro and features supporting performances from legendary actors Joe Pesci and Al Pacino. Like De Niro, Pesci was a familiar face in Scorsese's films through the '80s and '90s, even coming out of unofficial retirement for "The Irishman." Despite both being longtime crime film icons, Pacino and Scorsese had never worked together previously.
The film is based on the best-selling book "I Heard You Paint Houses" by Charles Brandt. When De Niro and Scorsese first decided they would be making a film together, they had settled on a totally different book to adapt, but in the midst of the research process, De Niro was compelled to tell a different story.
The Winter of Frankie Machine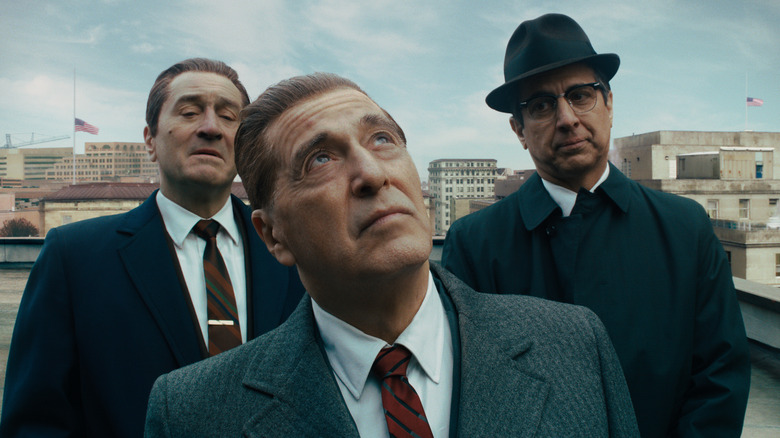 Netflix
The mob movie duo had plans to adapt the novel "The Winter of Frankie Machine" by Don Winslow into a Paramount film. "Frankie Machine" follows a hitman that comes out of retirement for one last job. This type of crime film would have been familiar territory for both De Niro and Scorsese, which earned them a green light for production at Paramount.
De Niro actually read Brandt's "I Heard You Paint Houses" in preparation for his role in "Frankie Machine." Instead of getting more excited about his existing project, he fell in love with a new idea. The actor felt connected to the novel's retrospective nature. He liked that the story was told by an old man looking back on his life. "The whole story reflects how we are getting older, and that feels right," the actor told The Hollywood Reporter. "We're getting closer to that time, if you will." He and Scorsese were both well into their 70s when "The Irishman" was released in 2019. 
"It's a reflective film," Scorsese explained in a Netflix roundtable. "It's got the action ... it's got the scale, yet it all should go on the rhythm of ... the way we think now when we look back on time."
"The Irishman" definitely has a "reflective" feel to it. The story unfolds slowly, jumping around in time, just like the recanting of a complicated memory. Everyone knows the main cast and director from mob movies, so to watch them play out the story of retired mafiosos feels all too real. It's as if De Niro, Pesci, and Pacino were truly reflecting on lives of crime. This gave "The Irishman" a layer of authenticity that ranks it among the best work from these Hollywood legends.