How David Fincher's Stubbornness Saved Seven's Chilling Finale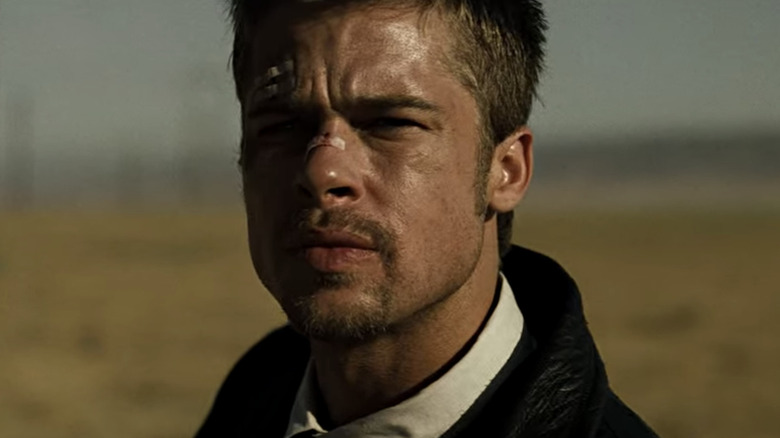 New Line Cinema
This article contains spoilers for the ending of "Seven."
David Fincher's "Seven" had more than one alternate ending, and its third act could have played out very differently had Andrew Kevin Walker's screenplay landed in the hands of another director. Speaking to The Hollywood Reporter in 2017, Walker revealed that he originally penned "Seven" when he had a job at Tower Records in New York (a city that helped inspire the nameless one in his script). Jeremiah Chechik, the director of "National Lampoon's Christmas Vacation," was the first director attached to Walker's script after it was optioned, and as Chechik's comedy pedigree might suggest, he was not looking to make a movie with anyone's head in a box, least of all that of Gwyneth Paltrow's character. 
At Chechik's behest, Walker rewrote "Seven," setting the finale in a burnt-out church instead of the industrial road overhung by power lines where detectives Mills (Brad Pitt) and Somerset (Morgan Freeman) receive the infamous box. Somewhere along the way, though, Chechik exited the project, leaving it to continue making the rounds in Hollywood. Fincher got ahold of a draft, but as it turns out, the powers that be sent him the first one with the head-in-the-box ending by mistake. Walker told THR:
"[Fincher] expressed some interest, but in expressing his interest to them, had mentioned there was a head in the box. And they were like, 'Oh, no, no, no. We sent you the wrong draft.' And then they sent him the vastly rewritten, Jeremiah Chechik draft, which had a completely different ending and Fincher said, 'No, I wouldn't be interested in doing that.'"
It was fate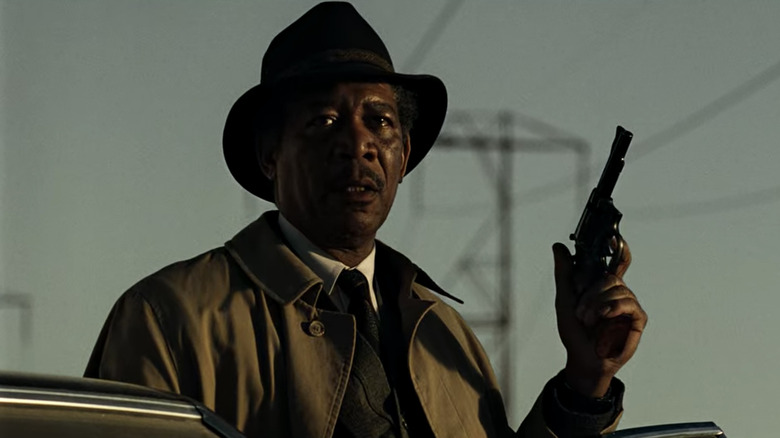 New Line Cinema
Fincher's own Oscar-nominated film, "Mank," written by his father, would later frame a whole story around an unsung screenwriter. Whereas other directors, producers, or studio executives might be inclined to treat the writers' storytelling vision with less respect, Fincher appears to have had a certain sympathy for it even back when he was gearing up to make "Seven." Maybe part of this stemmed from the difficulty he faced during the notoriously troubled production of his first film, "Alien 3."
Whatever the case, Fincher was not looking to drastically reshape the narrative of "Seven" when he and Walker met. Walker further recalled:
"As a writer, when you come on a project and you don't see eye to eye with the director...you have to make a choice whether you are going to stick around and rewrite stuff or perhaps feel like you are ruining your own material. That said, had I told Jeremiah Chechik during the process of rewriting Seven, 'You know what, I don't really agree with getting rid of this stuff and changing the ending and setting it in a kind of burnt-out church, and getting rid of the head in the box, etc. So I quit.' If I had done that, I wouldn't have been around for the happenstance, luck, fate of Fincher receiving the wrong script. He might have gotten my script, but it would have been at least one, maybe several writers down the line, and he probably would have proceeded with those other writers."
Fincher has a reputation for being bullish, but "Seven" was only his sophomore feature and he didn't have as much clout then as he does now. Fortunately, he and Walker also had Brad Pitt in their corner, who successfully helped fight to keep the gut-punch ending of "Seven" intact.