Mr. Malcolm's List Director Emma Holly Jones Wants To Bring Back 'Feel-Good' Cinema [Interview]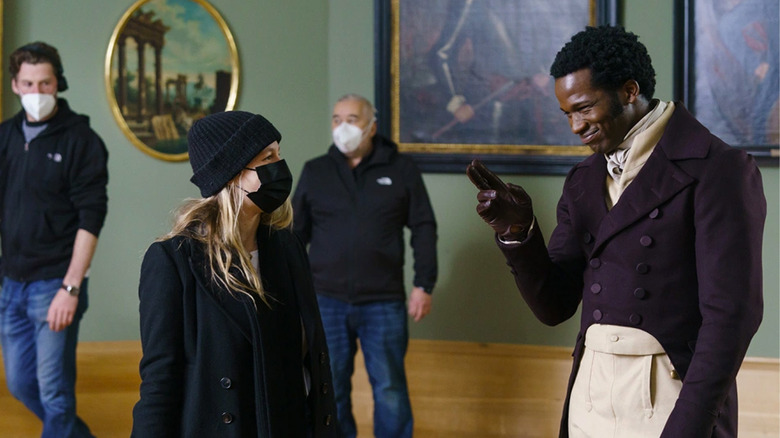 Bleecker Street
"Mr. Malcolm's List" has been a longtime coming for Emma Holly Jones. The director is a lifelong fan of period romance — she's named after the "handsome, clever" protagonist of a certain Jane Austen novel — but it took a while to find the perfect project for her feature film debut, something timeless that could still resonate with a modern audience. She first discovered "Mr. Malcolm's List" in 2015, when the screenplay featured on an episode of The Black List Table Reads podcast. From there, Jones worked to score the rights to both the screenplay and the novel the story was based on, both written by Suzanne Allain. It took three years to secure funding for a proof of concept, and though the short film went viral upon release in 2018, another three years would pass before the feature found a home at Bleecker Street.
It might seem ridiculous now, with shows like "Bridgerton" taking the world by storm, but the idea of a Regency-era romance with a color-conscious cast was a tough concept to sell just a few years ago. Coupled with a first-time director and an independent story, "Mr. Malcolm's List" could have spent even longer in development purgatory. "I just feel very, very lucky that Andrew Karpen and Kent Sanderson at Bleecker Street got what I was trying to do," Jones told me over Zoom. "That first 'yes' really is a big deal."
Jones is quick to give credit to her collaborators, especially when it comes to lifting "Mr. Malcolm's List" out of the shadow of the typical Austen adaptation. Cast and crew alike helped bring a different perspective to what easily could have been a by-the-numbers Regency romp. It's the kind of story so many have been waiting years to see on the big screen: One that allows people of color to exist in a historical setting without explanation or apology, and stirs up feelings of real joy in the process. For Jones, that was entirely by design. The filmmaker wanted "Mr. Malcolm's List" to call back to the "feel-good" cinema of the early aughts — particularly the films of Richard Curtis. "I grew up loving those movies and it's been a long time since there has been some," Jones said. "I spent the last three years massively trying to create that and I hope I've done it service. I really do."
Read on for Jones' thoughts about building the perfect ensemble, merging history with fantasy, and writing her own Regency rules in "Mr. Malcolm's List."
'How do we make a rom-com, not a period drama?'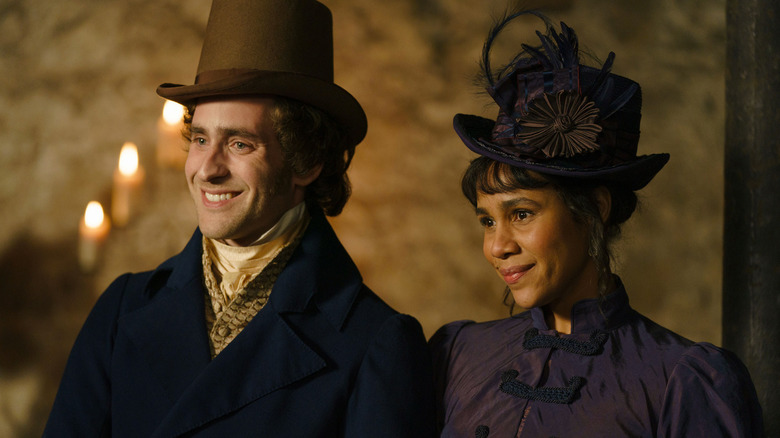 Bleecker Street
How does it feel to finally have the film out in the world? It's been a long time coming.
I think, because it is my first, I have to be honest: Extraordinarily nerve-racking. I was saying to my husband last week, I don't think you ever think with your first film that it's going to be released on a scale like "Malcolm's" is being released. So I was expecting a couple of tweets about it, y'know, call it a day. But Bleecker Street have been unbelievably supportive and given us such an incredible platform and voice. So I have to be honest, very nervous, very anxious, very excited all at the same time. I mean, can't ask for more, really, with your first film, can you?
The film does an amazing job tapping into what makes these Austenian rom-coms work so well, juxtaposing these really kooky characters with the propriety of English society. How was it building that rapport and that chemistry?
I worked very closely with the cast when I was sort of polishing and developing the script. And I think I did note sessions with each of them, where we really spoke about the character. Zawe [Ashton]'s version of Julia really went a different route than maybe initially realized, and she pitched this Bridget Jones of 1818, which just blew my mind. I'm a huge "Bridget Jones" fan, for one. Two, I was like, "That is what makes this film better. It is what makes this film funnier. It's what makes this film more of an ensemble," and it's all to her credit because she wasn't willing to just play the villain that was misunderstood. She's ended up playing a character that you almost root for more than the leads. Do you know what I mean, in a sense?
I do!
So wonderful to see, and it's all her credit. She came in very last minute as well, which is a huge testament to her. She was pushing me to really sort of redevelop the character on the page and really get to the core of who this girl was, which I probably had brushed over a little bit too much before. She deserves all the praise in the world for what she has created on screen. And I was just lucky to be witness to it.
But also I think for all of us, it was, "How do we make a rom-com, not a period drama?" So that's what we were looking to do. One of my favorite films still to the day is "Notting Hill." You have your key romance, obviously with Hugh and Julia, but you still remember [Rhys Ifans as] Spike, and Emma Chambers' role as the sister, and Hugh Bonneville. You still remember the supporting cast, and I really, really wanted to boost our supporting cast up so that was the feeling you were left with. A lot of what I've been doing is trying to become the female Richard Curtis, I think.
I love that.
I'm actually a huge fan of everything him and his wife Emma have done. "Notting Hill" and "Four Weddings and a Funeral" were huge inspirations to me when approaching this material, because I loved the idea of making this an ensemble comedy and not just a romance.
'I think the universe was pushing us in a different direction for a reason'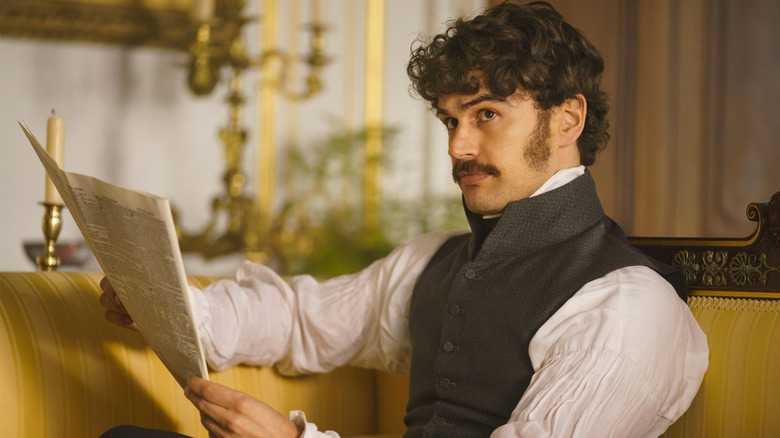 Bleecker Street
I'd be remiss if I didn't ask about the casting process. A lot of this casting happened really serendipitously, but every character is cast so brilliantly. I heard that from the moment you met Ṣọpẹ́ Dìrísù, you were like, "He's the one."
Yeah, 100%. I'll say it time and time again. It will be my last dying message to the world, how good Ṣọpẹ́ Dìrísù is. I met him in 2018 when we were casting the short. The casting director, Tamara-Lee Notcutt, deserves all the credit in the world for this. She was really pushing me to meet everyone in lots of different types of young British men. And I got on Skype at the time and I texted our producers and Tamara within two minutes, and I just said, "It's him." He just emulated, I think, everything that a rom-com hero has. I can't explain it more than a gut feeling. I still think the world has yet to find out what they have in him. I think he's the ultimate leading man, and I'm just so blessed he said yes and went on this journey. I couldn't have made the movie without him or Freida or [Oliver Jackson-Cohen], who have obviously been involved in this from day one.
And then obviously Gemma Chan, who was amazing in the short film, is a dear friend, but she was never going to be in the feature. She was off doing "Eternals" and all these amazing things. So we actually had another actress involved after, when we developed the feature, but she dropped out two weeks before we started shooting, which was terrifying. But the biggest silver lining of this movie was Zawe Ashton. I think it was meant to be, and I think the universe was pushing us in a different direction for a reason. She is phenomenal and she really rounded this cast out, as did Theo James.
It was also real joy to [have] Divian and Sianad, who played John and Molly, the footman and the maid. John and Molly didn't exist in the original material or the novel or anything like that. Sianad is a friend of mine. Sianad's partner Ross is the second unit director on the movie, and has been working with me on this project from day one. So we asked Sianad [and] Divian to do us a favor and come and be background on the short film. And Divian came up to me and he said, "I know how I'm going to get myself into this scene." And he pitched me an idea and I burst out laughing. Then Suzanne [Allain] went off into a corner with them and they wrote this little gimmicky bit as the carriage pulls up.
John and Molly basically then became characters. They wrote themselves their parts in the film. It was a completely wonderful process, I think it richened the film. There were so many different thought processes within the casting that all sort of geared around to this idea of an ensemble. But to have those five actors sort of come the whole journey with us was pretty incredible.
'Every film is a fantasy'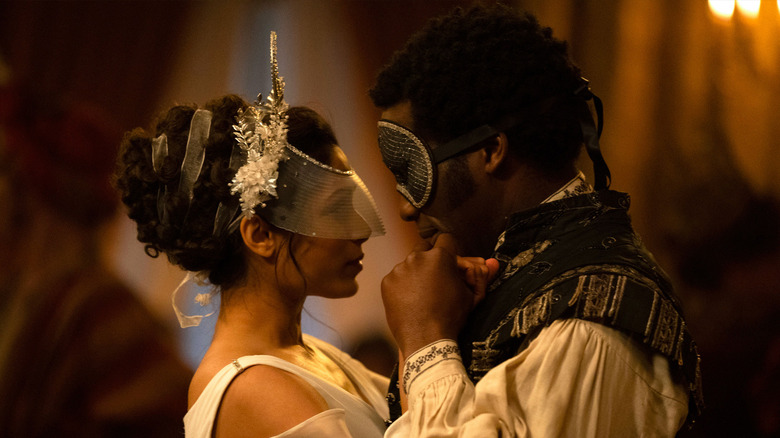 Bleecker Street
I wanted to ask about pushing a non-Jane Austen period romance into the world, because I feel like the Jane Austen movie is like the Marvel movie of the period romance. It's always so much fun to see an adaptation, but it can be harder for non-affiliated period films to break through. How did you guys work through that?
Well, obviously the short film again, because I knew flat-out it was never going to happen without proof of concept. And so did the producers. So the producers were incredible: Laura Rister and Laura Lewis. They contacted Refinery 29, that had this short film series for women called Shatterbox, and basically brought them on as development financiers. Because also, when you're making a proof of concept for a period film, you can't shoot that in L.A. for 10 grand with a horse in Griffith Park. You really actually have to get a flight to England and get the locations and get the costumes. So it wasn't cheap. Refinery 29 were incredible in giving us that opportunity to show what this could be.
Even still, after making the short and then choosing to put the short online, not going the festival route, [that] was a gut feeling. I was like, "Let's just put it on YouTube because I want people to see it. I want people to react to it." And what ended up happening was a lot more views than I would've ever imagined. The comments and the social media reaction to it was just women around the world saying, "We want more, we want more of this." So we used that to pitch the feature, to balance all the things that make a film like this hard to make: No known IP, first time director, new male lead ... all the things that people are saying no to.
I love that you mentioned the fan response because I feel like this movie is so, so affirming. For myself at least as a woman of color who's grown up loving the genre and never really seeing myself in it, I feel like the period romance has always told stories through the lens of like the Keira Knightly type, the Colin Firth type...
Yeah. And also by the way: Not just period romances. Romances in general. The rom-com genre. I think that's something that our cast have really opened my eyes to as well. I'll be totally honest: The reaction on the short was overwhelmingly positive. The reaction to the feature is a bit more mixed, but it's those positive female reactions that just keep you going and make it all so worthwhile and so important.
When there's pushback, it's always like, "Oh, this isn't historically accurate," but it can't be further from the truth. It's just that the genre has been so whitewashed from the beginning of time.
I think that's one of the things when I first decided I was going to do this version of the movie, when you start doing research, you realize, "Oh wait a minute, everything I've been taught or shown is not an accurate representation of what the world actually looked like." And yes, this historical accuracy argument is garbage. If you want to talk about historical accuracy: There was no healthcare, no hygiene, nobody would look this good. The sets wouldn't look this good. Every film is a fantasy. Not even documentaries are necessarily historically accurate.
So yeah, I totally agree. That argument is something that people will continue to say, because I think it makes them feel better about their anger inside. I can't answer it, but I know where this came from. I'm not saying I'm a historian; I'm not saying I'm getting anything dead right. But there was enough there through reading different scholars' materials, visiting different museums, talking to different people, to pluck and develop something that I actually think could be a bit more of a nod to actually how Britain might have looked.
'I want to be able to pause the movie and it to feel like a painting'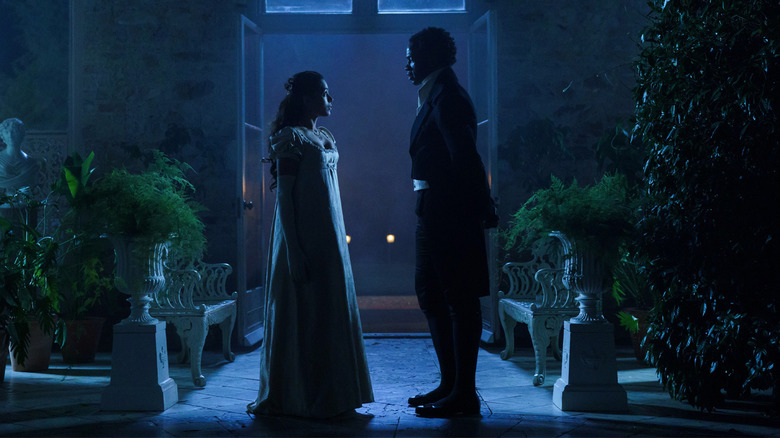 Bleecker Street
I'd love to hear about the process of building this world and all the influences that went into it — obviously novels, scholarly texts. What was your favorite aspect of creating this semi-fantastical Regency setting?
I think for me, it's funny, because I think people ... when you meet a blonde female director, people don't necessarily assume how technical I am, but the cinematography was a huge part of this process for me. Tony Miller and Matt Chavez, who shot the short, they both were really, really good at creating this "no-light light" look. That's how we described it, because there was no electricity. It was really important to me that with this cast, with this world we were building, it was a bit more rustic and a bit more pastoral and a bit more natural — and not too poppy and too bright and too colorful.
Obviously I shot the short on film and I shot the feature on digital, which was a massive cost thing and also a pandemic/Brexit issue, getting film back and forth from the labs. But Tony and I, when we had to succumb to the idea of shooting on digital, it was then about, "How do we utilize brilliant lenses with a digital body to still create that more grainy, period, naturalistic, pastoral feeling that we got when we looked at so much art from the time?"
A key artist from the Regency era is man called Thomas Gainsborough. Most of his work is these big sweeping landscapes with these incredible pops of color, right? Whether it's like a coat or a jacket or a horse or smoke coming from a house, it really informed how [production designer] Ray Ball, Tony Miller, and I — and Pam Downe, the costume designer — sort of approached every frame. I basically said, "I want to be able to pause the movie and it to feel like a painting."
Even the lights we rented, they were from the 1960s. We went to one of the Irish studios and got old lighting and old ... I think they're called Chinese lanterns. They're like a type of light you rig into the ceiling and they're super soft. And all of that, and all the sources of shafts of light through the window, all the candles, all the fireplaces — these were the actual sources of light we were using in camera. I think it all plays a massive part into setting the world and setting the tone and taking us back in time. I didn't want things to be too bright and too colorful. I really wanted things to feel a bit raw.
It definitely does pay off. I feel like that's why a lot of people like the Joe Wright version of "Pride & Prejudice" because his light sources were very —
Oh, we studied that movie within an inch of our lives, that and "Barry Lyndon." Joe Wright's "Pride & Prejudice" has some of the most stunning cinematography, I think in general. Obviously, their budget was four times the size of ours, but it was a wonderful source of inspiration for us creatively. I think that's the joy of being a director, is getting to live in art that has inspired you — whether it's paintings or it's writing or it's film, whether it's music — and getting to pull on all those elements at any given moment to create a world that's your own.
"Mr. Malcolm's List" opens in theaters on July 1, 2022.