The Fifty Shades Films Were A Constant Battle Against Author E.L. James' Changes, According To Dakota Johnson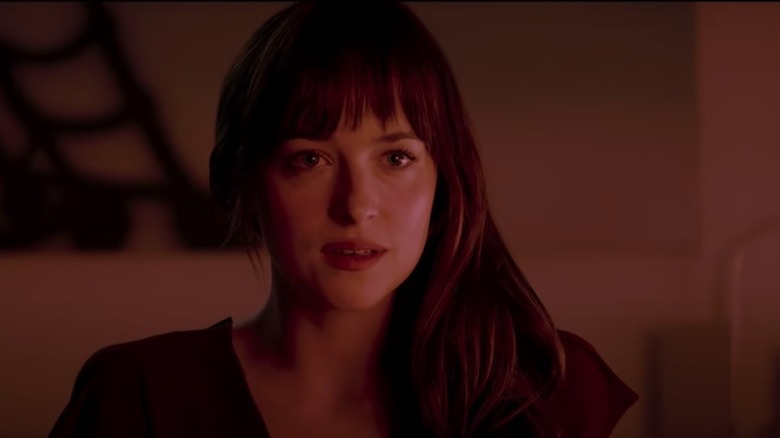 Universal Pictures
Back in 2015, the world was introduced to Dakota Johnson. Now, she's a movie star with roles in "The Lost Daughter" and "Cha Cha Real Smooth" under her belt. Back then, she was the lead in the film version of the E.L. James bestselling book "Fifty Shades of Grey," leading to two sequels to match the other books in the trilogy. The first film was directed by Sam Taylor-Johnson and also starred Jamie Dornan. It follows a young woman named Anastasia Steele (Johnson) who is introduced to the world of sadomasochism by Christian Grey (Dornan). Johnson spoke to Vanity Fair for their July/August 2022 cover story, and she talked about what a wild ride it was. 
In the story, she said she liked Taylor-Johnson's approach to the film, but that the author of the books had creative control and kept changing the script. She had "signed up to do a very different version of the film we ended up making." She said James made demands, and discussed that there were things in the book, like the inner monologue Anastasia has, as "incredibly cheesy," and said it wouldn't work out loud. "It was always a battle. Always," Johnson explained. James changed the script that had come from Patrick Marber. 
Johnson said they'd shoot the takes the way James — who goes by Erika — wanted them, and then Johnson would rewrite scenes with the old dialogue the night before, so she could add in some of the previously written lines. "It was like mayhem all the time," she said, explaining there were a lot of disagreements, and that she was ultimately proud of what they ended up getting on the screen, but, "it was tricky."
Fifty shades of mayhem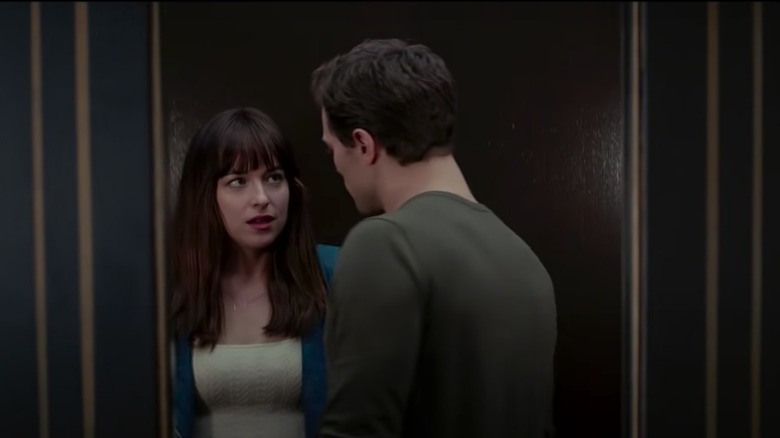 Universal Pictures
Dakota Johnson also debunked the persistent rumors that she and her costar Jamie Dornan were feuding. "There was never a time when we didn't get along," she told Vanity Fair. "I know it's weird, but he's like a brother to me. I love him so, so, so much. And we were really there for each other. We had to really trust each other and protect each other." 
Johnson also mentioned that when Sam Taylor-Johnson stepped down for the second film and James Foley was hired, it changed things. She said:
"It was different doing those bizarre things with a man behind the camera. Just a different energy. There are things that I still cannot say because I don't want to hurt anyone's career and I don't want to damage anybody's reputation, but both Jamie and I were treated really well. Erika is a very nice woman, and she was always kind to me and I am grateful she wanted me to be in those movies."
The whole thing sounds like it was a complete mess, though neither Johnson nor Dornan's careers have suffered. I did wonder back then if they would. It's one thing to read a badly written book about this stuff; it's another to get it up on the screen. No shaming from me at all as far as the subject matter, but the book was also a complete mess, with Christian Grey's abusive and stalking behaviors portrayed as romantic. I'm glad both actors have come out of this better for it.