'Fifty Shades Of Grey' Rated R For "Unusual" Reason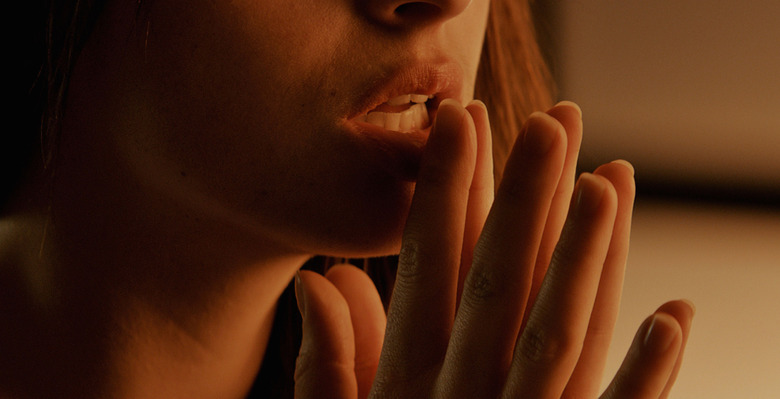 The question was never whether Sam Taylor-Johnson's Fifty Shades of Grey would feature lots of sex, but how much sex and what kind. Now we have a better idea, thanks to the MPAA.
The board has just given Fifty Shades of Grey an R, which is possibly disappointing but not terribly surprising. More interesting is the group's "unusual" justification for that rating. More about the Fifty Shades of Grey R rating after the jump. 
Based on the novel by E.L. James, Fifty Shades of Grey centers on the steamy relationship between kinky billionaire Christian Grey (Jamie "Golden Torso" Dornan) and innocent college student Anastasia Steele (Dakota Johnson). The book is known for its graphic depictions of BDSM sex, as well as its origins as a piece of Twilight fanfic.
The MPAA's official explanation for Fifty Shades of Grey's R rating is "strong sexual content including dialogue, some unusual behavior and graphic nudity, and for language." The MPAA is notoriously prudish when it comes to sex, but even for them "unusual behavior" is a hilariously prim way of putting it.
An R rating is better than the PG-13 fans might have feared, but it's not the NC-17 that some had hoped for. James' novel is famously graphic, and early on the filmmakers promised the movie would be too. Screenwriter Kelly Marcel told press in 2013 that she intended for her script to be NC-17, and producer Dana Brunetti floated the idea of releasing two cuts of the film — one R, one NC-17.
However, the promises of hardcore sexuality have quieted down over the years. Lately, we've been hearing more about what we won't get to see. Dornan has already confirmed that he does not go full-frontal in the movie, explaining: "You want to appeal to as wide an audience as possible without grossing them out. You don't want to make something gratuitous, and ugly, and graphic."
It doesn't take much to get an NC-17 from the MPAA, at least when it comes to sexual content. Blue Valentine was initially stamped with an NC-17 before The Weinstein Co. successfully appealed for an R; Blue Is the Warmest Color, Shame, and Lust, Caution all went out with NC-17 ratings in recent years.
(The latter of those was, like Fifty Shades, a Focus Features release. It was also written by James Schamus, who was the head of Focus at the time, which probably made the NC-17 easier to accept. Schamus is no longer with Focus.)
So the fact that Fifty Shades of Grey has received an R suggests the movie won't be nearly as explicit as the book was. That approach makes some sense from a business standpoint — NC-17 films make less money than R-rated ones do, for pretty obvious reasons — but it could come as a disappointment to the millions of fans expecting a faithful adaptation.
Fifty Shades of Grey opens February 13.