Casting Ewan McGregor Could Have Made Things Awkward For The Men Who Stare At Goats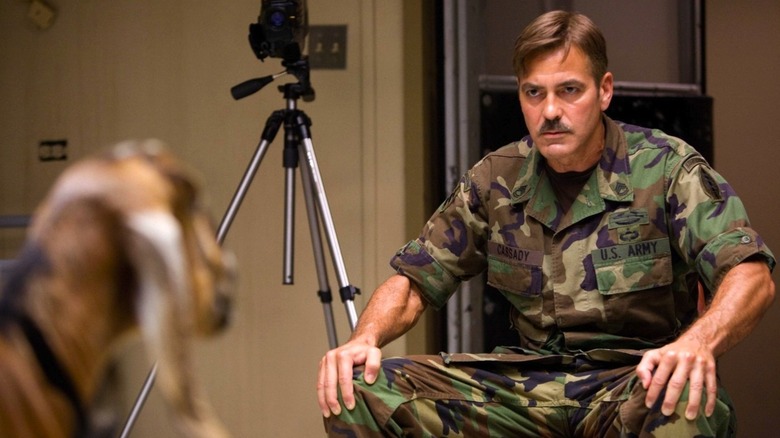 Overture Films
Grant Heslov's 2009 comedy "The Men Who Stare at Goats" is based on one of the more peculiar true stories attached to the U.S. military. Taking details from the book by Jon Ronson, "Goats" details an actual effort in the late 1970s and early 1980s to develop human mental superpowers for potential use on the battlefield. A soldier named Jim Channon suggested that such a group be named the First Earth Battalion, and the title comes from an experiment wherein a soldier is assigned to stare at a goat, reach into its mind psychically, and end its life. The real-world operation was called the Stargate Project. In 1995, the project was shut down after no psychic powers or supernatural abilities manifested. 
Heslov's film fictionalized a great deal of Ronson's book, combining several real-life people into single characters and changing a lot of names. The character of Lyn Cassady (George Clooney) was a composite. The Jim Channon character was altered into Bill Django, played by Jeff Bridges. And the narrator of the film is named Bob Wilton, an investigative reporter, presumably inspired by Jon Ronson himself. Wilton was played by Ewan McGregor, and the character was equal parts baffled, amused, and made somewhat hopeful by the psychic shenanigans he witnessed. 
In the screenplay by Peter Straughan, Lyn Cassady repeatedly refers to himself as a Jedi. Something that didn't occur to Heslov was that a member of his cast — McGregor — had already famously played a Jedi in several "Star Wars" movies. In a 2009 interview with Movieweb, Heslov recalled the embarrassing time in which McGregor had to point that out to him.
'What do you think about the whole Jedi thing?'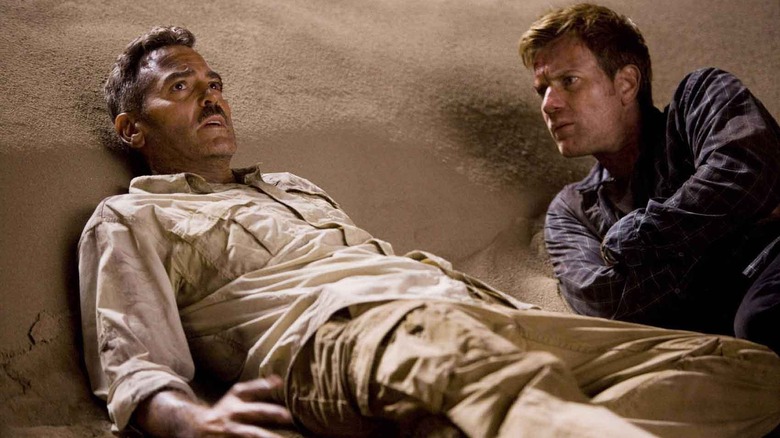 Overture Films
Heslov didn't audition McGregor, but he and Clooney (who also produced) did have a meeting to discuss McGregor's interest in the project. McGregor evidently has noticed something in the script that he felt might have been a concern. Here's how the director describes their interaction: 
"The funny story about that is he read the script. I went to go meet with him to figure out if this was something he wanted to do. It was one of those long meetings. At a certain point, he goes, 'So, what do you think about the whole Jedi thing? Do you think that is going to be weird?' I asked, 'What do you mean?' He's like, 'You know?' Honestly, I hadn't put it together. I don't really see Ewan as that. I don't really know why. It's quite ridiculous of me. He said, 'George talks about the Jedi in the film, and I played a Jedi.' I was like, 'Holy s***! Of course, of course!'"
McGregor, for those far away from the world of "Star Wars," played the young Obi-Wan Kenobi starting in 1999 with "Star Wars: Episode I – The Phantom Menace," and continuing into the recent TV series named after the character. His association with the character was already a decade entrenched by the time "The Men Who Stare at Goats" was in production. Heslov started his career as an actor, and has produced every one of Clooney's directorial efforts, but he seems not to have any sort of pronounced interest in "Star Wars." 
It's an in-joke now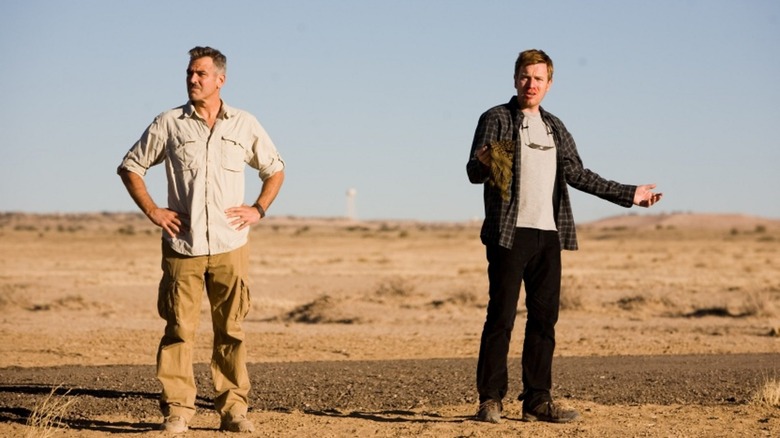 Overture Films
When Heslov realized that he was casting a known Jedi in a film that makes several references to Jedi, his panic subsided immediately. McGregor has had such a long and prolific acting career that Obi-Wan Kenobi is but a small part of it. McGregor also played a version of Iggy Pop, a strung-out junkie, an American soldier, a robot, a pigeon, a priest, and a prisoner. Any three of his roles would be a fun setup for a "walk into a bar" joke. Heslov was more concerned with McGregor's interest in "Goats," and his range as an actor than he was in any sort of unintentional audience association. 
"We talked about it for a minute, and then me and George [Clooney] talked about it. We figured, 'You know what? That doesn't matter to us.' From that point on, he didn't have a problem with it. In fact, I think he does an amazing job delivering some of those lines. Some people won't get it. They just don't realize he played that role. Then there will be a lot of people that do know it. And it's an extra little bonus for them." 
It also might help that McGregor racked up 12 acting credits in between "Star Wars: Episode III – Revenge of the Sith" in 2005 and "The Men Who Stare at Goats" in 2009. He was moving so quickly, he was granted leeway to shake free of his Jedi image. "The Men Who Stare At Goats" was only lukewarmly received, notable more for its peculiarity than its drama. Some may argue, however, that is it certainly more amusing than some "Star Wars" movies.