Terry Gilliam Bet His Career On Keeping 12 Monkeys Under Budget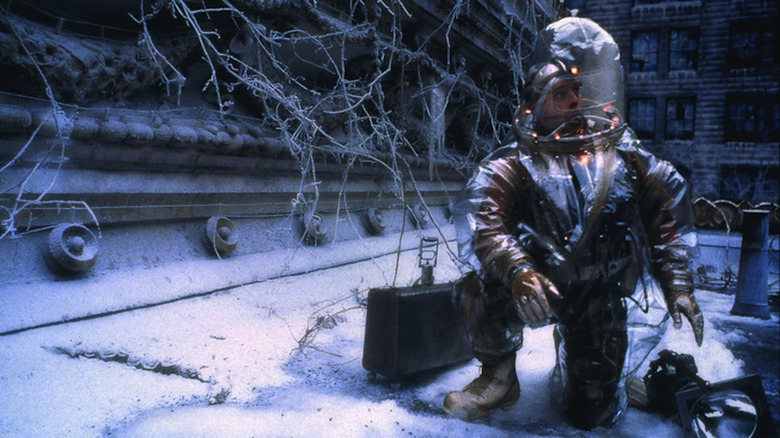 Universal
The notion that Terry Gilliam was, in his prime, a visionary filmmaker who dreamed too big for Hollywood and paid the price for it is, to put it mildly, ahistorical. It's certainly true that Universal Pictures' Sid Sheinberg sought to undermine the U.S. release of the "Brazil" by cutting 38 minutes out of Gilliam's cut and tacking on a happy ending. As for the over-budget folly of Gilliam's follow-up, "The Adventures of Baron Munchausen," which lost Columbia Pictures an estimated, adjusted-for-inflation $88 million, the most charitable view holds that the director bet big on his genius (with money he did not have) and rolled snake eyes.
Neither film was a hit in the U.S., but that didn't stop Columbia's corporate sibling, Tri-Star Pictures, from jumping into bed with Gilliam for 1991's romantic fantasy "The Fisher King." This time, Gilliam stuck within the parameters of the agreed-upon budget and delivered his first bona-fide hit since "Time Bandits." Then, in 1995, the unthinkable happened: producer Charles Roven convinced Universal to let Gilliam, who'd publicly humiliated the company's COO over the final cut of "Brazil," direct an off-kilter remake of Chris Marker's experimental short film, "La Jetée." Paired with temperamental star Bruce Willis (who'd starred in some of the decade's biggest bombs to date in "The Bonfire of the Vanities," "Hudson Hawk," "Billy Bathgate," and "North"), Gilliam had a $29.5 million budget and absolutely zero leeway.
This time, Gilliam had to be on his very best behavior.
Gilliam plays the game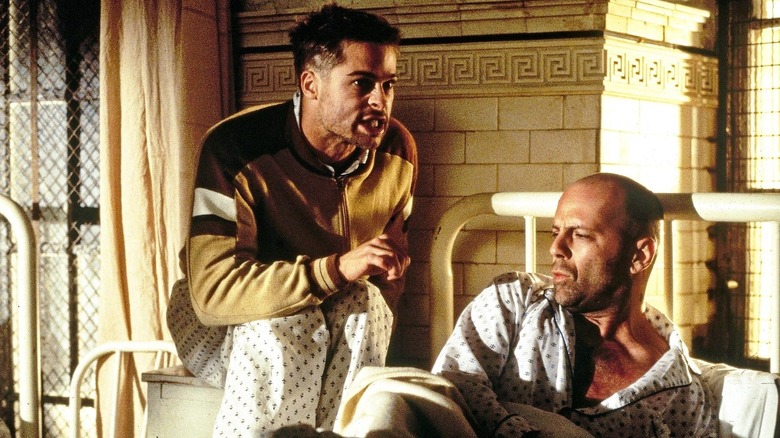 Universal
"12 Monkeys" shot on location in Philadelphia and Baltimore in early 1995, and, according to The New York Times, it was not a party. The winter weather wasn't wintry enough, the junky futuristic props were a little too junky, and the time-hopping continuity proved difficult to wrangle. Production designer Jeffrey Beecroft, an Oscar nominee for his work on "Dances with Wolves," noted: 
"There wasn't a lot of money or enough time. Terry is a perfectionist, but he was really adamant about not going over budget. He got crucified for 'Munchausen,' and that still haunts him."
Shockingly, the ever-contentious Gilliam did not concur with his colleague. He considered his time on "12 Monkeys" to be "the easiest go with a studio I've ever had." He had no complaints, and, evidently, no fear of "Sid Scissorhands" having a go at his final cut. The film opened at the tail-end of awards season on December 29, 1995, and picked up two Oscar nominations: Best Supporting Actor (Brad Pitt) and Best Costume Design (Julie Weiss).
The liberation of limitations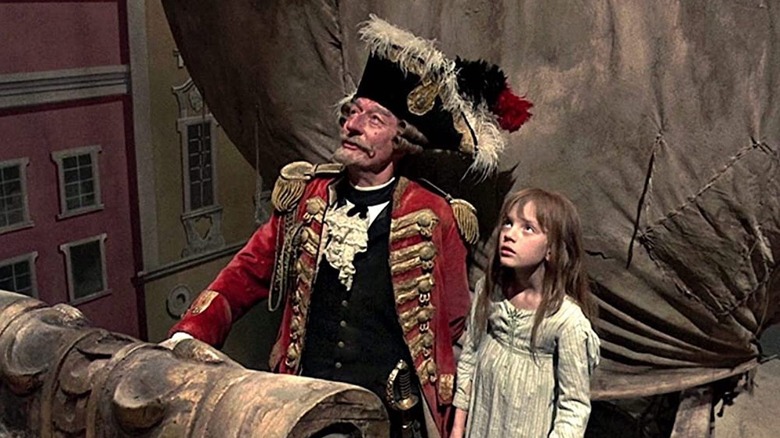 Columbia
Gilliam didn't really pay for his excesses until he lost the critics. His freewheeling adaptation of Hunter S. Thompson's "Fear and Loathing in Las Vegas" (also made for Universal) earned him some of the most vitriolic reviews of his career (including a one-star pan from Roger Ebert). After licking his wounds for a few years, he reemerged to direct "The Brothers Grimm" for Miramax. Gilliam raged against the vulgarian duo of Harvey and Bob Weinstein throughout production, but this time he lost the war. To sum up his experience, Gilliam paraphrased Martin Scorsese (who'd had a rough go with the producers on "Gangs of New York"): "They took the joy out of filmmaking."
Sarah Polley recently punctured the myth of Gilliam as a rally-the-troops, anti-executive rebel with her recollections of being placed in harm's way on the set of "The Adventures of Baron Munchausen." While Gilliam was romping all over a corporate-financed playground, he overlooked the fear and safety of his most precious cargo: an eight-year-old child actor. "Baron Munchausen" is a sui generis visual marvel, but it is also overindulgent. It's a scatterbrained director rampaging free of constraints. Gilliam didn't have free financial rein on "Brazil," and he made a masterpiece. He was forced to mete out his madness on "12 Monkeys," and he turned out the most narratively audacious film of his career to date. Constraints can be freeing. It's a shame Gilliam didn't surrender to them more often.