Gene Hackman Nearly Quit Get Shorty Over A Scene That Was Cut From The Movie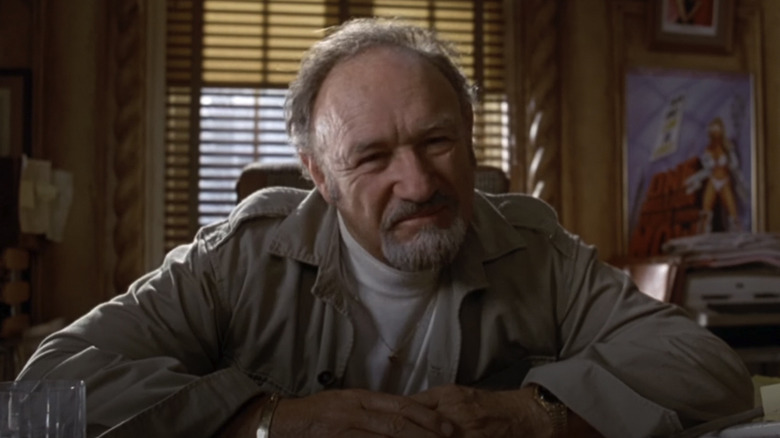 MGM
Gene Hackman is one of the most brilliant and beloved actors of his generation. Prior to his retirement in 2004, he appeared in loads of classics, and, because he really liked to work, quite a few stinkers. Given this prolificness in a business known for its hurry-up-and-wait frustrations, you'd think he'd be a pretty easygoing fella. Alas, he had a well-earned reputation for being a difficult cuss on set, even when he was making a classic like "Get Shorty."
According to the film's director, Barry Sonnenfeld, Hackman "was scary as hell to work with – he's very intimidating and suffers no fools." This sounds exactly like most of the characters he played throughout his illustrious career, particularly no-nonsense Sheriff Bill Daggett in "Unforgiven" (which earned the actor a Best Supporting Actor Oscar in 1994). Maybe his role in "Get Shorty" was the problem. Cast as hapless, debt-ridden B-movie producer Harry Zimm, Hackman was playing against type, which probably made him a bit insecure, particularly in the hands of a self-proclaimed "neurotic" like Sonnenfeld.
The 'Night Moves' star was not a fan of night shoots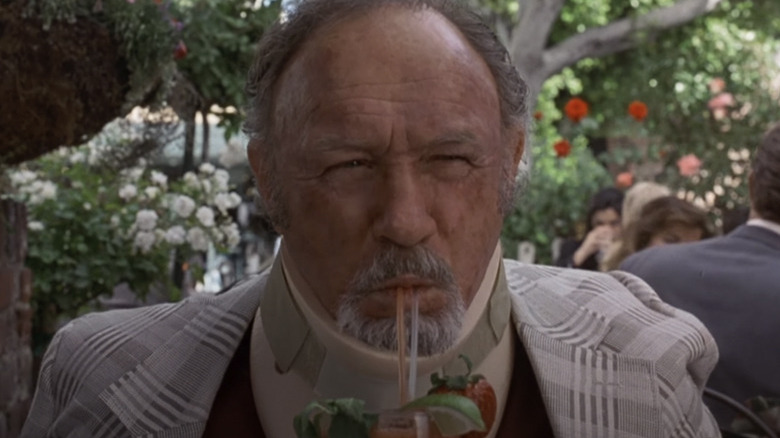 MGM
Sonnenfeld sought out Hackman for the part, and received an invaluable assist from Danny DeVito, who was producing the movie under his Jersey Films banner. DeVito shared an agent with Hackman, so getting him on the phone wasn't a problem. Getting him to commit was a trickier proposition, largely because of one scene in the screenplay. As DeVito explained to The Guardian:
"[T]here was a night scene in the movie and [Hackman] said he didn't work at night. I said: 'It's only one scene. We'll do it real quick and get you out by midnight.' He said, 'No, I don't work at night.' It was a dealbreaker. Barry insisted it had to be a night scene, and I eventually convinced Gene to do it but he said: 'You only get one night.'"
Being a mindful producer, DeVito made sure he was on set for the night shoot, if only to make sure Hackman didn't "get squirrely and leave." DeVito thinks the shoot might've gone a little past midnight, but Hackman didn't make a fuss. He did his bit and went home. What happened next couldn't have pleased the mercurial star. "Several weeks later, I went to the editing room with Barry," DeVito recalls. "I said: 'Where's the night scene?' He says: 'Oh, it didn't work so I cut it out.' I said: 'You motherf***er.'"
This is likely the scene in question:
Hackman's revenge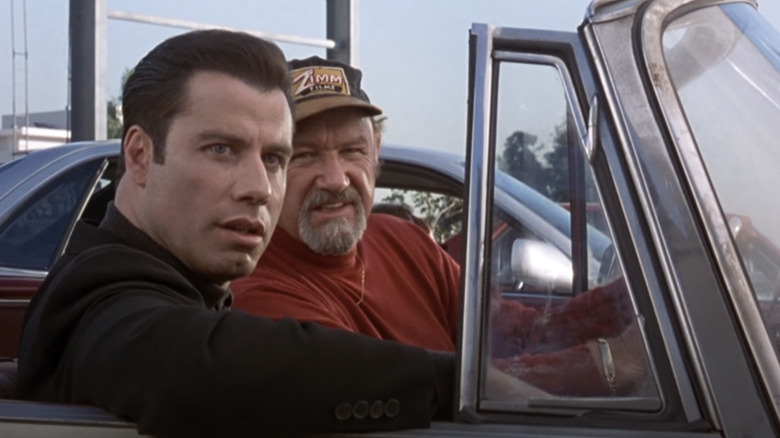 MGM
Hackman never mentioned the missing scene to Sonnenfeld, but he did get a small measure of revenge once the film was finished. Per the director:
"After the New York premiere he pulled me aside and said: 'I wanted you to know, the entire time I was working with you I didn't think you had a f***ing clue what you were doing.' I said: 'OK, thanks Gene.' He said: 'That's not my point.' I said: 'Oh there's more?' He said: 'I'm so mad at myself because if I had realised you knew what you were doing, I could've done so much better!'"
Hackman is not renowned for his sense of humor, so he probably wasn't joking with Sonnenfeld. Still, it's hard to imagine Hackman improving on his finest comedic performance. Harry Zimm is the antithesis of just about every character Hackman ever played: He's a pathetic, wannabe operator in a town full of slick liars. He's also just kind of dumb. You'd have to be in order to get deep in debt with a stone-cold killer like Delroy Lindo's Bo Catlett. But here is Hackman, Popeye Doyle himself, sustaining one humiliation after another — a stark contrast to John Travolta's unflappably tough Chili Palmer. If he was miserable on set, it certainly doesn't come through in the performance. If anything, it feels like he's having the time of his life.
Then again, Hackman seems to be having a ball in Wes Anderson's "The Royal Tenenbaums," and we know now that was not the case. It's unfortunate he didn't enjoy making comedies because, in the right movie (not, say, "Welcome to Mooseport"), he was brilliant at playing stupid.