Robert Downey Jr.'s Chaplin Casting Nearly Got The Movie Canceled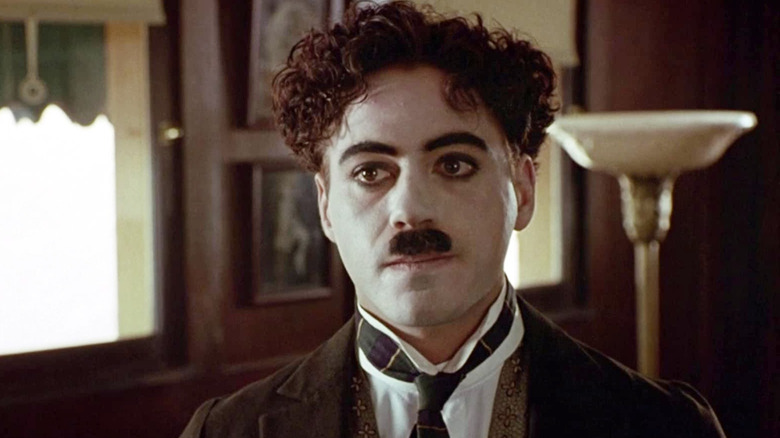 TriStar Pictures
There was never any doubt that Hollywood would get around to making a movie about the life and times of Charlie Chaplin. The English multi-hyphenate's life is like a work of fiction, from his Dickensian childhood growing up in poverty on the streets of London to his career as a legendary silent film comedian, his butting heads with the U.S. government over his progressive political views, and his infamous predatory behavior (which led to several highly-publicized scandals). Less certain, however, was whether Robert Downey Jr. would be the one to portray him in the biopic "Chaplin."
By the time that "Chaplin" entered development, Downey was already rising through the ranks. Having gotten his start as a bit player in early 1980s comedies like "Weird Science" and "Back to School," Downey had gone on to headline modest hits like the 1989 fantasy rom-com "Chances Are" while earning critical praise for his work in the 1987 film version of Brett Easton Ellis' novel, "Less Than Zero." All the same, that wasn't enough to convince would-be "Chaplin" distributor Universal to sign off on the $30 million movie with Downey as its star.
The hunt for a new financier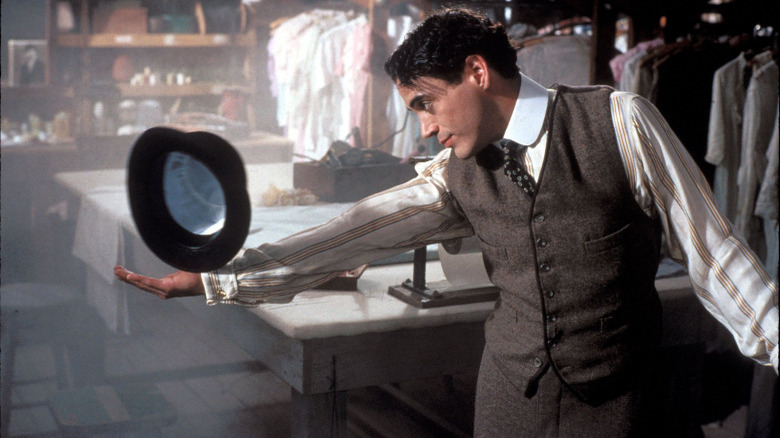 TriStar Pictures
Speaking to the Los Angeles Times at the time of the film's theatrical release in December 1992, "Chaplin" director Richard Attenborough noted, "Nobody ever said to me, 'We don't think Robert can do it.'" But because Downey was neither an A-lister nor a newcomer at the time, "They [Universal] simply refused to sign his agreement," Attenborough explained. He also suggested the studio might have been more amenable had "Chaplin" been budgeted at $20 million instead of $30 million.
But as we all know, the Oscar-winning actor-filmmaker always spared no expense.
Losing patience, and with the "Chaplin" sets having already been built in L.A., Attenborough finally put his foot down, telling Universal to either "sign Robert or put the bloody picture in turnaround." The result? Universal put the movie in turnaround, leaving its director to spend the next "48 hours and 10 months" looking for a new financier, as "Chaplin" co-writer and associate producer Diana Hawkins put it. He would eventually find one in Carolco Pictures, Inc., the production company co-founded by Mario Kassar and Andrew G. Vajna.
"Mario was magnificent," said Attenborough, praising the producer for taking on "Chaplin" in spite of his "terrible money problems." Due to his financial woes, Kassar teamed up with a number of international distributors on the film, with the script being shortened and the main actors even taking a pay cut in an attempt to keep costs lower. Downey similarly turned down offers for other roles over the eight months between the movie's original start date and when it actually began shooting in November 1991.
When Oscar bait fails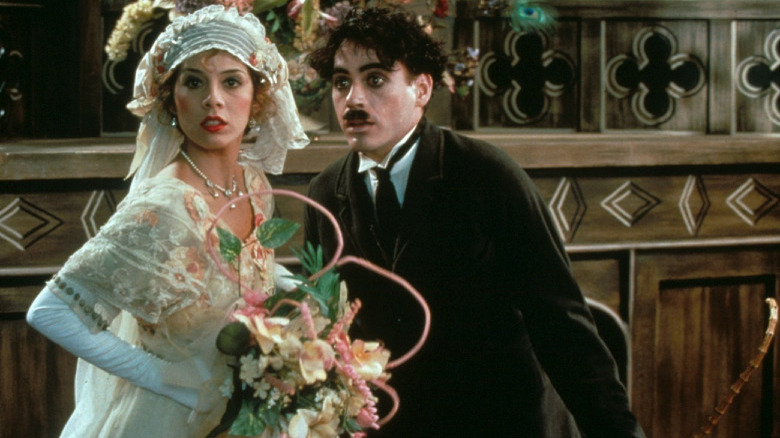 TriStar Pictures
In spite of all that hard work and effort, "Chaplin" was a flop that grossed $9.5 million at the box office, earned mixed reviews, and was only nominated for three Oscars (including Best Actor for Robert Downey Jr.), winning none. So what went wrong?
Well, for all its handsome surfaces, "Chaplin" rings hollow. It doesn't offer any real insights into Chaplin as an artist so much as it runs through the greatest hits of his life — and its glib treatment of his unsavory conduct doesn't do it any favors. The film even goes so far as to invent a character, the editor of Chaplin's autobiography played by Anthony Hopkins, whose sole purpose is to ask the elderly Chaplin why he glosses over certain incidents and people in his written biography (which the real Chaplin absolutely did). Yet, the answers it imagines him giving aren't exactly that enlightening.
Ironically, given all the trouble caused by his casting, Downey Jr. is easily the best part of "Chaplin." Besides capturing the graceful physical comedy and mannerisms of Chaplin's classic Tramp persona, he brings a sense of vulnerability to the role that isn't always present in the movie's script. It's not just Chaplin the sad clown that Downey excels at playing, either. He's also great in the scenes when Chaplin is obsessing about working on his films or exposing his chilly, indifferent attitude towards so many of the women in his life.
"Chaplin," in a nutshell, is simply one of the many competent but bland Oscar-bait biopics Hollywood has churned out over the decades. But Downey's performance is good enough to merit giving the film a look sometime. It's available to stream on multiple platforms.