Why Susan Sarandon's Bull Durham Performance Scarred Her Children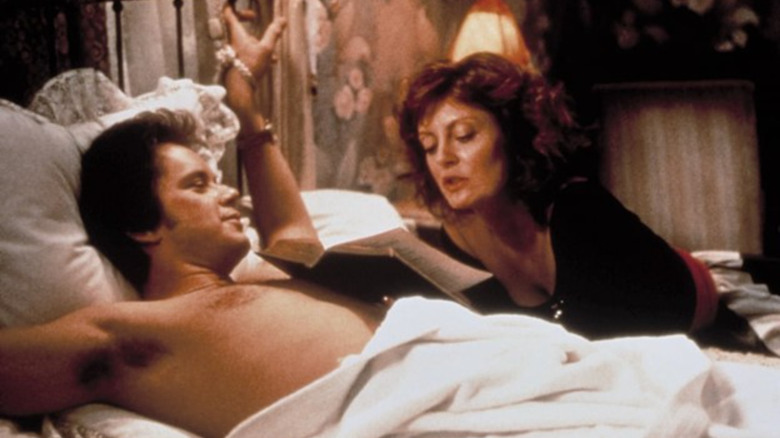 Orion Pictures
Susan Sarandon and Tim Robbins met on the set of the 1988 raunchy sports comedy "Bull Durham." In the movie, a promiscuous middle-age baseball groupie (Sarandon) enters a relationship with a considerably younger and in-over-his-head Minor League Baseball rookie pitcher (Robbins) for the predetermined term of a single season. The film led to Sarandon gaining a Golden Globe nomination — and a new family.
In a case of life imitating art (minus the baseball plot), Sarandon and Robbins entered a relationship the same year. The couple had two sons together, Jack and Miles Robbins. In a 2020 BUILD Series Q&A, Sarandon shared her children's responses to watching "bits and pieces" of the critically acclaimed movie for the first time at the Chaplin Award Gala years ago. Sarandon said her daughter Eva Amurri (a teenager at the time, from her earlier relationship with director Franco Amurri), laughed throughout the whole movie. But while Eva found Sarandon's performance hysterical, Jack and Miles had quite a different reaction.
Great, but scarring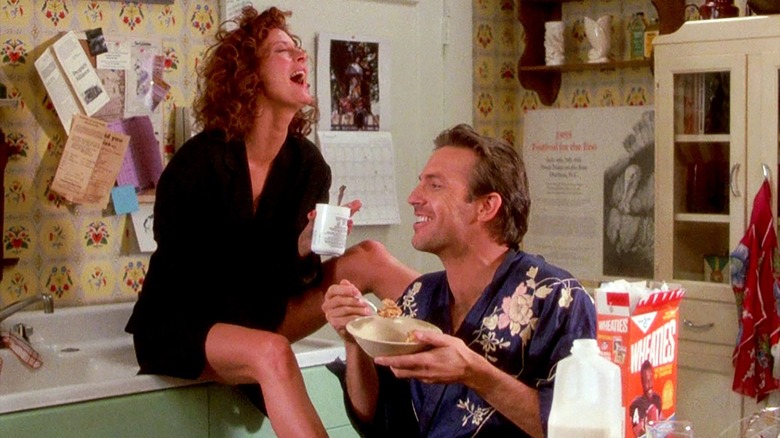 Orion Pictures
Susan Sarandon said after she got her daughter Ava's response to her performance in "Bull Durham," she turned to her son Jack. Recalling his reaction at the 2020 Q&A, Sarandon mimicked a horrified expression and gesture he apparently gave in response to the performance. She then turned to her youngest, Miles. "I said, 'Well what did you think Miles?' He said, 'I thought it was great, mom. But scarring.'"
It's natural for kids at some point in their childhood to wonder how their parents met, and Sarandon's children had the one thing most didn't: a feature film to help put the pieces together for them. For Miles, an adjective like sweet or adorable would have been a fitting response ... if we were talking about the "Titanic," or "The Notebook." But we're talking about "Bull Durham," and I bet it was scarring –- and hilarious –- for a pair of adolescent boys to watch their mom play a dominatrix in a comedy film where their dad serves as her boy toy.
Momma understands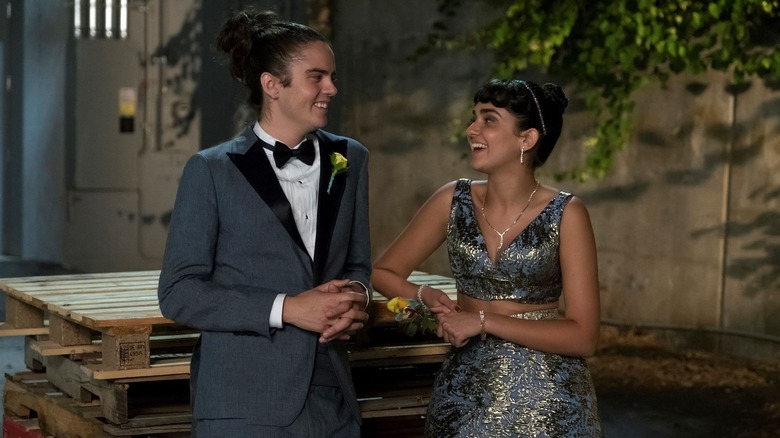 Universal Pictures
In the BUILD Series Q&A, Susan Sarandon provides some motherly insight on her children's responses. "My kids — they just don't want to think I ever had sex with anyone," she explains. Regarding her sons in particular, she adds: "They don't want to see me die in anything, and they definitely don't want to see anyone touching me in anything. And I guess that's just the way guys are, sons are. I get it, that's OK."
Side thought: I wonder how scared her children became after they watched their mom shoot a man dead with a .38 revolver and proceeded to race her 1966 Ford Thunderbird off the Grand Canyon, plunging her to her death in "Thelma & Louise."
Today, Miles Robbins has followed in his parents' footsteps and is making a name for himself as an actor. In what is perhaps his own "Bull Durham" moment, he performs oral sex on his prom date, Geraldine Viswanathan, in a scene from the 2018 teen sex comedy "Blockers." And in another instance of history repeating itself, Miles and Geraldine are dating in real life. All they have to do now is have some kids and scar them for life with that "Blockers" scene.