We Need To Talk About That Hilariously Disgusting The Boys Season 3 Cameo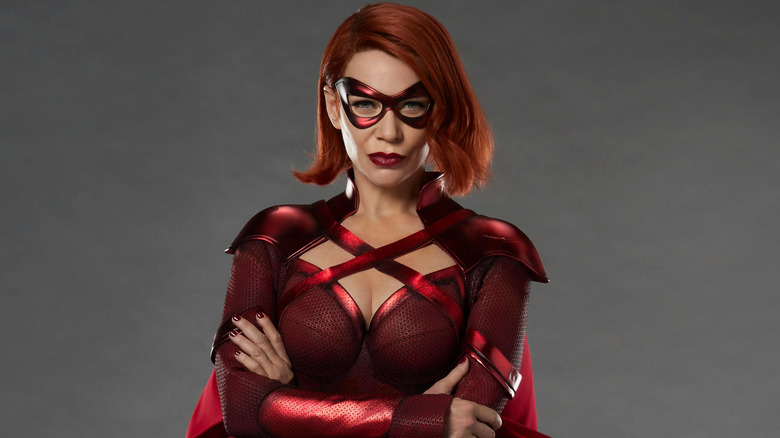 Prime Video
There's always something fun about watching a director/producer make an unexpected cameo in their own movie or TV show. John Green had a fun little (unfortunately deleted) cameo in the adaptation of his book "The Fault in Our Stars." Quentin Tarantino has shown up in a couple of movies, usually playing a terrible person. More recently, co-director Daniel Scheinert appeared in his film "Everything Everywhere All at Once" as a guy shown to have a spanking fetish. This is the best sort of cameo: where the celebrity plays a role that should presumably be a little beneath him, a role where dignity is not required. 
So it goes with the latest episode of "The Boys," where Seth Rogen shows up to play ... a guy pleasuring himself on a webcam. Presumably this is the in-universe version of Rogen who has appeared previously in "The Boys," though in the chatroom he's using a pseudonym (one that we cannot repeat, because we like to keep things clean here on Slash Film Dot Com).
To elaborate a little: the show reveals that superhero Crimson Countess (Laurie Holden) has started a gig as a cam girl for a supe-themed porn website, performing sexual acts on camera in one-on-one sessions with clients. Presumably she was fired from Voughtland after gruesomely killing a poor unsuspecting Homelander mascot in season 3, episode 2.
Unfortunately for Rogen, his session is cut short when the Crimson Countess is attacked by the Boys. He does manage to live up to his username, though, and the show goes out of its way to show us Rogen's face as it happens. But considering all the weird, often violent conclusions of supe-involved sex we've seen on this show, it's honestly just nice to see that [username redacted] got to leave the encounter unharmed.
Seth Rogen's involvement with The Boys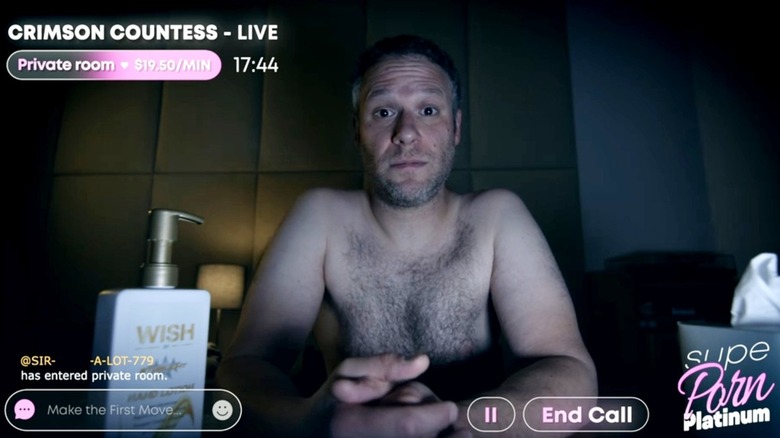 Prime Video
As mentioned previously, this isn't the first Rogen appearance in "The Boys." He also pops up in season 1 in an interview hyping up Black Noir's solo film in the Vought Cinematic Universe, "Black Noir: Insurrection," and appeared again in the season 2 premiere to pay tribute to the late Translucent. Since Seth Rogen canonically exists in this universe (alongside other celebrities like Lil Nas X and Charlize Theron), it's safe to assume that this chatroom patron is that same Rogen. It would certainly explain how the guy could afford Countess's rate of $19.50 a minute.
The real reason for Rogen's repeated appearances is that he's an executive producer on "The Boys." He tried several times throughout the 2000s and early 2010s to get the comic series the show was based on (also named "The Boys") adapted into a movie, to no avail. It was only in 2015 that Amazon picked up the project and turned it into a TV series, and Rogen could finally help bring the premise to life on screen. He's since been using his platform as a high-profile celebrity to promote the show, with a lot of success so far.
It seems at this point that we can expect Rogen to make an appearance at least once per season, although it's not clear if he'll be returning as the same character he was this time around. Either way, it's always nice to see him on the show, especially considering Rogen's a big reason why the show exists at all.
New episodes of "The Boys" release Fridays on Prime Video.