How Birds Of Prey Evolved Harley Quinn's Original Suicide Squad Style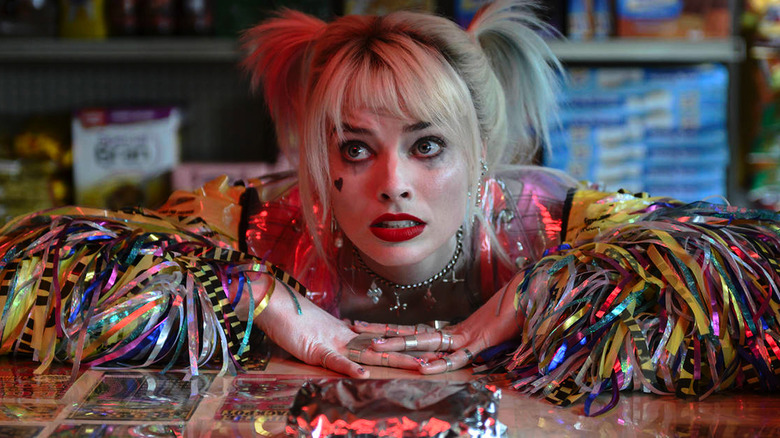 Warner Bros. Pictures
No one is the same after a break-up. Though this can feel like a scary revelation for some, it can be a real chance for others to discover who they are, maybe even who they want to be. That sentiment is the catalyst for Harley Quinn's transformation in "Birds of Prey (and the Fantabulous Emancipation of One Harley Quinn)," where the titular anti-hero is unceremoniously liberated from the freakiest (and simultaneously, the least interesting) version of the Joker, and forced to reckon with her newfound independence in a pretty major way.
This manifests in all the finer details just as clearly as it does within the narrative. Harley's wardrobe famously transitions from the torn white tees and quasi shorts of David Ayer's "Suicide Squad" to caution tape-inspired outerwear and pink sequins in "Birds of Prey," the refreshing pivot from the male gaze we all desperately needed.
Not every aspect of the character was so easy to change, though. Given that Harley had made her debut in "Suicide Squad," certain elements of her character had to carry over to "Birds of Prey," at least for continuity's sake. But there were some elements of Ayer's world that the director of "Birds of Prey," Cathy Yan, was keen to carry into her own film.
"I love the way that David Ayer created a world that felt a little more grounded, that was a bit more inspired by street style," Yan told GQ. "So I definitely took a cue from that world and then I pushed it even more and made it our own."
All about Harley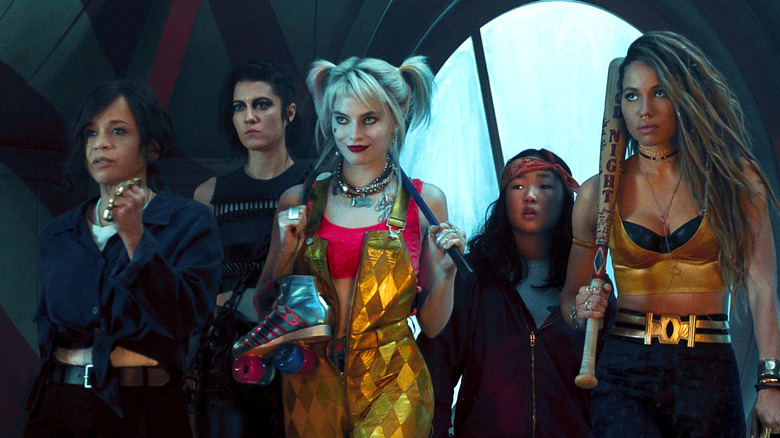 Warner Bros. Pictures
Yan made clear that "Birds of Prey" was never really meant to be a complete renovation of Harley's character. Though the film avoids any overt nods to its predecessor, it still had to deal with Harley's break with the Joker in a few subtle ways. "We kept all her tattoos, but then we changed them according to her character and where she's going because in this movie, you know, Harley is figuring out who she is when she's no longer the girlfriend. And that was important." Yan continued:
"The 'J' tattoo on her arm becomes a mermaid. You see her at the very beginning of the movie turning 'puddin' into 'pudding cups.' That was a cheeky nod to where she was and when she's going from a character development perspective. We gave her slightly different haircuts, letting the dye grow out and get a little bit more diluted."
A handful of ideas from "Suicide Squad" were effectively repurposed for "Birds of Prey" — but there was one part of Ayers' film that Yan was always sure about leaving in the past: Jared Leto's Joker. Of course, the Clown Prince's shadow looms large over Yan's film, but he's only ever mentioned in passing. For Yan, that was a conscious choice. "The movie is just about Harley," the director explained, "and Harley doesn't need the Joker." Couldn't have said it better myself.