How Pixar's Wall-E Paved The Way For Lightyear
Disney/Pixar
"Lightyear" comes out tomorrow, and we're about to see the movie that the toy Buzz Lightyear is based on. You remember Buzz from the "Toy Story" films, of course — so it's a movie about a movie in a movie universe that spawned a toy that starred in the movie. So yeah. It looks like a lot of fun though, and it's the culmination of years of progression in animation, a whole lot of which comes from Pixar. One of the films that helped the "Lightyear" filmmakers create what we're all about to see is the film "WALL-E."
AV Club did an interview with "Lightyear" director of photography Jeremy Lasky who spoke about how "WALL-E" influenced the making of the new Pixar film and it's really cool! If you haven't watched "WALL-E" yet, why the hell not? It's delightful and it's streaming on Disney+! It's the story of the future in which a little garbage robot is the only thing left on earth other than trash and his cockroach friend, which is cuter than it sounds. It had some stunning imagery, and that actually paved the way for how "Lightyear" was animated.
Anamorphic camera and lenses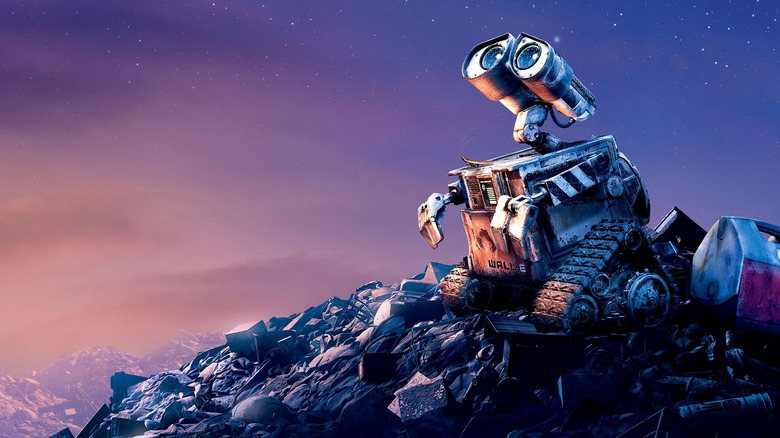 Disney/Pixar
One of the things that Lasky said they did on "WALL-E" is that they started staging things in front of a live-action camera before they shot. He explained that former producer Jim Morris (before he became the president of Pixar) was a "big influence" on "WALL-E," and that the blocking movement thing was because they decided to make the film anamorphic. It was his idea to do that.
Lasky said, "So that research kicked off the current wave of our digital camera package, meaning we [did] it on WALL-E, it worked, now it's just math. So we can do it for any kind of lens we want. We can do it for any kind of camera we want."
Lasky also talked about how they shot a lot of "Lightyear." He explained that they shot in IMAX for "about a third of the movie." There were apparently two sets of lenses and two cameras to create the effects, and that they used a 65-millimeter-equivalent sensor for the IMAX parts.
Lasky explained:
"Shooting with a bigger 'piece of film,' if you will, or a bigger sensor, gives you a different feel to the imagery. And you certainly see that in a ton of movies where it just feels different. I think it feels a little more three-dimensional. There's something about it, it's just more sculptural, it can be really beautiful."
'It just feels different'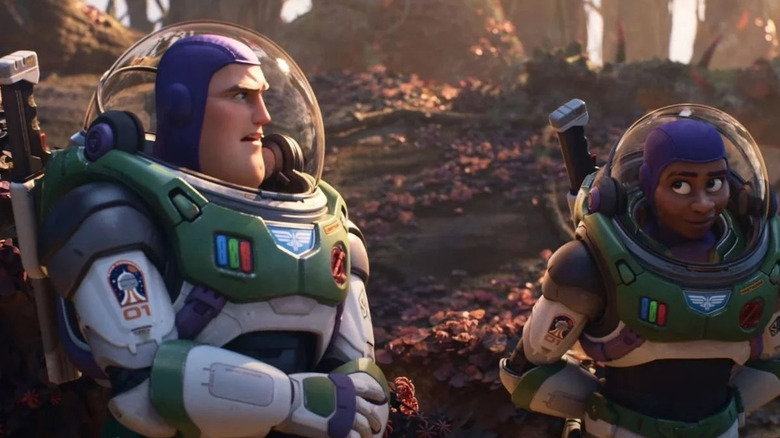 Disney/Pixar
It's easy to take animation work for granted, but it's really stunning just how much the field has grown and developed since the early days of Pixar. The trailer for "Lightyear" does give it a very 3D feel, and the details pop. Lasky said that the different lenses for a regular camera versus the anamorphic lenses are distinct visually, and that the ones they used on "Lightyear" was an "update of what we used on WALL-E." He said that you might not get the difference in a regular theater but that in an IMAX theater, you will really notice: 
"Listen, we're all nerds. We just went that extra mile — 'This should feel authentic. When else am I going to get to shoot an IMAX movie?' But yeah, all of that stuff started back on WALL-E, and each film has kind of had its own version. Like, how do we want to shoot this film? What's the aspect ratio? What do we want the feel of it to be from the lens? And it all sounds like kind of small, little things. But they all add up. 'Turning Red' looks the way it does because of how it's shot. And the art direction and the animation, all those things, it's 180 degrees from how 'Lightyear' looks. But it's the same computers."
I love that he mentioned "Turning Red" here. I'm very much in awe of people who create animation, and I'm looking forward to seeing this in IMAX.
"Lightyear" will hit theaters on June 17, 2022.