Lightyear Trailer: Buzz Is A Man Out Of Time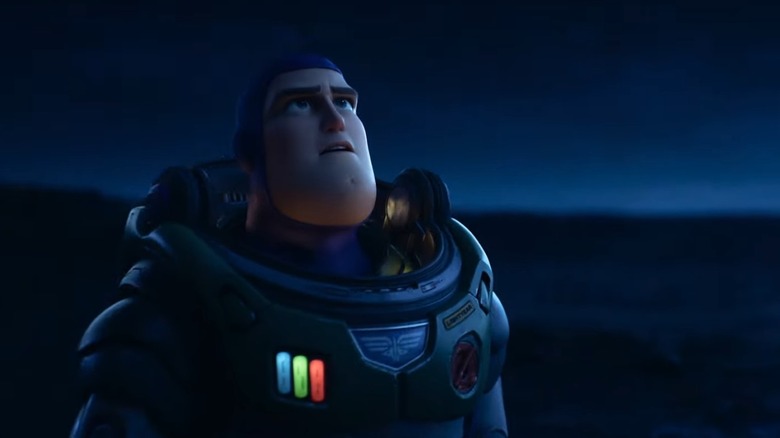 Pixar
Pixar has released a brand new trailer for "Lightyear," the movie-within-a-movie pseudo prequel to "Toy Story" that is set to tell the "definitive origin story" of Buzz Lightyear. And before you ask, no, this is not meant to be the story of an in-universe real person, but the fictional sci-fi blockbuster that inspired the toy line Buzz Lightyear.
This is an important distinction because it means "Lightyear" is not necessarily erasing the vastly underrated and virtually unaccessible cartoon "Buzz Lightyear of Star Command," which already told the story of Buzz Lightyear in space. That a huge blockbuster in the '70s or '80s would inspire a cheap cartoon cash-grab with a huge line of toys is not just realistic, it happened time and time again.
The film is a huge welcome back to movie theaters for Pixar, after sending three of their best movies in years, "Soul," "Luca," and "Turning Red" straight to Disney+. Of course, theatrically releasing a movie connected to the first animated movie to hit $1 billion at the box office is too good to pass up, so those hoping to catch "Lightyear" at home will have to wait a bit.
Time dilation, baby!
The new trailer for "Lightyear" finally tells us more about the story of the film beyond "It's Buzz, and he's in space!" with the biggest reveal being that Buzz Lightyear is a man out of time. While on a routine mission, Lightyear finds himself on a hostile alien planet far away from home, but to make matters worse, he lands 62 years into the future.
Time dilation is a classic sci-fi trope, especially in animation. Sure, you can keep your "Inception," and your "Interstellar," but animation has given us heartbreaking tales of what it means to literally lose time for the sake of a mission. From Hideaki Anno's first masterpiece, the giant robot show "Gunbuster," or Makoto Shinkai's doomed sci-fi romance "Voices of a Distant Star," time dilation allows some fascinating, thrilling, and quite emotional stories. Given that this is "Toy Story" we're talking about, a franchise known for making everyone in the audience cry, it's easy to expect "Lightyear" will bring as many emotions as it will bring cool Zurg fights.
"Lightyear" will lift off to theaters on June 17, 2022.
"The definitive origin story of Buzz Lightyear, the hero who inspired the toy, "Lightyear" follows the legendary Space Ranger after he's marooned on a hostile planet 4.2 million light-years from Earth alongside his commander and their crew. As Buzz tries to find a way back home through space and time, he's joined by a group of ambitious recruits and his charming robot companion cat, Sox. Complicating matters and threatening the mission is the arrival of Zurg, an imposing presence with an army of ruthless robots and a mysterious agenda. A new poster and images are also available."