Pixar's Lightyear Eyes $80 Million Opening Weekend – Here's How That Stacks Up Against Other Pixar Movies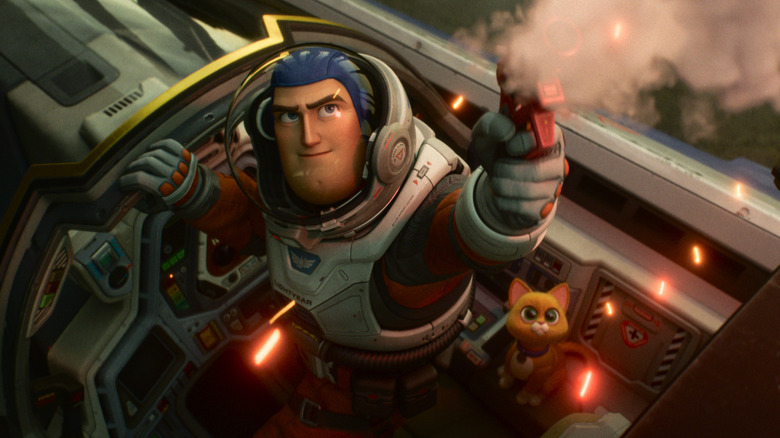 Disney
After more than two years away from the big screen, Pixar makes its welcome return to theaters with "Lightyear" this weekend, a spin-off set within the "Toy Story" franchise that offers up the origin story of Buzz Lightyear. Mind you, this isn't Buzz Lightyear the toy, but rather the movie that inspired the toy, with Chris Evans of Captain America fame voicing the role originated by Tim Allen. As one might expect, the film is expected to be another winner for Disney at the box office with a sizable opening weekend. But just how high can Buzz fly, and how will it stack up against other big Pixar movies from the past?
According to Variety, "Lightyear" is expected to top the domestic box office in its opening weekend with between $70 and $80 million against a $200 million production budget. "Jurassic World Dominion" is expected to drop more than 50% in its second weekend, with a haul in the $65 million department, which clears the path for Disney and Pixar to win the day. Overall, the film is looking at a global launch of $135 million, which would put it well on the path to becoming a big hit, a respectable return to moviegoers for the ever-reliable Disey brand. However, it is also worth pointing out that "Lightyear" has been banned in certain countries due to a same-sex kiss, which could make overall numbers lower.
During the pandemic, "Onward" had its theatrical run cut very short, and that put Pixar on an odd run. One of the most reliable brands in box office history saw three original films in "Soul," "Luca," and "Turning Red," all of which were praised by critics, head straight to Disney+. Now, a franchise-branded film will be saddled with the weight of big expectations.
Pixar's history of big opening weekends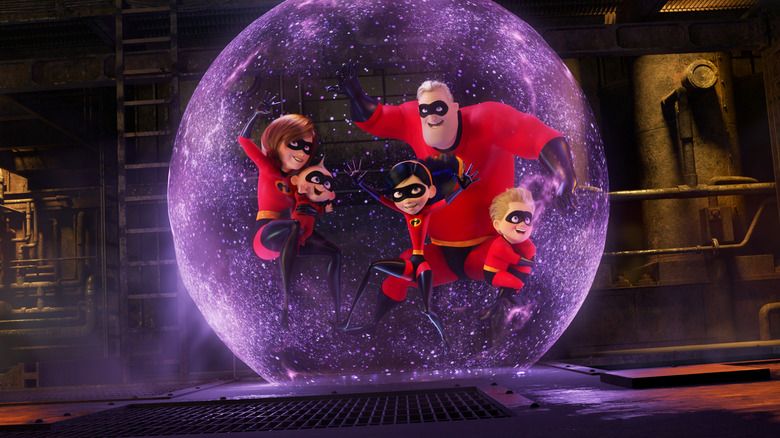 Disney
Given that this film is bringing Pixar back to theaters, it is worth going over some of the biggest debuts in the studio's history at the box office and how "Lightyear" might stack up. The biggest of the big came in 2018 with "Incredibles 2," which opened to a stellar $182 million, by far a record for an animated release, Disney or otherwise. Behind that, in a fairly distant second is 2016's "Finding Dory," which opened to $135 million. Coming in third was "Toy Story 4" in 2019 with $120 million.
To find a more direct comparison, we can look to 2013's "Monsters University," which opened to $82 million, or perhaps "Incredibles," which nabbed $70 million back in 2004. The big thing to remember when it comes to director Angus MacLane's "Lightyear" is that it is a spin-off, not a sequel. So it shouldn't be expected to do "Toy Story 3" numbers ($110 million). But when we look at something like "Fantastic Beasts and Where to Find Them," a "Harry Potter" spin-off that debuted to $74 million in 2016, the projections for "Lightyear" begin to make a bit more sense.
Context is helpful but it's important to remember that the Disney+ releases may have had an impact on the way moviegoers view Pixar now. Do they still see this as must-see-in-theaters entertainment? Not to mention that the pandemic did temper expectations in general. All of this to say, $80 million would be a damn fine start for Pixar's latest. Not everything needs to shatter records.
"Lightyear" hits theaters on June 17, 2022. Here's the official synopsis:
From Disney and Pixar comes an animated sci-fi action-adventure — the definitive origin story of Buzz Lightyear (voice of Chris Evans), the hero who inspired the toy. "Lightyear" follows the legendary space ranger on an intergalactic adventure alongside ambitious recruits, Izzy, Mo and Darby, and his robot companion Sox. As this motley crew embark on their toughest mission yet, they must learn to work as a team to escape the evil Zurg and his dutiful robot army who are never far behind.