Agent King Footage Reaction: Elvis Becomes A Secret Agent And Fights Charles Manson In Stylish Animated Show For Netflix [Annecy]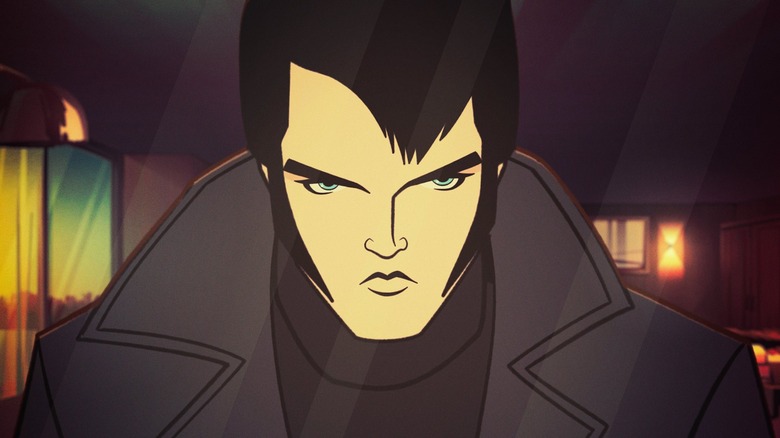 Netflix
The King of Rock and Roll is having one hell of a great year, even 45 years after his supposed death. While Baz Luhrmann's "Elvis" is a maximalist musical extravaganza, the new adult animated show from Sony Pictures Animation and Netflix wants to show a very different side of the king with "Agent King" — one with lots of guns, bloody action, face-kicking Charles Manson, and a machine-gun-wielding chimp that loves snorting coke.
That's right. Elvis is doing what the Jonas Brothers could not, and getting a show about balancing the musician life with the work of a secret agent (yes, there was almost a show with the same concept starring the Jonas Brothers). During a studio focus panel for Sony Pictures Animation during the Annecy International Animation Film Festival, /Film got to see some concept art and a sizzle reel with the first footage of "Agent King," and Elvis has never looked better.
It's good to be the king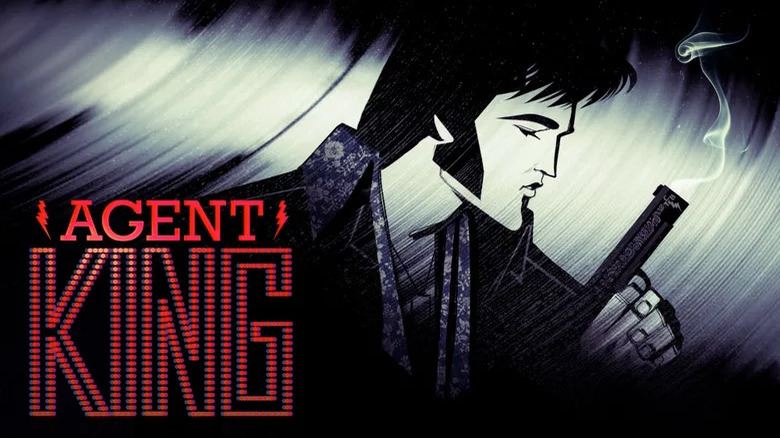 Netflix
Co-executive producer Fletcher Moules introduced the show, and how it all stems from the famous photo of Elvis and Nixon where the king got a badge that officially made him a federal narcotics agent. The show imagines, what if he actually was a secret agent, and he went on missions when not doing concerts? Not just any missions, mind you, but very real ones that involve real people, with a sort of "Forrest Gump" vibe. To accomplish this, the team set out to tie real-world events and Elvis events together, meaning a lot of research went into big historical events from the late '60s and all throughout the '70s, and the events, concerts, and scandals involving Elvis at the same time. The result was a series of concept art images showing Elvis kicking Charles Manson in the face and probably stopping the Manson murders, but also him punching Fidel Castro in the face, and possibly catching the Zodiac killer too.
Of course, Elvis was a very famous and well-connected guy, so there are plenty of famous names that we can expect to make appearances on "Agent King." Though Moules and character designer Robert Valley played coy on whether the designs were just tests or if they'll actually appear in the series, concept art for everyone from The Beatles (animated Paul McCartney looks incredible in this style), Dean Martin, and Clark Gable, to Marilyn Monroe, Kurt Russell (who did meet Elvis and then went on to play him in John Carpenter's "Elvis") and one George Walton Lucas Jr. This is shaping up to be an R-rated, animated version of "Legends of Tomorrow" and that's a huge compliment.
A bloody good time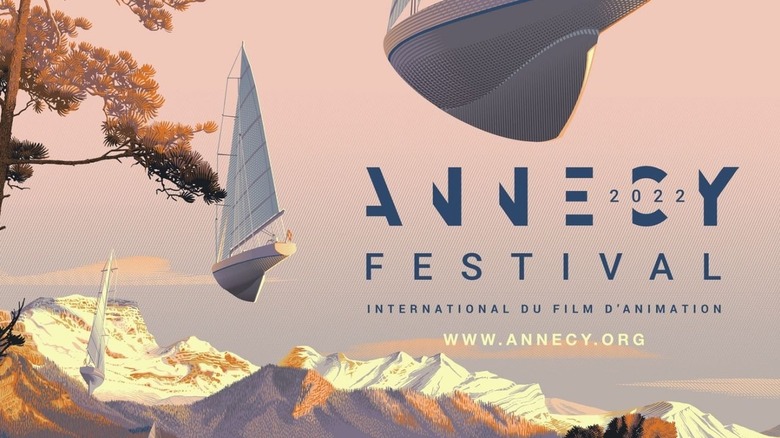 Annecy Film Festival
Visually, the show looks striking. Valley showed a lot of his work on the design of Elvis himself, with stylized line work capturing what he calls an "adorable and dangerous" look for the king, who Valley describes as the coolest and most handsome man to ever live, and the animated Elvis certainly fits the part. This is not young Elvis, or fat Elvis, but Elvis in 1970 right at his peak. To make the show look and feel like the '70s, the animators looked at modern movies set in the '70s to see how they replicated that style, and used desaturated colors, film grain, and graphic shapes straight out of '70s-style Art Deco to accomplish a vintage yet modern look for the animated show. 
As for the footage itself, "Agent King" has a lot in common with "Archer" and even Lurhmann's "Elvis" movie, which also reimagines the singer as a superhero. In the short sizzle reel screened at Annecy, we saw Elvis rocking it out at The International Hotel in Vegas, with the animation doing a great job capturing the king's hypnotizing hip movements and facial expressions, shooting his way out of a fight, ruthlessly killing some bad guys in quite a gory fashion. There's even a shot of a flashback to his time in the army and what appeared to be a green super serum being injected into young Elvis' body. If there was any doubt this was an adult show, Elvis' chimp friend blows a guy's brains off then immediately snorts a line of coke on a table.
The first season of "Agent King" will feature 10 episodes. Since the show is already quite fictional, Moules hinted at the show being able to continue way past the '70s, because if the show is imagining a world where the fringe theories about Elvis being a spy are true, why not go all the way and imagine him not dying in 1977? So the first season will plant seeds for future plot threads that can go towards the late '70s and into the '80s. In any case, this show looks spectacular, and I can't wait to see more.