Jurassic World Dominion Originally Had A Much Longer Beginning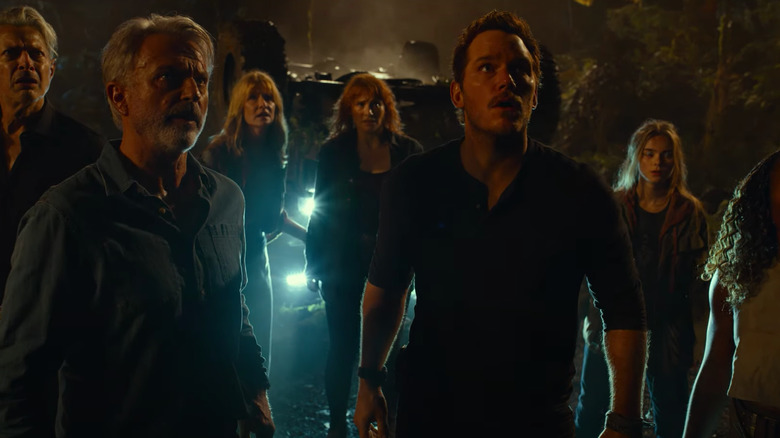 Universal Pictures
Mild spoilers for "Jurassic World Dominion" follow.
Whatever your thoughts on the new film "Jurassic World Dominion" and its two-hour 27-minute runtime, you could have been watching it for even longer. I'm not talking about that five minute-long prologue that was released back in November of 2021. We could have gotten a lot more of an opening act, according to an interview that writer/director Colin Trevorrow did with The Hollywood Reporter. 
"Jurassic World Dominion" is the ending of this trilogy, which followed the "Jurassic Park" trilogy. In the film, dinosaurs have become a part of the world now, no longer being contained on Isla Nublar. They're running in herds with horses, causing issues for sailors as they swim through the deep, and wandering around cities, creating mayhem. Not only that, but there is a plague of giant bugs attacking the crops on farms who aren't using a genetically engineered grain. I wonder why that could be? No, that part isn't about the dinosaurs, and you may, like me, wish that the film had focused on the big guys a bit more, but that's one of the plot points that brings back the stars of the original 1993 film "Jurassic Park," Laura Dern, Sam Neill, and Jeff Goldblum. Yet another storyline is Maisie (Isabella Sermon), the clone girl, living with her new family Claire (Bryce Dallas Howard) and Owen (Chris Pratt). Oh, and Blue has had a baby, and both little Beta and Maisie are kidnapped by a corporation. Then there is a pilot named Kayla (DeWanda Wise) who jumps in to help out. (She needs her own movie franchise, stat.)
Adding something to this rather bloated film probably wouldn't have helped much, though I still wish the prologue had been part of it. Maybe just do that movie? Moving on. 
Life ... uh, finds a way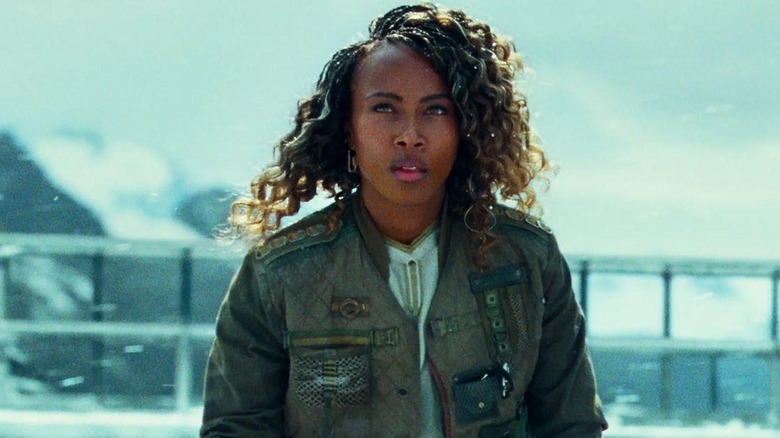 Universal Pictures
Editing a movie is something I certainly couldn't do, and I'm sure cutting it all down is very difficult. Trevorrow was asked about what he learned about the film in the editing room that wasn't clear while writing and filming. He replied:
The movie had a very patient opening act, and so there's about 14 minutes of this movie that aren't in the theatrical version. And a good chunk of it is actually in the first 30 minutes. So finding a way to make sure that these two stories that were beginning simultaneously and going on parallel tracks only to collide later with elements from each of them crossing over into each other, it's a pretty complex black diamond run of screenwriting. And then it became that same kind of black diamond run of editing. Ultimately, I think we landed at something that moves at a pace that feels right for a summer movie, especially right now. It really cooks.
The opening is kind of slow as it is, so I can't imagine almost 14 more minutes of it. I appreciate a patient opening, as he says, but that's something I'm more willing to give a narrative time for when we're talking about a television series. When you're doing a film, you need to convey more in a shorter time, and get me to more dinosaurs. Now, if we're talking about more shots of the dinos interacting with the modern world, well, that would have been great. In fact, it would have made it a much better movie. 
More dinos, fewer bugs please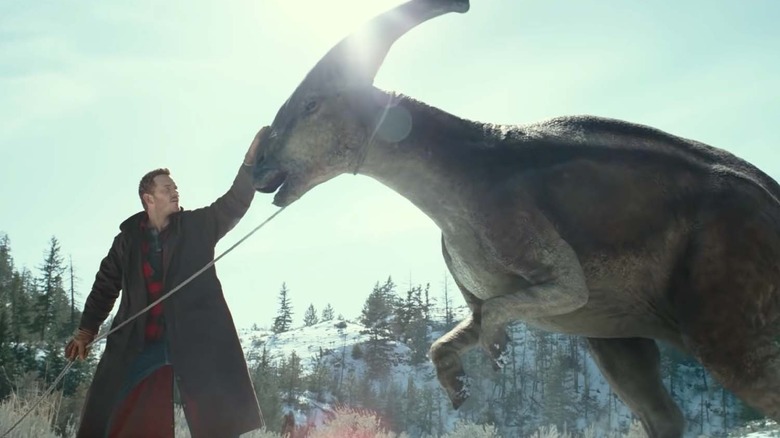 Universal Pictures
I would much rather have seen a patient opening with that movie theater of dinos, and an exploration of how they managed to live together than one about an evil corporation (I have had a sufficiency of those in film — and life — thank you) messing with things. The draw of the "Jurassic" films has always been about seeing creatures who lived so very long before humans in the same space with humans. That's the movie I wanted here as well. It makes sense to have gone at a fast pace if you're trying to shove too many storylines in, but imagine if we'd gotten to see Laura Dern, Sam Neill, and Jeff Goldblum working with people to try to figure out how to coexist with these creatures. You could have put so much more in, and brought back the wonder (and horror) of seeing these creatures up close. 
I'm glad there wasn't more of it, and if we do get more of these films about dinosaurs and humans in the same timeline, I hope it's less full of things we don't want to see, and more of that wonder. I miss that in these films.