Duke Nukem Movie Coming From Cobra Kai Creators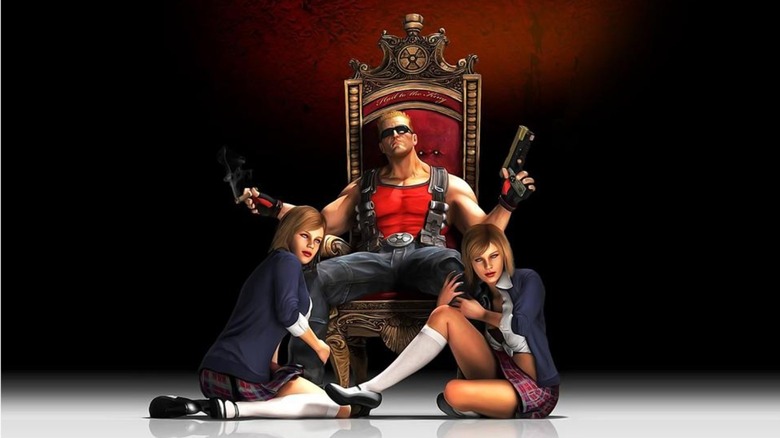 Gearbox
Yet another classic video game franchise is getting the Hollywood treatment. "Duke Nukem," one of the most representative and influential games of the '90s, is being turned into a movie by the folks at Legendary Entertainment. What's more is that the creators behind "Cobra Kai," the beloved continuation of the "Karate Kid" franchise, are the ones making it happen.
According to The Hollywood Reporter, Josh Heald, Jon Hurwitz, and Hayden Schlossberg of "Cobra Kai" fame are on board to produce the "Duke Nukem" movie. Legendary has acquired the rights from Gearbox, the gaming company behind the series. Julien Baronnet ("Assassin's Creed") of Marla Studios, a studio that specializes in video game adaptations, is also involved as a producer. No writer or director is currently attached, though the report notes that the door is open for Heald, Hurwitz, and Schlossberg to potentially take the helm.
Plot details remain under wraps for the time being, but broadly speaking, the games center on an action hero that is largely modeled on '80s action stars who has to try and save Los Angeles from an alien invasion. It's a simple enough premise that could easily be ripe for a film, especially if they lean into the '80s nostalgia angle. (Wouldn't you know it, the trio of creators involved have demonstrated they are pretty good at doing just that.) 
To date, the series includes four games: 1991's "Duke Nukem," 1993's "Duke Nukem II," 1996's "Duke Nukem 3D," and 2011's "Duke Nukem Forever." The games are largely credited with popularizing first-person shooters such as "Call of Duty" and seemingly endless others that currently rule the industry.
Video game movies are the future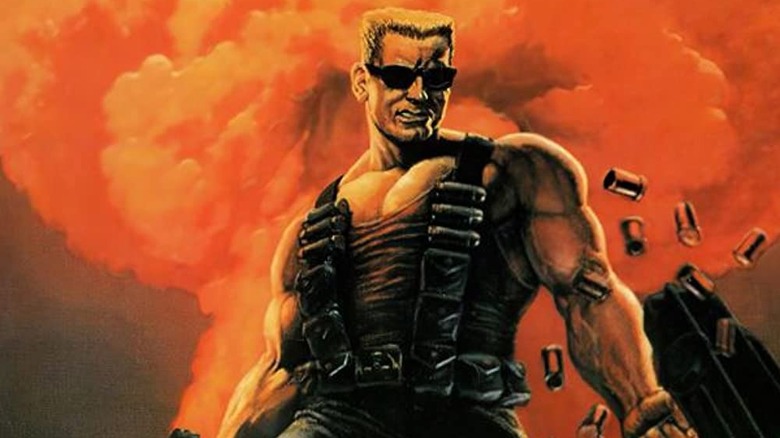 Gearbox
This is far from the first time that Hollywood has tried to get a movie based on the video game series going. Not too long ago, Paramount Pictures had been developing the project with Gearbox and, at that time, John Cena ("Peacemaker") was being eyed to star. That version fell apart and that opened the door for Legendary to swoop in. Meanwhile, Gearbox also has the upcoming "Borderlands" movie from director Eli Roth on the way as well.
Video game adaptations have become increasingly popular in recent years as studios become more and more desperate for franchises. There are only so many established properties to go around, and video games offered a hugely untapped resource. The problem — for many years, anyway — was that video game movies were downright terrible, with "Resident Evil" being one of the only exceptions in cracking the code commercially (though doing so without critical acclaim).
That narrative has begun to change, though, particularly with hit movies such as "Sonic the Hedgehog," "Detective Pikachu," "Uncharted," and, perhaps to a lesser degree, "Rampage." Make no mistake, we're still seeing plenty of bad video game adaptations (apologies to "Halo"), but the tide is starting to turn. The time may be right for Duke to finally shine.
The "Duke Nukem" movie does not yet have a release date.