The Ms. Marvel AvengerCon Scene Nearly Had A Fan-Favorite Thor Character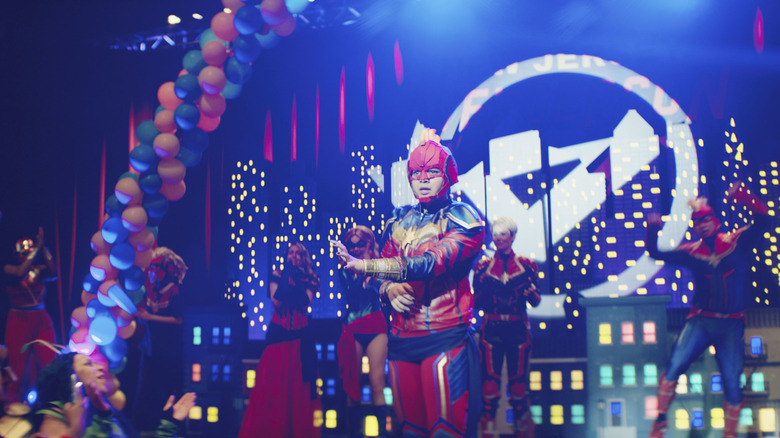 Disney+
So far, it's felt like the vast majority of the Marvel shows on Disney+ has felt like a breath of fresh air for the Marvel Cinematic Universe. They have been opportunities to explore new genres and stories that feel different even if they still mostly follow the same formula. But other than "WandaVision," arguably the biggest departure from the formula so far has been "Ms. Marvel." 
The show has a unique visual style, influenced by movies like "Scott Pilgrim vs. the World," which combines live-action with animation to bring the protagonist's colorful thoughts to life. And even in terms of story and tone, the premiere episode feels more like the pilot for a really expensive Disney Channel original series, which I consider high praise.
One thing that makes the show feel fresh is that it truly feels like a teenager's view of a world full of superheroes. From bedrooms covered with posters of the Avengers, to conversations about who the coolest hero is, to an entire fan convention dedicated to Earth's Mightiest Heroes.
In the first episode of the show, Kamala Khan sneaks out of her house and into the first Avengers-themed fan convention, titled AvengerCon. Her plan is to participate in a Captain Marvel cosplay contest and check out the merch, activations, and other cosplayers. And we almost saw some very familiar faces ... in cosplay form.
Ride of the Valkyries... and Korg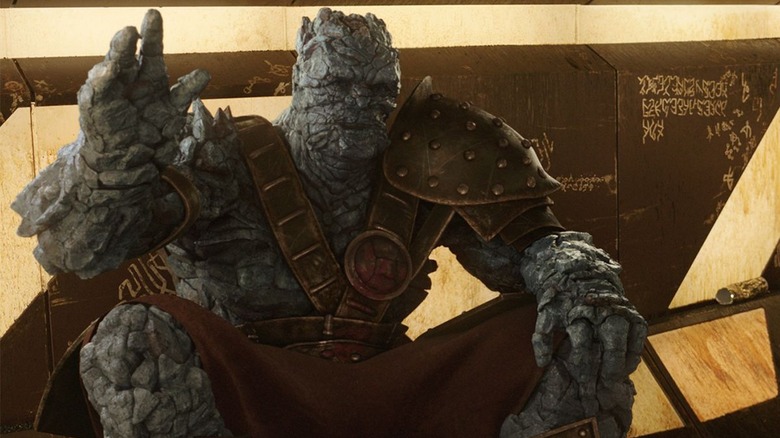 Marvel Studios
Speaking to TVLine, head writer and executive producer Bisha K. Ali said there were a lot more references that were cut from the AvengerCon sequences:
"At one point, there was a guy dressed in full Korg cosplay and he couldn't get through the security barriers. That's was in a very early draft that no longer exists."
Ali also teased a "winged horse" referencing Valkyrie's mount "so that we can represent everybody in the show." Indeed, according to Ali, "the bananas first draft of AvengerCon, which will never see the light of day, had everybody in it," but it did not make the final cut. And yet, fans shouldn't lose out hope, because there is a tiny chance AvengerCon can become a reality:
"I have an email drafted to [Marvel Studios boss] Kevin Feige, with our pitch for how we can make AvengerCon real in the real world. I still haven't sent it, but I'm like, 'We need to make this happen somehow.'"
To be fair, Comic-Con is already a thing, but sure, another convention is certainly a possibility. In the meantime, after the disastrous first edition being derailed by Kamala developing actual superpowers, it seems unlikely AvengerCon will return for a year two in the MCU.
"Ms. Marvel" is streaming on Disney+, with new episodes premiering on Wednesdays.