Daily Podcast: Obi-Wan Kenobi Episode 4 Spoiler Discussion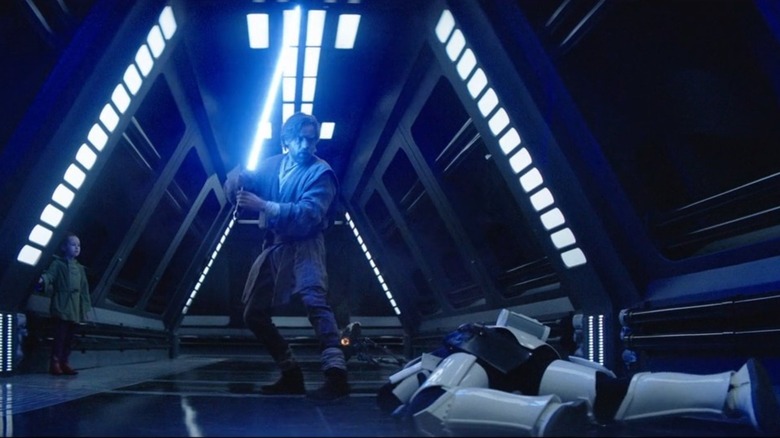 Lucasfilm
On the June 8, 2022 episode of /Film Daily, /Film editorial director Peter Sciretta is joined by /Film editor Brad Oman and /Film's resident Star Wars expert Bryan Young to have a spoiler-filled discussion about Obi-Wan Kenobi Episode 4.
Opening Banter: Brad is back!
In The Spoiler Room: Obi-Wan Kenobi Episode 4
Feedback

Pat R writes in that "On the speculation that Reva was a padawan before her time with the Empire, I believe I have more backup. It looks like Reva is the ONLY inquisitor that holsters her lightsaber on her waste while the others do on their back. Her saber is collapsed so the spinning function that the Grand Inquisitor uses to take out Flea, is not functional as well. I believe this is another sign that Reva was trained by the Jedi, she stuck out her fighting style with what she was taught before the Inquisitorius Program."

A lot of discussion online has been about the moment when the mole looking alien named Freck (voiced by Zach Braff) offered Ben and Leia a ride and they see the imperial symbol on the back of his truck.

Darth Vader's voice?

In an interview with Vanity Fair, Joby Harold was directly asked if the events in episode 2 had broken canon, including the fact that Grand Inquisitor does die in Rebels –but in a completely different way. "As you know, we would never break canon," the screenwriter responded. So that's all I'll say. Canon is everything."

Brief reactions
Breakdown

Speculation
Also mentioned:
All the other stuff you need to know:
You can find more about all the stories we mentioned on today's show at slashfilm.com, and linked inside the show notes.
/Film Daily is published every weekday, bringing you the most exciting news from the world of movies and television as well as deeper dives into the great features from slashfilm.com.

You can subscribe to /Film Daily on Apple Podcasts, Google Podcasts, Overcast, Spotify and all the popular podcast apps (RSS).

Send your feedback, questions, comments and concerns to us at peter@slashfilm.com. Please leave your name and general geographic location in case we mention the e-mail on the air.

Please rate and review the podcast on Apple Podcasts, tell your friends and spread the word!

Thanks to Sam Hume for our logo.