Warrior Nun Season 2 Teaser: The Fight Against Evil Continues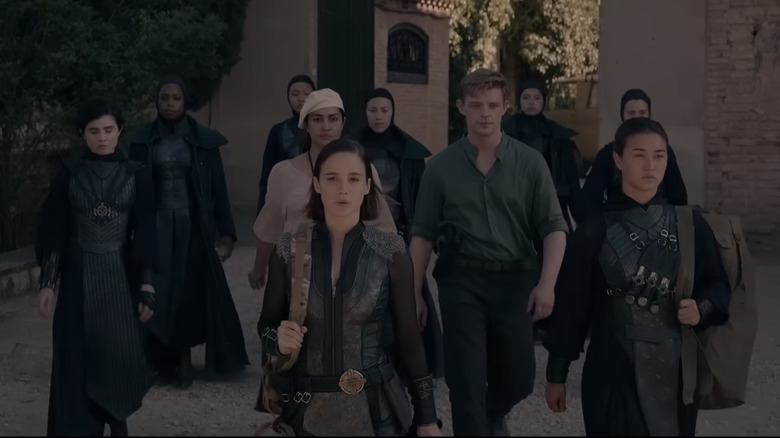 Netflix
Sometimes everything you need to know about a series is right there in the title: "Warrior Nun" is such an example because it very literally delivers on the badass implications of its title. The series stars Alba Baptista as Ava, a 19-year-old woman who wakes up in a morgue to discover she's been granted incredible chosen one-esque powers. The catch? She's now caught in the middle of an ancient war between Heaven and Hell, and she's the secret weapon.
Inspired by the manga-style comic series of the same name by Ben Dunn, the first season of "Warrior Nun" tracked the origins of Ava's new identity — waking up in that morgue gave her a new lease on life, but also saddled her with some serious, weight-of-the-world responsibility that she wasn't quite ready to accept. She spent the season juggling the normal teenage dramas of her life with a fight against evil, and it went about as well as you expect from a YA fantasy tale. But despite the endless challenges thrown her way, Ava managed to fight through because she at least had The Order of the Cruciform Sword, the secret society of warrior nuns who had her back against evil. Or so she thought.
It's been two years since the series premiered on Netflix and left its audience hanging with a major twist and a couple of shocking betrayals. But fans will be thrilled to hear that the wait is very nearly over, with season 2 set to premiere later this year. As part of Netflix's Geeked Week, the first teaser for "Warrior Nun" season 2 is below!
Warrior Nun season 2 teaser
The final episode ended on a cliffhanger, with Ava prepared to battle Adriel's army after discovering that he was not an angel but a demon, who spent centuries manipulating the Catholic Church. His lies also meant that the members of The Order were merely Adriel's puppets in his fight against heaven. But just because The Order was built on a lie, doesn't mean Ava and her sisters won't bring new meaning to the group.
The teaser plays catch up on the story so far, with Ava narrating a recap of the pivotal season 1 moments that kickstarted her journey while offering a glimpse into her future: we see the team gathering and there's no shortage of violent nunnery to go around. Did they win the battle against Adriel? It seems unlikely, but at least they're still standing and Ava seems to have a renewed sense of purpose, continuing to hone her abilities as the halo bearer.
The series stars Baptista as Ava, Toya Turner as Shotgun Mary, Lorena Andrea as Sister Lilith, Kristina Tonteri-Young as Sister Beatrice, Olivia Delcán as Sister Camila, Tristan Ulloa as Father Vincent, Thekla Reuten as Jillian Salvius, and Sylvia De Fanti as Mother Superion.
No official release date has been announced, but "Warrior Nun" is set to return this winter.