David Cronenberg Movies Ranked By How Much They Make Us Horny And Disgusted At The Same Time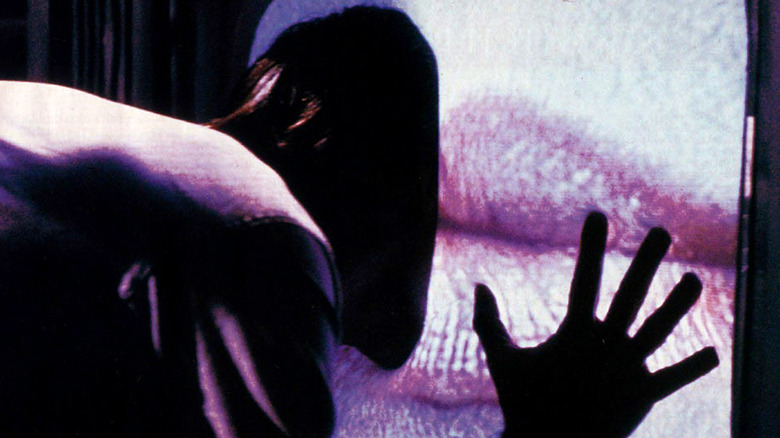 Universal
If there is one piece of fleshy, throbbing connective tissue between Canadian auteur filmmaker David Cronenberg and American troubadour John Mayer, it is the sentiment that "Your Body Is a Wonderland." While Mayer meant that song to be a body-positive seductive jam, Cronenberg isn't merely aiming to titillate with his films; instead, he embraces and celebrates all aspects of the human body throughout his work. In the realm of the Cronenbergian, an open wound and a sexual orifice are one and the same.
If that idea sounds hot and disgusting in equal measure, then congratulations: you've come to the right ranking! It must be said from the start that this is not a ranking of Cronenberg's output from a "Worst to Best" standpoint. Instead, on the eve of the release of Cronenberg's first feature film in eight years, "Crimes of the Future," here are his films ranked in reverse order by how much they make us horny and disgusted at the same time. 
Of course, if the internet has taught us anything about humanity, your own personal sexual tastes may vary. Now that's settled, come with me on this sticky (and bloody) journey through the mind of David Cronenberg, and don't forget: "everything is erotic ... everything is sexual."
21. The Dead Zone (1983)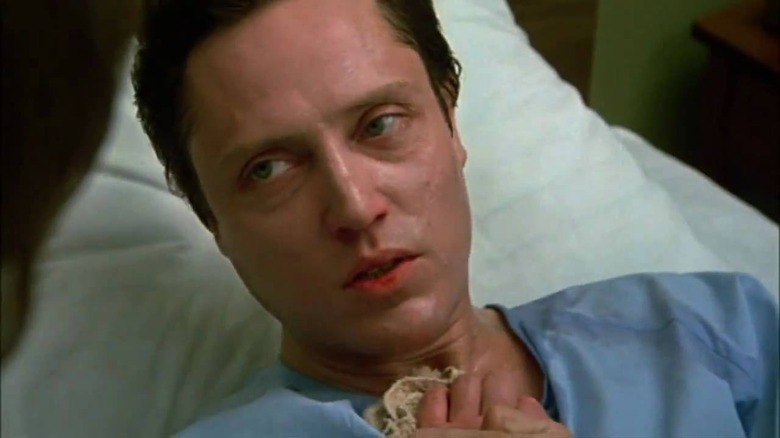 Paramount
Cronenberg's adaptation of Stephen King's novel is easily one of the saddest movies he's ever made, and that's saying something for a guy whose films routinely end with one or more of the protagonists dead. The plight of poor Johnny Smith (Christopher Walken), cursed with the ability to see into a person's future, past, or present upon making physical contact with them, is undeniably tragic, and Cronenberg makes a point of how such powers take a toll on Johnny physically as well as ethically.
However, the film isn't particularly disgusting (save for the self-mutilation death of a serial killer whom Johnny catches) or erotic. Johnny has the fate of the world on his shoulders, hoping to avert nuclear armageddon at the hands of the corrupt politician Greg Stillson (Martin Sheen), so he doesn't have much time for sexual escapades. Granted, he pines away for his ex-lover, Sarah (Brooke Adams), who left him and got married while Johnny was in a coma. The one-time couple do share a tender moment where they play the "We Never Got to Bang Each Other Freebie" card, an encounter which may-or-may-not signal the loss of Johnny's virginity. As Sarah makes clear after they do the deed, it was a one-time deal, and both "The Dead Zone" and Johnny move on to other issues on their minds.
20. Eastern Promises (2007)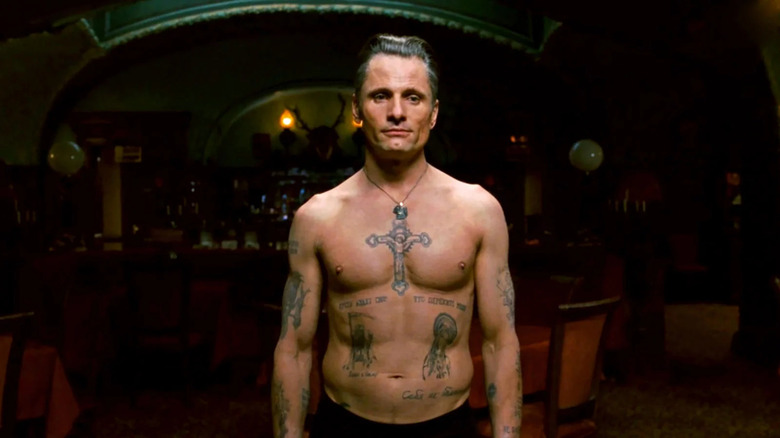 Focus Features
Some of Cronenberg's fans don't quite know what to make of the back half of his career, moving away from blatant, effects-laden body horror as it does. Yet films like "Eastern Promises" are clearly the work of the same man who made "Videodrome" and "The Fly" upon investigation — while no one grows new sex organs or transforms into a creature, the film is highly concerned with themes of identity and its relationship to the body. In "Eastern Promises," Russian gangster Nikolai Luzhin (Viggo Mortensen) is a man harboring at least two identities at once, and his toned, muscular body bears a series of tattoos that explain his past history.
Once again, there's not much here in the way of disgusting imagery (save a few grisly-looking corpses) or sexual content, the only instances of desire turning up in Nikolai harboring a sublimated crush on pretty nurse Anna (Naomi Watts) while his gangster pal Kirill (Vincent Cassel) struggles to bury a crush on him. Still, nobody eroticizes like Cronenberg, and the movie reaches its zenith in a bravura fight sequence set in a bath house, where Nikolai fights off his would-be assassins while stark naked. What in other films would be a standard action sequence turns into a set piece that's as erotically graceful as it is brutal, Cronenberg highlighting the beauty, power, and vulnerability of the human body in one fell swoop.
19. Scanners (1981)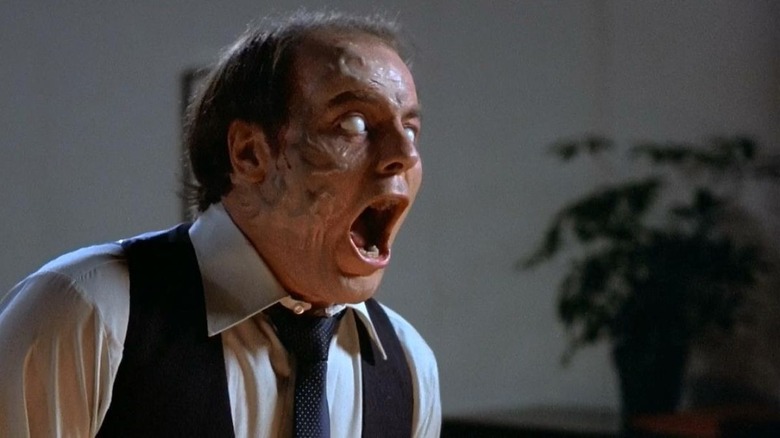 MGM
While he'd garnered some buzz with his first few features, it was "Scanners" that saw David Cronenberg explode onto the pop culture landscape. Literally!
"Scanners" is the first film on this list that unequivocally delivers on the disgusting quotient: the legendary makeup effects work of Dick Smith and company lend Cronenberg's tale of a secret war breaking out between telepathic and psychokinetic people called Scanners a grisly, goopy, bloody realism. Not only do heads explode, but veins swell and leak blood, eyes go totally white, bodies burst into flames, and there's a great deal of yelling and screaming.
Unfortunately, the movie and its characters are too preoccupied with various conspiracies and life-threatening situations to worry about gettin' it on. Scanners-on-the-run Cameron Vale (Stephen Lack) and Kim Obrist (Jennifer O'Neill) make goo-goo-eyes at each other on occasion, but nothing much comes of it (even though we're told the two hooked up and had children offscreen in the sequel, "Scanners II: The New Order"). Michael Ironside's performance as the evil Scanner, Darryl Revok, has a bit of sexy swagger to it, but overall this is the Cronenberg to turn to if you like more gore than sex in your sci-fi.
18. The Brood (1979)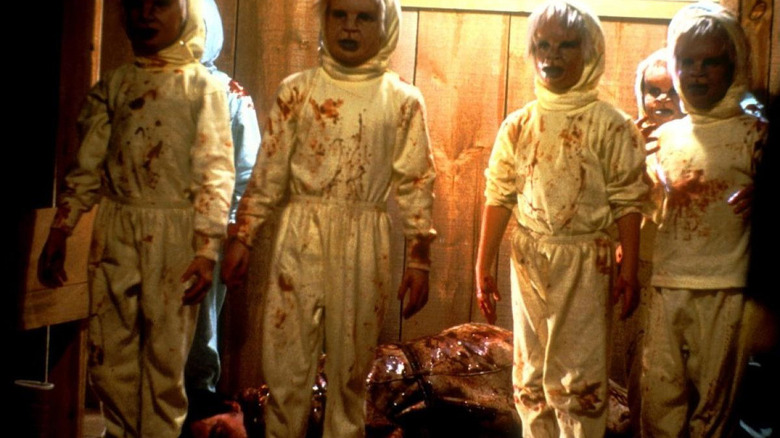 MGM
The last film on this list to not have any explicit sexual imagery or content in it, "The Brood" is another contender for being Cronenberg's most emotionally devastating film. The writer/director was working through an ugly divorce and custody battle at the time he made the movie, and that turmoil is reflected in the film and then some. The tale of Frank Carveth (Art Hindle) and his daughter Candice (Cindy Hinds) being menaced by a gang of asexual child-like creatures that have been birthed by Frank's wife, Nola (Samantha Eggar), as a result of her channeling her rage into the practice of "psychoplasmics" (a technique which encourages physical manifestations of mental trauma) is, as Cronenberg colorfully put it, "more realistic, even more naturalistic, than 'Kramer [vs. Kramer].'"
Still, while no one in "The Brood" is having sex (least of all Nola, who has formed an entire new womb that doesn't require a partner to reproduce), there's a smattering of horniness in the film. For one thing, the results of the "psychoplasmics" process on the patients of Dr. Hal Raglan (Oliver Reed) seem to resemble sex organs, as with the growth on the neck of Jan (Robert A. Silverman). Nola's birthing of her brood is deliberately eroticized, her cooing over her bulbous external womb escalating to biting through it and licking her new "child" clean.
For another, the adult characters in the film seem to be costumed in order to highlight their physical attractiveness, with even Nola's grandmother, Juliana (Nuala Fitzgerald), looking foxy before she's violently attacked by the brood. Frank strikes up a flirtation with Candice's pretty school teacher, Ruth (Susan Hogan), and it seems he may be able to form a new, healthier family unit — before Nola's "children" attack, causing Ruth to run away from Frank and Candice. In the tradition of the best genre films, Cronenberg takes the theme of a broken home and makes it disturbingly literal.
17. Crimes of the Future (1970)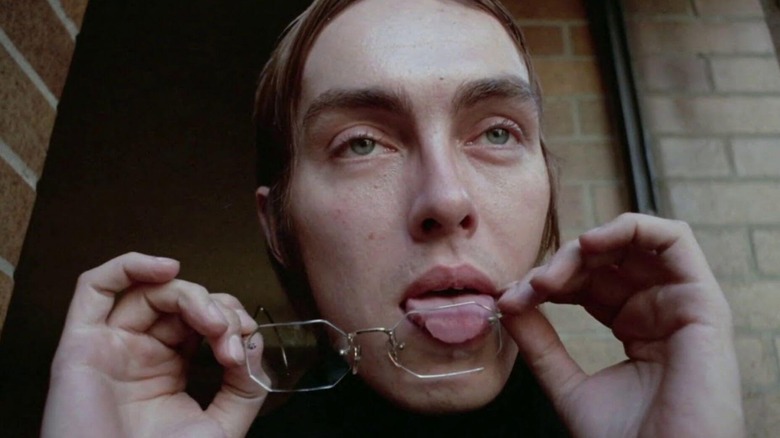 Criterion
In contrast to the prior films on this list, Cronenberg's original "Crimes of the Future" (which, allegedly, has nothing to do with his spiffy new 2022 version) is an openly horny movie. A list of the various sexual and fetish topics mentioned in the film reads like something one would find on an erotic message board: foot fetishism, panty fetishism, cosmetics fetishism, homosexuality, and pedophilia.
Don't call the cops on Cronenberg yet: those topics are only mentioned in the film, not depicted. They all turn up in the narration by Adrian Tripod (Ronald Mlodzik), which (not coincidentally) represents the only spoken dialogue in the movie. One of the filmmaker's self-produced early experimental short features, "Crimes of the Future" mostly keeps its sexual activity off-screen, such as when Tripod explains in detail about a character manifesting new sex organs that are then kept in jars but aren't shown.
The only visible body horror in the film comes in the symptoms of a plague inadvertently created by Tripod and his insane dermatologist cohorts: a virus that has killed off most sexually mature females and is now infecting adult males. The fatal virus is seen as a sort of viscous white foam that leaks from the victims' mouths and nipples — an early instance of Cronenberg combining the deadly with the venereal.
16. Stereo (Tile 3B of a CAEE Educational Mosaic) (1969)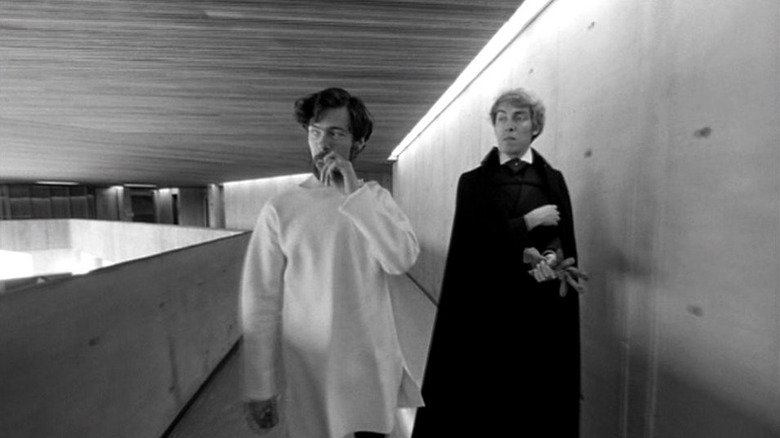 Criterion
Cronenberg's first near-full-length feature, "Stereo" acts as a precursor to the director's later films like "Scanners" and "A Dangerous Method," following the exploits of a group of telepaths who commit various acts of transference upon one another. As with "Crimes," the majority of sexual content in "Stereo" is implied and spoken rather than seen, once again in a narration that serves as the only spoken dialogue.
We're told that the film is an educational document commissioned by "the Canadian Academy of Erotic Enquiry," a setup that colors the footage to follow (though not literally — it's Cronenberg's only fully black & white film). Some of that footage is explicitly erotic, with various test subjects stripping naked and investigating each other, while in other scenes the eroticism is more subtextual. There's nothing too disgusting here; Cronenberg is leaning more on the ominous threat of a microcosm of society breaking down rather than showing it happening. Still, in a late-'60s-hippie-commune sort of way, "Stereo" has its arousing moments.
15. Fast Company (1979)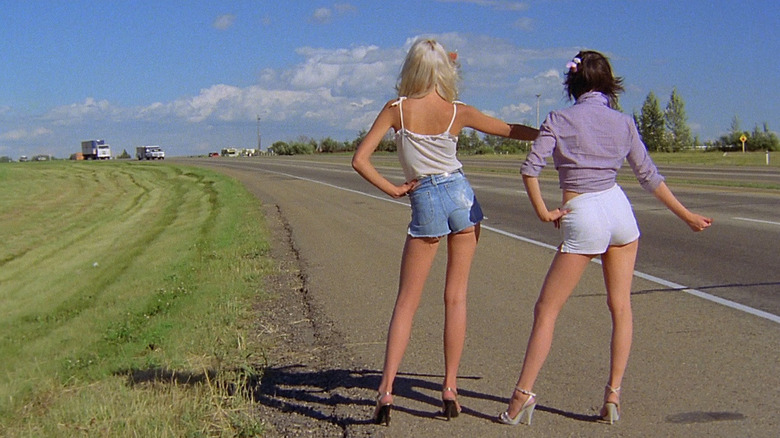 Blue Underground
Even more so than his 21st century output, "Fast Company" holds the title of the most "normal" Cronenberg film. A story about a scrappy underdog drag-racing crew taking on shady corporate involvement, "Fast Company" could easily be mistaken for a Roger Corman production. Sure, the movie is fun and sexy seeing as there's a copious amount of nudity in it, but it's mostly presented in that type of near-wholesome open sexuality best seen in the exploitation films of the 1970s.
While true Cronenberg fans know that the movie is close to the filmmaker's heart, given his love of cars and motorcycles, there's one scene in "Fast Company" that is easily identified as being the work of the director. In it, up-and-coming young racer Billy "The Kid" Booker (Cronenberg regular Nicholas Campbell), picks up two buxom young hitchhiking girls, and the trio have a threesome in the Fast Company truck. During their dalliance, Billy decides to add some lube to the girls' bodies — in the form of Fast Company brand motor oil. It's the first connection Cronenberg makes between sex and cars, paving the way for "Crash" later on.
14. M. Butterfly (1993)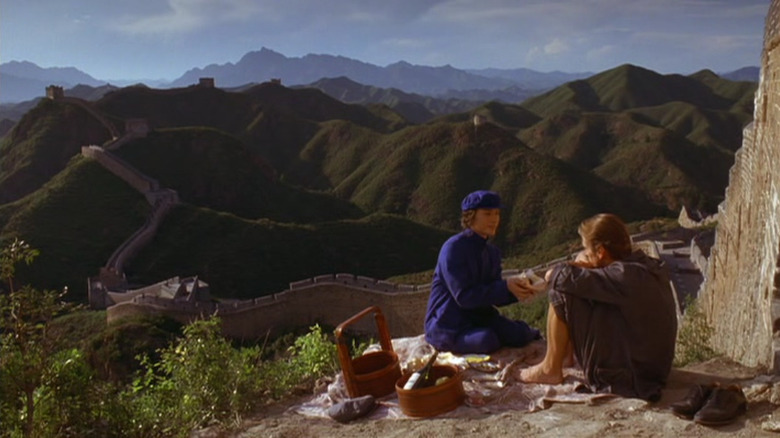 Warner Bros.
Cronenberg's first major departure from genre arrived with this film, adapted from David Henry Hwang's play of the same name. Based on the true events surrounding French diplomat Bernard Boursicot and Chinese opera singer Shi Pei Pu, "M. Butterfly" follows René Gallimard (Jeremy Irons) as he falls deeply in love with the Chinese singer Song Liling (John Lone). In the course of their meeting and torrid relationship in 1960s China, Song gets René to give up various French government secrets, only for the diplomat to discover that Song is ... well, that would be a spoiler, but one can make an educated guess.
There's not much that's disgusting in the film (unless you're a bigot), but one of the themes of the movie involves the way people hurt each other through deception and dishonesty; not just Song, but René, as he cheats on his wife Jeanne (Barbara Sukowa) with both Song and a buxom older acquaintance. René is driven to that latter act thanks to his perpetual sexual frustration with Song, who will let him touch her but not undress her, and it's this strong wave of desire that permeates the film as René and Song switch between dominant and submissive positions in their relationship (literally and figuratively, of course). "M. Butterfly" is one of Cronenberg's most romantic films, as well as one of his horniest — René is the very definition of the term "down bad."
13. Cosmopolis (2012)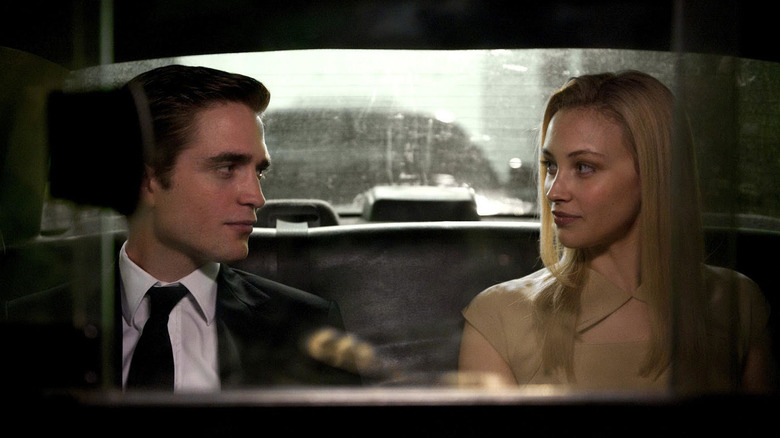 Entertainment One
Adapted from the novel by Don DeLillo, "Cosmopolis" is one of Cronenberg's most detached movies, tying in with "Crash." Yet the young billionaire Eric Packer (Robert Pattinson) isn't nearly as horny as the characters of that film. For him, sex is an asset to be managed and acquired, not a state of being he revels in. The disgusting obscenities in "Cosmopolis" aren't physical but moral, as Eric is a consummate capitalist who spends his days inside his hermetically sealed limousine, oblivious to the collapsing and desperate world around him. He continually, coldly attempts to sleep with his new wife, Elise (Sarah Gadon), eventually finding she's an acquisition he cannot close.
Still, as Eric continues his "Heart of Darkness"-like journey into self-destruction, there's a sense he might subconsciously realize there's a rot at his core. His sexual encounters manage to have a bizarre heat to them, as if he were an alien investigating what human sexuality was all about, using sex as the one conduit he has to true communication with other people. In Eric's view, sex is more about verbal than physical communication — perversely, "Cosmopolis" features cinema's hottest (and longest) prostate exam, during which Eric and one of his employees (Emily Hampshire) share a sexual connection that's only verbal, but is no less intimate.
12. Spider (2002)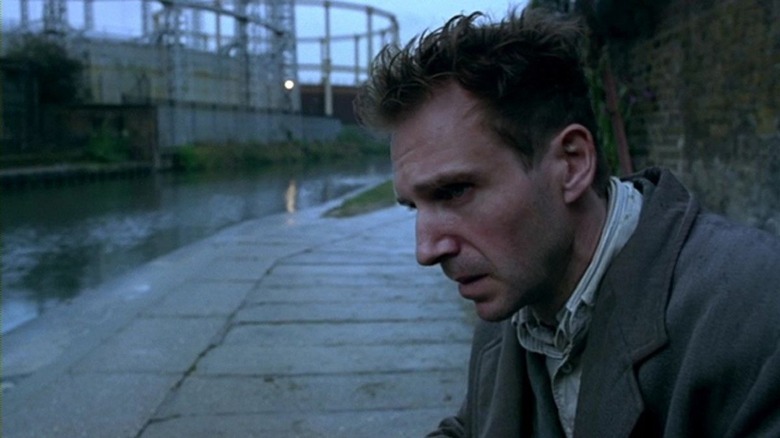 Sony Pictures Classics
The disgusting content in "Spider" lies in Andrew Sanders' production design and Peter Suschitzky's cinematography as they capture every detail of the sordid, dirty-water-stained, bug-infested dwellings of the mentally ill Dennis "Spider" Cleg (Ralph Fiennes). In this hallucinatory England filled with literal and metaphorical decay, Spider reflects on his past, and Cronenberg visually indicates how the young Spider (Bradley Hall) conflates his first pangs of sexual desire with feelings of intimidation and fear — the boy fixating on a lower-class tramp who frequents the pub his father (Gabriel Byrne) drinks at. 
Further complicating matters, Spider begins to see that tramp as resembling his mother (Miranda Richardson, playing multiple roles), and when his father starts to pay more attention to the tramp than Spider's mother, the boy develops some form of Oedipus complex. In Spider's warped and unreliable mind, sex is an evil act, leading to shame as well as violence. Cronenberg keeps him — and the audience — in that uncomfortable space between sexual fascination and repulsion.
11. A Dangerous Method (2011)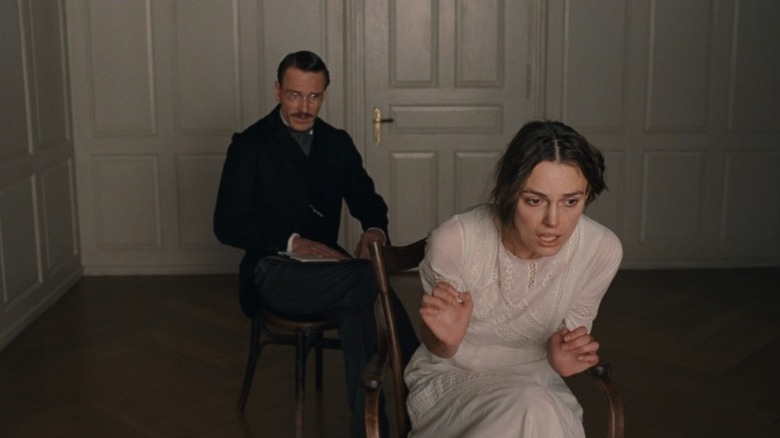 Sony Pictures Classics
In contrast to "Spider," the locations of "A Dangerous Method" are the stupendously beautiful, bucolic landscapes of 1900s Switzerland and Vienna. Of course, these vistas are masking the mental turmoil experienced by budding psychoanalysts Carl Jung (Michael Fassbender), Sabina Spielrein (Keira Knightley) and Sigmund Freud (Viggo Mortensen).
While Jung and Freud fall deeper into a rift caused by their opposing views on the future of psychoanalysis, the former finds himself under the spell of Spielrein, who begins as one of his patients. Jung quickly ascertains that Spielrein's mental illness is caused by her becoming sexually aroused to memories of her physical abuse at her father's hands, the formative experience causing a love of sadomasochistic sex. She and Jung continue to have an affair, somewhat under the delusion that their encounters act as pure research, while Sabina and Freud become more aligned in their academic views and Jung's wife, Emma (Sarah Gadon), struggles to keep hold of her husband. The film is one of Cronenberg's best pokes at the tension between the intellectual and the primal sides of sex, mixing it together with issues of class and morality.
10. A History of Violence (2005)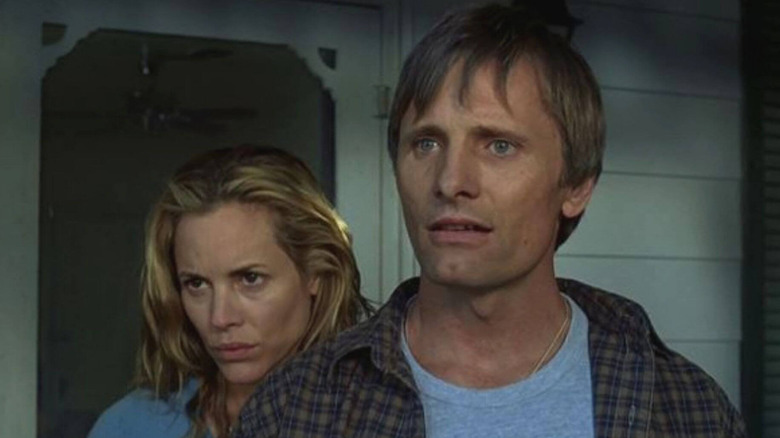 New Line Cinema
Small-town diner owner Tom Stall (Viggo Mortensen) has it all: a modest business, an intelligent son (Ashton Holmes) and precocious daughter (Heidi Hayes), a friendship with the local sheriff (Peter MacNeill), and a loving wife, Edie (Maria Bello), who eagerly engages in kinky roleplay sex with him while dressed as a cheerleader.
All of that is shattered when Tom commits a good deed, saving his diner staff and patrons from two vicious murderers (Stephen McHattie and Greg Bryk) by shooting them dead in a startlingly professional manner. When a man from his gangster past (Ed Harris) shows up in town afterward, Tom can no longer hide the fact that he used to be Joey Cusack, a mob hitman in Philadelphia. Tom/Joey's family express their disgust at his thorough, years-long, intentional deception in various ways — even Joey's mob boss brother, Richie (William Hurt), is torn between several competing reactions. Most notable is Edie's response: disgusted by Tom's lies, she's also confused by her strong affection for her husband and her arousal at Joey's primal, violent nature. The two of them share an impromptu sex scene that's as hot as it is uncomfortable, angry, and sad. In other words, it's classic Cronenberg!
9. Maps to the Stars (2014)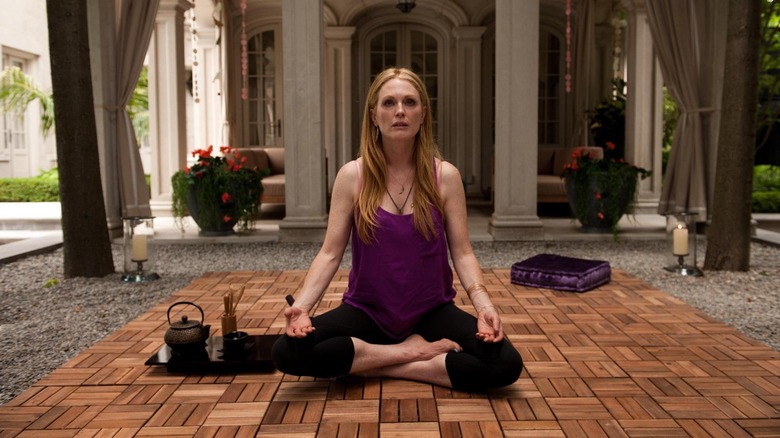 Universal
"Maps to the Stars" may be the only Cronenberg film where the dialogue is more vulgar than what's depicted on screen — the characters who make up his and screenwriter Bruce Wagner's vision of Hollywood are constantly discussing the most intimate rumors and secrets about one another with a casualness that can barely hide their cruelty.
Still, that doesn't stop Daddy David from staging a series of sex scenes that disturb and titillate in equal measure. The mysterious Agatha Weiss (Mia Wasikowska), having survived a deadly fire in her youth, has a burn scar on her face that is not dissimilar to the practitioners of "The Brood's" psychoplasmics. And while her romance with limo driver Jerome (Robert Pattinson) is sweet, it's also fetishized — Agatha has arm-length gloves on at all times, and Jerome is excited to report on what it was like to sleep with a burn victim to the faded star Havana Segrand (Julianne Moore). Segrand has a lot of sex in the film, both with Jerome in the back of his limo and, earlier, with her agent and another woman — a threesome that is then invaded by the apparition of Havana's dead mother, Clarice (Sarah Gadon), who is also nude, of course.
"Maps" is one of Cronenberg's more deviously transgressive and subversive films: no spoilers, but fans of brother/sister incest porn (please, don't raise your hands) will find a lot to chew on here. The incestuous twists may seem out of pocket to some, but after all, what is show business but an industry rife with nepotism, am I right?
8. Dead Ringers (1988)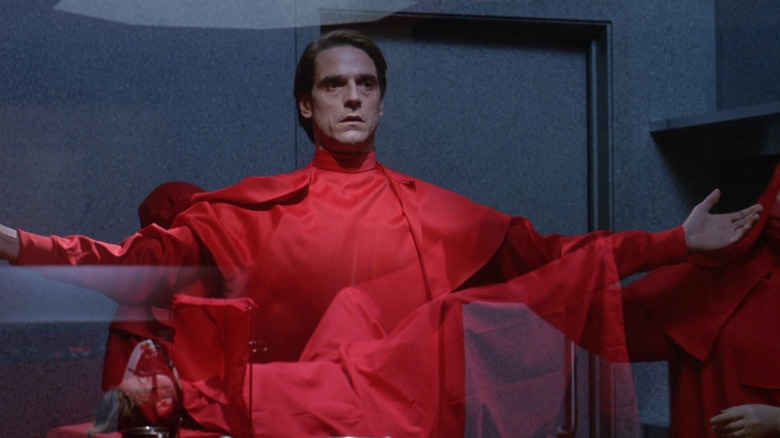 Morgan Creek
Twin gynecologists Beverly and Elliot Mantle (both Jeremy Irons) share absolutely everything: their practice, their wealth, their apartment, and their lovers. A devastating — and fatal — rift opens between them when Beverly meets someone he does not wish to share, the actress Claire Niveau (Geneviève Bujold). The twins nonetheless do share her in a way far more insidious than "A History of Violence's" Tom/Joey, and Beverly's guilt mixed with jealousy causes him to begin a drug addiction that Elliot has no recourse but to partake in, too.
In addition to the twins' cold manipulation of Claire, Cronenberg ups the squick factor of "Dead Ringers" in a moral fashion, with the sexual participants sublimating their broken souls by joining together their most intimate parts as often as possible. Elliot tries to initiate a threesome between himself, his girlfriend (Heidi von Palleske), and Beverly, while Beverly has a disturbing hallucination of being nude in bed with Claire and his brother, a fleshy growth connecting the two men that Claire proceeds to chew through, Nola Carveth-style. As is the case with Cronenberg, the vision is gross enough to be disturbing, but not enough to be a turn-off!
7. The Fly (1986)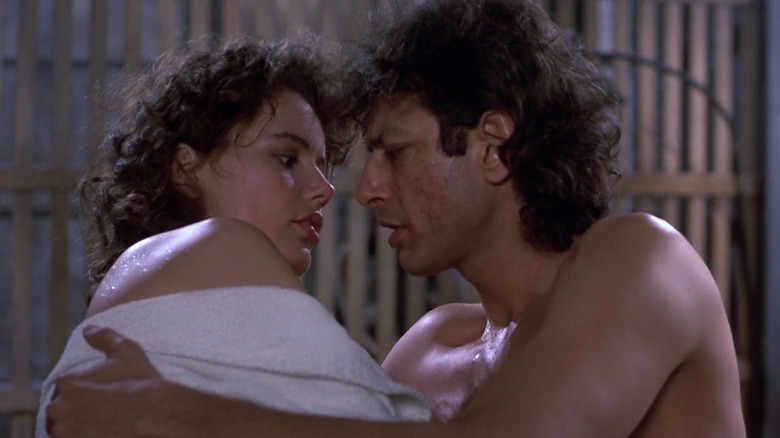 20th Century Fox
Ladies, how many times has this happened to you: you meet a cute, geeky, handsome-but-doesn't-know-it scientist, begin a relationship with him (you suspect it might be the first romance he's ever had), things get really hot and heavy but then he suddenly begins viscerally and virulently transforming into a 7-foot-tall human-fly hybrid.
The brilliance of Cronenberg's remake of "The Fly" is how it takes George Langelaan's original '50s weird science short story and makes it into a metaphor on a number of equally compelling levels, not the least of which is an allegory for a sexually-transmitted disease. Seth Brundle (Jeff Goldblum), the ill-fated scientist, finds himself surprisingly more virile and sexually potent when he impulsively puts himself through his new transportation telepods as a result of being (he thinks) rebuffed by his lover, Veronica (Geena Davis). Of course, he doesn't learn for a while that his new status is due to his genes being spliced with a housefly that had gotten into the pod, but that doesn't stop him from spreading his seed to Veronica (who is horrified to learn she's become pregnant) and a girl at a nearby bar (Joy Boushel) — his pock-marked skin and greasy, muscular frame looking simultaneously alluring and dangerous.
Once Brundle is in the latter stages of his transformation, sex is the last thing on his mind (the makeup design for the nude Brundlefly notably omits any external genitalia), but he nonetheless wants to merge with Veronica on a whole new level, believing he can regain his humanity if he goes through the telepod with her. Girls, when your perverted and controlling ex-boyfriend (played here by John Getz) turns out to be the only one looking after your well-being, you know your sex life has gone off the rails.
6. Rabid (1977)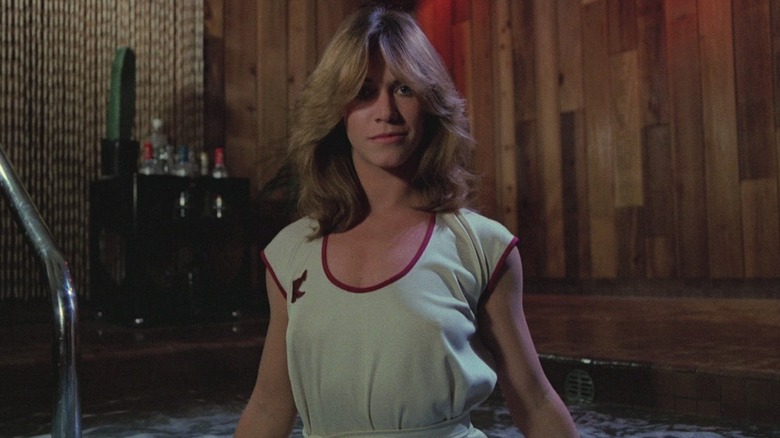 Somerville House
Being a carrier of a sexually-transmitted disease is not all it's cracked up to be. Poor Rose (Marilyn Chambers), a beautiful young woman, learns that the hard way when she survives a motorcycle accident thanks to a group of plastic surgeons who administer an experimental procedure that inadvertently creates a new organ under Rose's armpit — a mosquito-like phallus that Rose discovers she must use in order to obtain the sustenance her body now desires: blood.
Cronenberg's take on the vampire mythos is as influential (Tobe Hooper's "Lifeforce" owes a debt to "Rabid") as it is subversive. Casting porn queen Marilyn Chambers in the lead (and making sure to include her, ahem, assets as much as possible) plays up the sexual connotations of Rose's vampirism in a clever way, as does the fact that Rose must embrace her victims in order to feed, her throes of hunger as she does looking nearly orgasmic. The pandemic Rose leaves in her wake — an ever-growing gaggle of foaming-at-the-mouth zombies — isn't just a way for Cronenberg to comment on the then-recent October Crisis in Canada, but also doubles as a metaphor for irresponsible sexuality gone unchecked.
5. Crash (1996)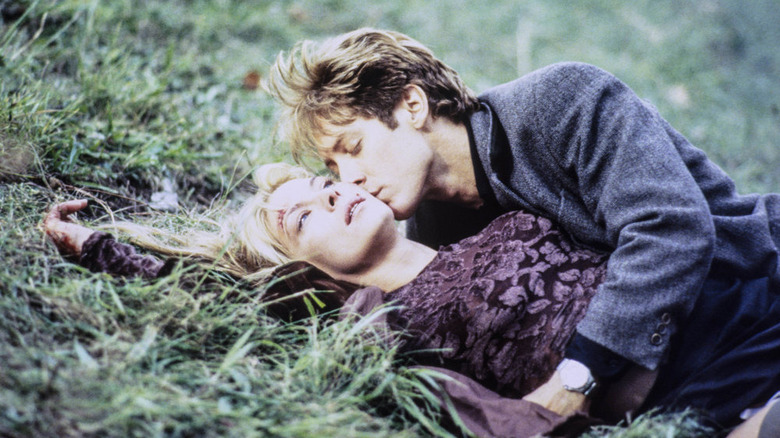 New Line Cinema
Depending on who you ask, "Crash" is either Cronenberg's sexiest movie or his most disgustingly irresponsible, and the fact that both things can be said about it means it deserves such a high position on this list. Taking the ideas raised by J.G. Ballard's source novel to their logical extent, Cronenberg's film follows a cabal of fetishists (James Spader, Deborah Kara Unger, Elias Koteas, Holly Hunter, and Rosanna Arquette) who find that they can achieve higher levels of arousal and sexual satisfaction by being in and around car accidents.
Nearly every aspect of the characters and objects in "Crash" are fetishized by the characters and Cronenberg: the director encourages the marriage of cold, inanimate machines of potential death and eroticized flesh right from the opening scenes, when Unger's character places her bare nipple onto the chassis of an airplane. As things escalate and even the "straight" sex between characters is shown to be detached and clinical, Cronenberg allows no stone to be unturned, no orifice (whether natural or a newly-created wound) to be unpenetrated, no barrier — moral or physical — to remain intact. A film that could equally be used as an aphrodisiac and a non-erotic deterrent, "Crash" remains beautifully dangerous.
4. eXistenZ (1999)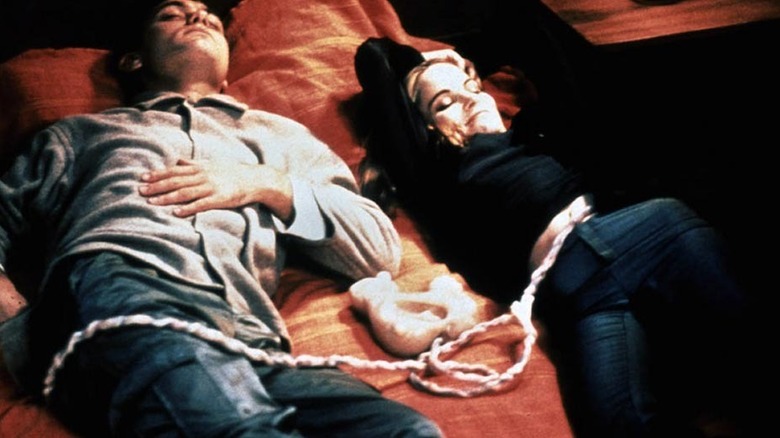 Dimension Films
The technological modification of the human body has happened so gradually that it feels like we've missed it. Every one of us can no longer travel anywhere without our smartphones at hand, not to mention a Bluetooth device in our ear or a smartwatch on our wrist. Cronenberg depicted this future quite presciently in "eXistenZ," positing how losing ourselves in a virtual reality would likely result in various personas becoming expressed at different times.
That, of course, applies to sexual activities. When Allegra Geller (Jennifer Jason Leigh) and Ted Pikul (Jude Law) begin passionately making out while they're supposed to be playing a virtual-reality game, they quickly realize that they may not be in control of themselves, their desires imposed by a programming they don't quite understand. Everyone in the world of "eXistenZ" has voluntarily mutated their bodies: each person has a "bio-port" on the base of their spine, an orifice that can be plugged into a "game pod" — itself a fleshy, throbbing, living organism that connects to the player's bodies via an umbilical cord. It's no surprise that Cronenberg eroticizes these new openings into the human body, making the reality-eroding marriage of humans and machines that much more disturbingly intimate.
3. Videodrome (1983)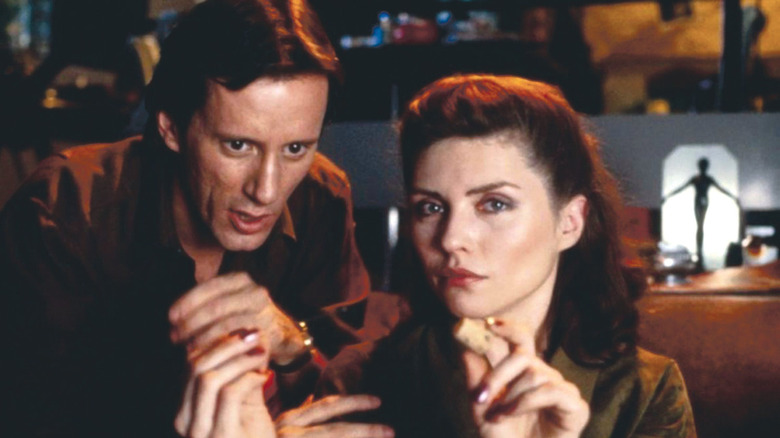 Universal
"Long live the new flesh," the mantra at the heart of Cronenberg's surreal magnum opus, "Videodrome," may as well be the filmmaker's credo. "New Flesh" is all over the film, as the sleazy cable TV station programmer Max Renn (James Woods), after being exposed to the Videodrome signal, hallucinates (or does he?) various mutations of objects and bodies: his television set becomes a throbbing, moaning facsimile of his missing lover, Nicki (Deborah Harry), his stomach develops a vaginal opening that fleshy videotapes can be put into and a phallic gun that grafts itself into his arm can be taken out of. Said gun can spread its seed into other people, like the devious Barry Convex (Les Carlson), causing the latter's body to uncontrollably give birth to numerous cancerous tumors.
All of these ghastly, disgusting, unforgettably nightmarish visions (courtesy of makeup whiz Rick Baker) are the product of the weaponized Videodrome TV broadcast, a "show" that features sexualized depictions of torture and murder. The seen-it-all Max and S&M-loving Nicki end up victims of the program, which is being used as a tool by right-wing radicals to combat what they see as North America's cultural decay. The more left-wing Bianca O'Blivion (Sonja Smits) seeks to use Max against the Videodrome terrorists, which seemingly implies her cause champions the further mutation of the human body and sexuality. Cronenberg is delightfully ambiguous as to which side is "correct," content instead to chronicle Max's plight as a pawn caught between these opposing agendas, forcing the character and the audience to question their own relationship with erotic expression. As such, "Videodrome" is both disgustingly perverse and undeniably horny.
2. Shivers (1975)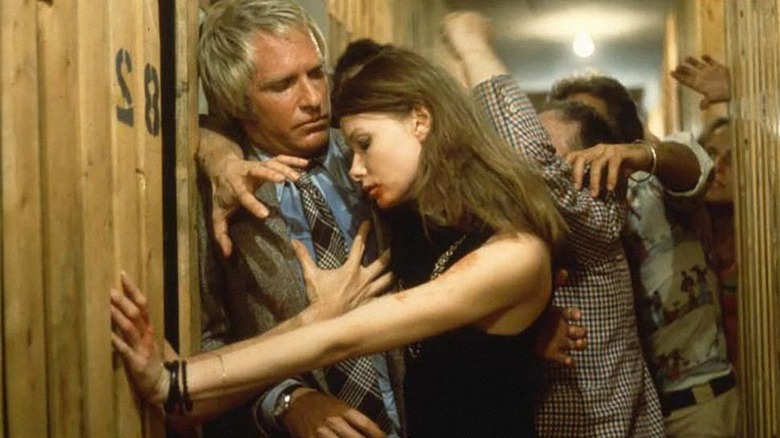 Lionsgate
While Cronenberg has surpassed his debut full-length feature, "Shivers," many times over in terms of craft and character, it's arguable that he never again reached such heights of deliriously gross and irresponsible sexual content.
In the high-rise complex Starliner Towers just outside Montreal, it's discovered that Dr. Emil Hobbes (Fred Doederlein) sabotaged a secret project to create a parasite that was intended to function as an all-purpose replacement organ for those who needed one. Instead, the red, fleshy, phallic slugs now act as "a combination of aphrodisiac and venereal disease," with Hobbes' philosophy of aberrant sexuality imposed on the creature as it infects every resident of the complex one by one.
Thus, "Shivers" becomes not just a single-location pandemic thriller, but a vehicle for Cronenberg to shock and disturb with, as many fetishized instances of sexuality run rampant throughout Starliner: homosexuality, assault, incest, pedophilia, all of which leads to a climactic (no pun intended) moment of pure orgy. "Shivers" plays like a George A. Romero film if all the crazed ghouls were horny instead of hungry, the parasites acting like a sexualized take on "Invasion of the Body Snatchers." The film's casual attitude toward nudity helps further the total implication of how the free-love philosophy of the late '60s unleashed on a repressed populace could go very, very out of control.
1. Naked Lunch (1991)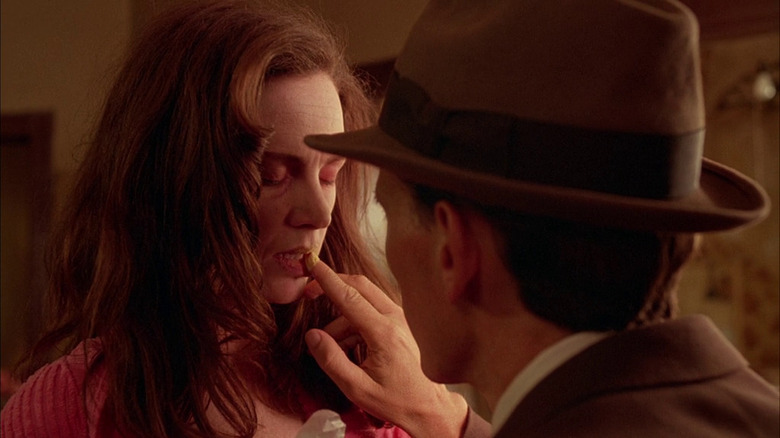 20th Century Fox
Cronenberg's adaptation of William S. Burroughs' infamous novel is noteworthy for a number of reasons, not the least of which is his ability to find a narrative inside a book that doesn't really contain one. What the filmmaker really keys in on in his film version is Burroughs' fascination with insects, the author typically using them as metaphors for conformist or otherwise unsavory thought.
Thus, "Naked Lunch" the movie sees Burroughs analogue William Lee (Peter Weller) recruited as a secret agent by his typewriter who turns out to be an insect, the creature sending the drug-addicted exterminator to the land of Interzone, where the mysterious Dr. Benway (Roy Scheider) may be proliferating the mind-altering jism of the Mugwump creatures as a drug. The Mugwumps have eerily cute bug-eyed monster heads on top of sickly-alluring human male bodies, and the viscous drug that seeps from their phallic protuberances is all too obviously a stand-in for semen. As "Naked Lunch" borrows liberally from Burroughs' life as well as his writings, the film explores and exploits the author's uncomfortable relationship with his queer identity, the Mugwumps being the largest instance of that theme.
Elsewhere, Cronenberg uses insects and insect imagery as erotic elements: Lee's wife Joan (Judy Davis) shoots up bug powder before sleeping with Lee's friend Hank (Nicholas Campbell), the suave sexual predator Yves Cloquet (Julian Sands) is discovered by Lee to be a centipede who is literally devouring Lee's lover Kiki (Joseph Scorsiani) while they have sex, and the typewriter insects love having bug powder rubbed on their sphincter-like orifices.
The apotheosis of "Naked Lunch" (and, arguably, Cronenberg's collection of grotesque sex scenes) occurs when Lee seduces the wife of a rival author, also named Joan (also played by Davis). The two use an exotic typewriter to write some erotic fiction together, and as the couple become more aroused, so does the typewriter, the machine transforming "Videodrome"-style into a throbbing mass of flesh and metal. Suddenly, as William and Joan start to make love, the typewriter decides to join in, too, having fully transformed into a part insect-part human sex blob. Even though Joan's maid (who turns out to also be her mistress), Fadela (Monique Mercure), shoos the blob away, the scene is indelible and unforgettable. In a filmography rife with moments that are equal parts horny and disgusting, it might just be the filmmaker's most outrageous masterpiece. In any case, I think it's time to go take a long, cold shower now.