The Crash Controversy Explained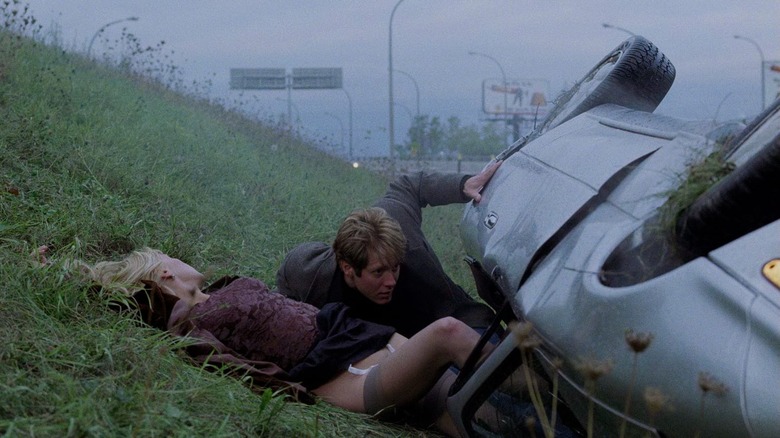 Fine Line Features
We may receive a commission on purchases made from links.
Is it a sexually depraved nightmare or artistic triumph? Critics and audiences were divided on David Cronenberg's "Crash." Based on J.G. Ballard's equally controversial novel, "Crash" follows film producer James Ballard (James Spader), who has a detached relationship with his wife Catherine (Deborah Kara Unger). They have an open marriage and eagerly share the details of their trysts with one another, but James feels unenthusiastic about sex in general. Everything changes when he gets into a serious car accident that leads him to discover an underground subculture of car-crash sexual fetishism. Both James and Catherine find sexual euphoria in the perverse fusion of flesh and metal. 
Despite the highly sexual content, "Crash" is anything but titillating. Cronenberg's clinical direction, the actors' deliberately flat performances, and the cool darkness of Peter Suschitzky's cinematography all make for a chilling and strangely dispassionate viewing experience. In 1996, "Crash" received the Special Jury Prize at the Cannes Film Festival "for originality, for daring and for audacity" (per Far Out Magazine). It's a unique award that is only given upon special request by the jury. IndieWire reports that then-president Francis Ford Coppola was "totally against" the decision and refused to hand Cronenberg the award himself during the closing night ceremony.
While many praised "Crash" for its audacity, others were flabbergasted by its graphic sexuality and violence. BFI's oral history of the film recounts the critical outrage: Evening Standard film critic Alexander Walker said that it was "beyond the bounds of depravity," and contained "some of the most perverted acts and theories of sexual deviance I have ever seen propagated in mainline cinema," while Christopher Tookey of The Daily Mail described "Crash" as "the point at which a liberal society must draw the line." So, what exactly is so shocking about Cronenberg's bizarre film? 
Graphic depictions of sex inspired by violence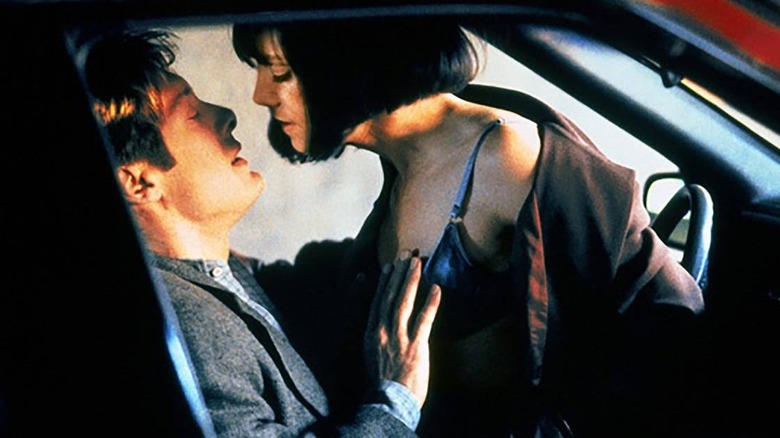 Fine Line Features
To put it simply, "Crash" is controversial because of its depiction of explicit sexual acts that are prompted by violence. There are vivid scenes of oral sex, anal sex, and everything in between. James and Catherine frequently trade partners with their other car-crash enthusiast friends (Helen, Vaughn, Gabrielle), exploring both their heterosexual and homosexual desires. They make love inside an airplane hanger, a car wash, or just after high-speed car chases, aroused by their proximity to death. Intimate close-ups revel in their naked, entwined bodies against the cold sleekness of the car's metal. We see these characters excitedly consume images of gory car crashes: bloody wounds, dark bruising, crushed bones. The idea that they get sexual pleasure from these fatal accidents is unsettling. The fact that Vaughn romanticizes these deadly car wrecks makes it even worse. He says in the film: 
"The car crash is a fertilizing rather than a destructive event — a liberation of sexual energy that mediates the sexuality of those who have died with an intensity impossible in any other form."
But there is one transgressive sexual scene that drew the most ire. James has an encounter with Gabrielle, one of the group members who wears steel braces and has a vulva-like scar on the back of her thigh — injuries from a car crash. James is transfixed by the scar and has intercourse with it, arousing Gabrielle. Many critics felt this was offensive towards people with disabilities. Christopher Tookey used disgusting ableist language in his critique of the scene and accused Cronenberg of "orthopedic fetishism" (via Prospect Magazine). 
The British Board of Film Classification screened the film to a group of 11 persons with disabilities, and although "they did not generally enjoy the film, they concluded that its depiction of disabled people as being able to be both sexually attractive and active [was] generally a positive thing." Cronenberg also told BBCs Heart of the Matter: 
"I've had several people write me and call me saying that for the disabled, [Gabrielle] is an icon, a heroine, because she is someone who refuses to become a withered, sexless creature [after her] accident; in fact, she is very proud and strong in her own sexuality and eroticism, and is trying to incorporate her own body into her sexuality, rather than trying to cover up or pretend [her disability] is not there."
"Crash" received an NC-17 rating in the United States because of these numerous graphic scenes, and an R-rated version was also released.  
It was almost banned from cinemas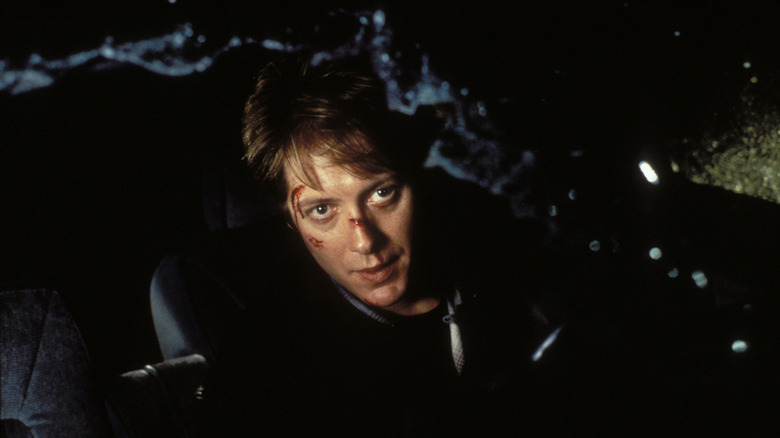 Fine Line Features
"The more unusual a film is, the more resistance you'll face," Cronenberg remarked in IndieWire. "Crash" received lots of resistance, especially in the United Kingdom. Although "Crash" generated controversy during its Cannes Film Festival premiere, British critics actively waged a war against the film after the London Film Festival screening. The Daily Mail and Evening Standard launched a relentless campaign to ban "Crash" from cinemas, publishing over 400 reports (per BFI). Tookey, in particular, had an irrational fear that audiences would be suddenly inspired to have sex while crashing their cars. 
These protests led to the British Board of Film Classification's study, along with assessments by the Queen's Counsel, psychologists, and the Royal Automobile Club who all found there was no reason to ban "Crash" from a British release. However, the film was still forbidden to screen in the West End by Westminster Council. There were other theatre managers across the world, including Ohio and the country of Norway, who personally outlawed the film. 
It was also a rocky road to the United States release of "Crash." New Line Cinema executive Ted Turner was offended by the film and worried about copycat incidents, going so far as to pull it from a fall release. Producer Jeremy Thomas told BFI that they "got reports that [Turner] nearly choked when he was watching it on his ranch with Jane Fonda." When "Crash" finally came out in the spring of 1997, the National Post reported that AMC theatres had to post security guards to ensure minors did not get inside. 
David Cronenberg's "Crash" is like nothing you've ever seen before. The idea of people finding erotism in shattered glass, crushed fenders, and bodies torn apart and tossed like rag dolls is disturbing. Its release and controversial reception raise deeper questions about censorship, like whether or not consenting adults have the right to consume highly explicit content — even if it is outside the boundaries of traditional sexuality. If you want to know more about the "Crash" moral panic, check out "The Crash Controversy: Censorship Campaigns and Film Reception" by Martin Barker, Jane Arthurs, and Ramaswami Harindranath.