Wednesday Teaser: She's Creepy And She's Kooky, And She's Solving Mysteries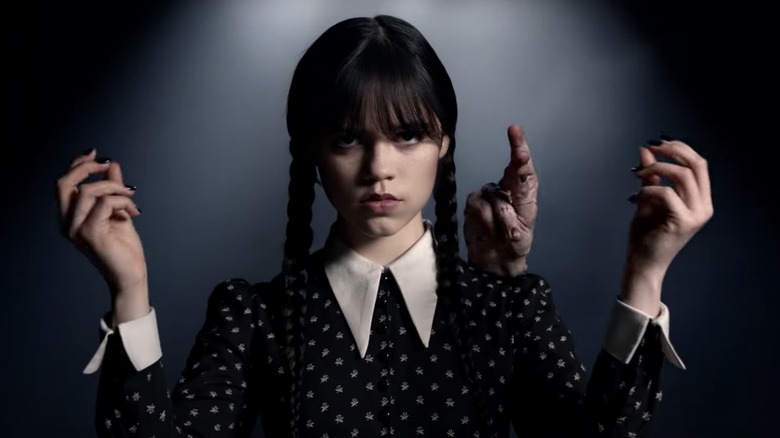 Netflix
This is what horror fans have been patiently waiting for: The trailer for Tim Burton's horror-comedy series, "Wednesday," has finally dropped! 
Wednesday Addams is an integral part of "The Addams Family," best known for her blunt quips and no-nonsense attitude. With a penchant for all things delightfully odd and weird, Wednesday takes interest in all things ghoulish, which might be a key aspect of her personality in the upcoming comedy horror series. Burton is a master of gothic horror, and his rendition of the Addams', especially a now-grown-up Wednesday, will definitely be worth checking out.
The much-anticipated Netflix series will be taking a closer look at Wednesday's teenage years, and her time at Nevermore Academy, a magical school that will help hone her abilities. This reimagined tale is perfect for the Tim Burton treatment, as the director specializes in tales that skirt the line between the gothic and the comedic.
So, stop your dilly-dallying, and check out the trailer for "Wednesday" below.
Everyone's favorite 'homicidal maniac'
The core focus of the show sees to be the titular character's struggle to integrate into Nevermore while attempting to solve a string of ghastly murders that grip the town. Family secrets are unearthed in the process, and we get to see the classic characters — Gomez, Morticia, and even Thing — carrying out their respective shenanigans while the core events unfold.
"Wednesday" stars Jenna Ortega as the titular character, which is great, as she has proven herself a great fit for various shades of horror, case in point being the latest "Scream" and Ti West's "X." Joining her are Catherine Zeta-Jones as Morticia, Luis Guzman as Gomez, along with Gwendoline Christie, Hunter Doohan, Percy Hynes White, Joy Sunday, Emma Myers, Riki Lindhome, Jamie McShane, Georgie Farmer, Naomi Ogawa, and Moosa Mostafa.
The best part? Christina Ricci, who played a young Wednesday in "The Addams Family," is also a part of the cast in an undisclosed role, which is pretty cool.
Check out the official synopsis for the upcoming Burton show:
"Wednesday is a sleuthing, supernaturally infused mystery charting 16-year-old Wednesday Addams' years as a student at Nevermore Academy. Season One will follow Wednesday as she attempts to master her emerging psychic ability, thwart a monstrous killing spree that has terrorized the local town, and solve the murder mystery that embroiled her parents 25 years ago — all while navigating her new and very tangled relationships at Nevermore."
You can expect "Wednesday" to drop sometime later this year on Netflix.