Arnold Schwarzenegger Learned A Lesson In On-Screen Love While Filming Kindergarten Cop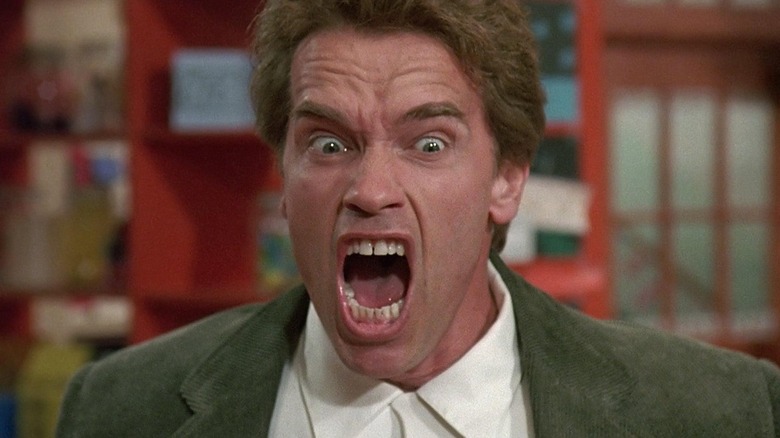 Universal Pictures
However great an actor may be, they are rarely able to fake kissing. An on-screen kiss is one of those acts of cinematic verisimilitude that cannot be faked. Like an exploding car, a virtuosic dance, or the look of fear on Johnny Knoxville's face during a "Jackass" stunt," a kiss possesses an element of ecstatic truth. If an actor kisses a certain way in real life, then it's likely they will bring that exact same kiss to their character. Only cartoonishly exaggerated kisses (and the multiple tongue beatings witnessed in John Waters' "Cry-Baby" are a good example) are "acted." If it looks like two actors aren't kissing well on screen, it's because they kiss differently in real life. A note for those who might have partners or dates who kiss differently: Don't try to "correct" them or call them a bad kisser. Use the phrase, "Here's how I like to be kissed." 
Actress Penelope Ann Miller had to give such a lesson once to Arnold Schwarzenegger on the set of Ivan Reitman's 1990 hit film "Kindergarten Cop." In the film, Schwarzenegger plays a tough-as-nails police detective who must go undercover as a kindergarten teacher in order to find the wife of a mob boss (Miller) who is hiding out from the criminals hunting her. Over the course of the film, the Schwarzenegger character — unaccustomed to dealing with small children — learns to wrangle children and be a gentler soul for 5-year-olds in need. He also becomes drawn to Miller, who is at first introduced as a fellow teacher, but who is, in actuality, the woman he's been looking for. They do indeed kiss.
'Oh-kay, Puh-nul-uh-pee'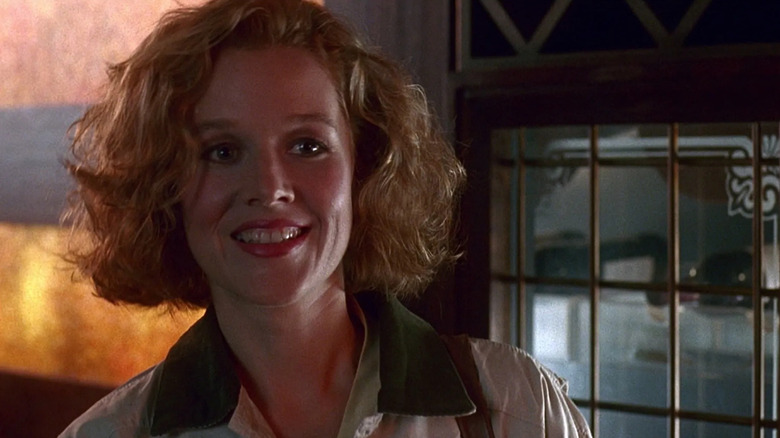 Universal Pictures
1990 was a good year to be Penelope Ann Miller. The actress, having broken out just a few years previous in films like "Hotshot" and "Adventures in Babysitting," was suddenly involved in multiple high-profile studio pictures. 1990 saw the release of the buddy cop comedy "Downtown," the bizarre Marlon Brando vehicle "The Freshman," the Oscar-nominated drama "Awakenings," and "Kindergarten Cop," which, despite garnering a mere passing critical response, was a massive hit, grossing over $91 million on a budget of $15 million. 
In a 1993 interview with People Magazine, about the time Miller was appearing in "Carlito's Way" (for which she was to receive a Golden Globe nomination) she reminisced about working on "Kindergarten Cop" with Schwarzenegger, and how his kissing skills needed a little work. According to Miller's comments, he co-star was enthusiastic to the point of blocking all the action from the camera. Her lesson to Schwarzenegger ran thus:
"If you're just swallowing each other up, you don't see anything. I asked him to grab me and hold me and then go in for the kiss... He was like  'Oh-kay, Puh-nul-uh-pee.'"
The People interview is printed, but one can perhaps still hear Miller's Schwarzenegger impersonation. 
Kindergarten Cop: The Legacy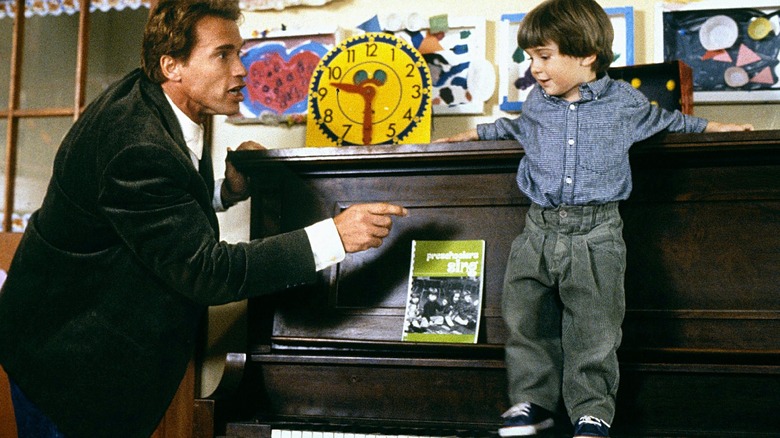 Universal Pictures
"Kindergarten Cop" eventually would inspire a sequel, although not until 2016. "Kindergarten Cop 2" would star Dolph Lundgren as the undercover cop character, now having to infiltrate a progressive, emotions-forward kindergarten that doesn't resemble the schools of his own youth. Lundgren's love interest would be played by Fiona Vroom. After "Cop," Schwarzenegger would appear in "Terminator 2: Judgment Day," one of the biggest action pictures of all time, and Miller would appear in Norman Jewison's "Other People's Money."
Miller's next project is playing Nancy Reagan in a Ronald Reagan biopic starring Dennis Quaid. Thanks to Covid-related delays, "Regan" is not set for release until late in 2022 or early in 2023. She will also appear in the upcoming Netflix serial killer movie "Monster: The Jeffrey Dahmer Story" as Joyce Dahmer, Jeffrey's mother.
Should she need to kiss her co-star, one might hope that she'll once again be willing to make sure they're doing it correctly.