'Adventures In Babysitting' Trailer: The 80s Favorite Gets A Disney Channel Makeover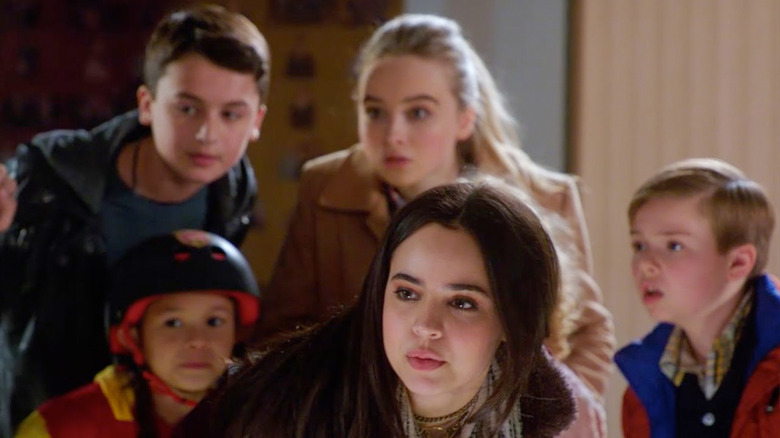 Even though the David Gordon Green comedy The Sitter was basically a raunchy, darker version of Adventures in Babysitting, the family comedy favorite from 1987 is getting a more official remake by way of The Disney Channel. This time instead of one babysitter played by Elisabeth Shue forced to take some kids out for a night in the scary city of Chicago in order to save a stranded friend, there are two babysitters with a different problem.
This time Disney Channel has two of their own stars, Sabrina Carpenter of Girl Meets World and Sofia Carson of The Descendants, leading the movie as two babysitters who have lost one of the kids they're supposed to be watching. The first Adventures in Babysitting trailer has just arrived, and it's about what you would expect from Disney Channel, for better or worse.
Here's the first Adventures in Babysitting trailer from Disney Channel:
If it's been awhile, you may not notice that there are some clear homages to the original movie. From that shot of Sofia Carson sitting on the couch when the parents come home to Sabrina Carpenter's coat being rather similar to the same one that Elisabeth Shue wore in the original. There's also the much more tame version of the line "Don't f*** with the babysitter." And it's cool to see that they figured out a way to reference the blues club scene from the first movie, but updated it with a rap battle between the two babysitters. Like I said, it's exactly what you would expect from Disney Channel.
There's plenty of changes to be found as well with four kids (Nikki Hahn, Mallory James Mahoney, Madison Horcher and Jet Jurgensmeyer) instead of three this time, all with different personalities and quirks. Plus who knows what's up with that supposedly rare ferret. In addition, the bad guys in pursuit of the babysitters and the kids do seem to be a little more tame and silly, in Home Alone fashion, than the dangerous criminals Chris Columbus had in his movie.
In Adventures in Babysitting, a dull evening for two competing babysitters, Jenny (Sabrina Carpenter) and Lola (Sofia Carson), turns into an adventure in the big city as they hunt for one of the kids who somehow snuck away. Written by Tiffany Paulsen ("Nancy Drew), it will be directed by John Schultz (Judy Moody and the Not Bummer Summer, Like Mike) and executive-produced by Michelle Manning (Teen Beach 2, The Breakfast Club).
Disney Channel hasn't announced a release date, but Adventures in Babysitting premieres sometimes this summer.