Benediction Review: Bold, Visionary Cinema That Lingers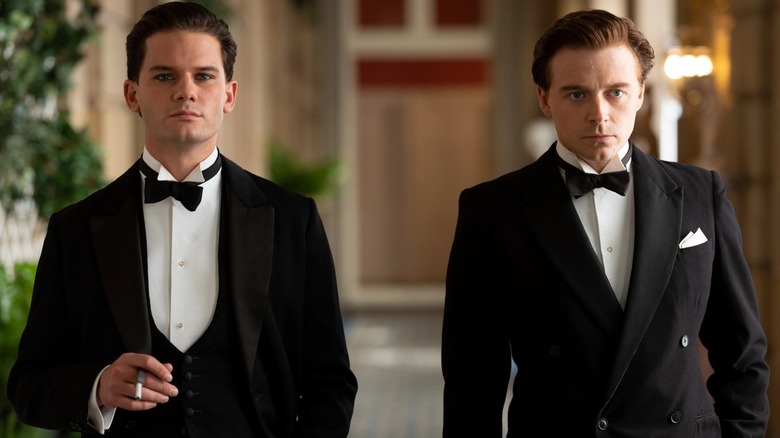 BBC Film
It's always something of an event when a new Terence Davies film is released. Despite being one of Britain's most exciting and innovative filmmakers, releasing films with exceptional sparsity — his feature-length debut, "Distant Voices, Still Lives" came out in the late eighties, and he's only made a handful of films since. The director's earliest films are notably intimate and autobiographical, but in the latter stages of his career, Davies has deliberately distanced himself from, well, himself. After 2016's "A Quiet Passion," Davies returns with "Benediction," his second biopic in a row of a poet, this time focusing on fascinating World War One poet Siegfried Sassoon (Jack Lowden, with Peter Capaldi playing Sassoon in his later years). So many of Davies' films involve homosexuality, as the director coming to terms with his own sexuality informs a great deal of his work, though it's never explicitly expressed, and is rather dealt with hearty doses of poetic subtext. In "Benediction," queerness moves from the sidelines to the forefront of Davies' work, artfully exploring Sassoon's complicated life with an immense richness.
"Benediction" follows Sassoon throughout his life, but first he finds himself in trouble after writing a statement that is boldly and explicitly anti-war during the First World War, openly questioning the purpose of the ever-increasing death toll. Sassoon served on the frontlines himself, being privy to the horrors of war firsthand, which in turn made his work as a poet all the more impactful. As the military board finds Sassoon's mind "still in chaos," they ship him off to a mental hospital in Scotland, where he can hopefully see the error of his ways and return to the frontlines.
Living outside the shadows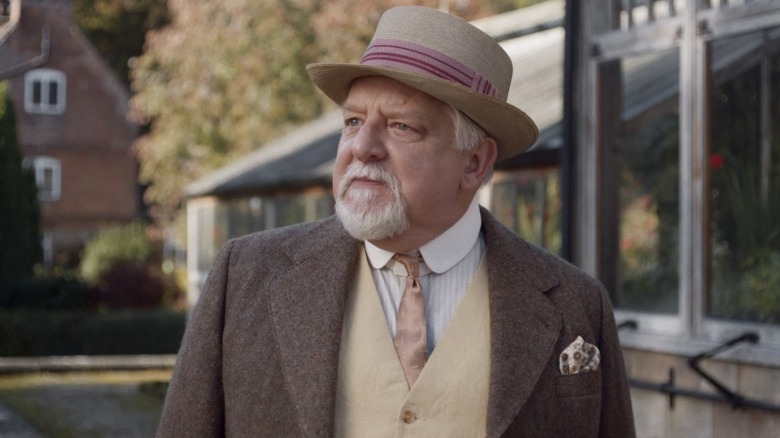 BBC Film
It's at this very hospital, Craiglockhart, that he regularly meets with W.H.R. Rivers (Ben Daniels), a sympathetic doctor, with who Sassoon is surprised to find that they share something in common: their homosexuality. It's discovered in one of many impeccably written sequences by Davies with subtle yet illuminating dialogue that's fit for a master poet. It's also there that Sassoon met Wilfried Owen (Matthew Tennyson), a fellow poet. Owen's own work pushes Sassoon to become a greater writer, but it's their passionate personal relationship that proves to be most impactful to Sassoon. Their relationship is both explicit and subtle, their physical intimacy highlighted by an immaculately composed overhead shot by cinematographer Nicola Daley of the pair swimming together as they brush past one another.
Most of "Benediction" takes place during the 1920s in London, where Sassoon finds himself to be the apple of the aristocracy's eye, often accompanied by dear friend Robbie Ross (Simon Russell Beale). He's deeply revered by upper-class London society, regularly attending lavish parties while processing his burgeoning homosexuality, as well as his trauma from serving in the War. The film is fascinated by a number of Sassoon's romantic relationships, particularly with dramatist Ivor Novello (played with gusto by Jeremy Irvine, tossing around delectable one-liners like "If you want fidelity, buy a pet"), Glen Byam Shaw (Tom Blyth), and Stephen Tennant (Calam Lynch). Each of these different relationships is essential to understanding Sassoon, and all reveal different facets of his character. This kind of freewheeling, expressive love is so often refined to cinemas, and society's shadows, but Davies gives these passionate trysts the limelight they wholly deserve. While it's clear that homosexuality is indeed not embraced by the larger society, "Benediction" creates a place for this love and passion to boldly exist.
A rich, complicated life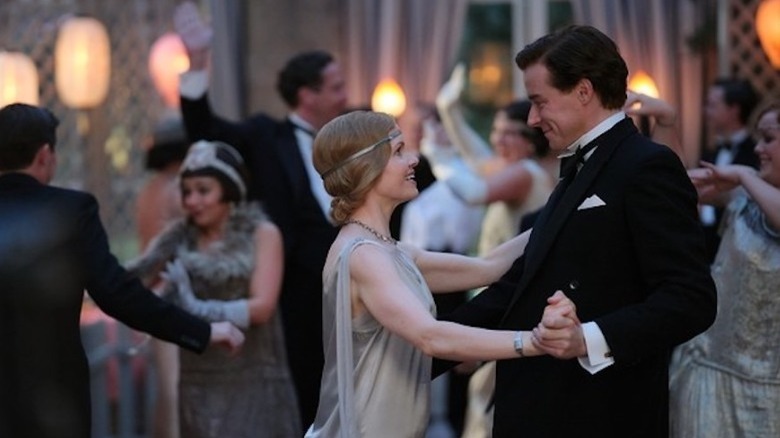 BBC Film
That's not to say it's all roses, of course — the film takes place primarily in 1920s London, where homosexuality was very much taboo. Many powerful discussions take place on the difficulty Sassoon and his contemporaries face in having to try and hide the realities of their existence, and Davies creates the palpable feeling that no matter how happy Sassoon may be at any given time, the joy is simply not built to last.
As Sassoon, Lowden is exquisite. He brings an impressive complexity to his character — Sassoon is sparkling yet prickly, immensely intellectual, and completely unafraid to speak his mind. He is rather lacking in diplomacy and tact, as his mother (played by Geraldine James) reminds him: "it's more humane to be kind than honest." He's both ferocious in his ethics — an early sequence when Sassoon receives his punishment from the army reflects this beautifully — yet deeply sensitive and fearful, and this difficult balance is played with aplomb by Lowden. Sassoon is a true artist, and despite heaps of praise from his contemporaries, he's deeply self-critical of his own work. Period dramas often have a reputation for being stuffy, but Davies' magnificent script is surprisingly light on its feet, reveling in conversations that ingeniously reflect the sharp wit and intelligence of those involved, giving Lowden plenty of opportunities to be as playful as he is introspective.
"Benediction" is a film about memory, perseverance, and the passage of time, but perhaps more importantly, it's about struggling with being homosexual, especially the need to conform to a society that vehemently rejects your very existence. Who better than to tackle the complicated relationship between acceptance and alienation than Terrence Davies? The director has an incredibly complicated relationship with his own homosexuality. Being gay is something that's tortured him his whole life, having said in a 2011 interview with The Irish Times that being gay has ruined his life. This personal struggle is reflected through Sassoon's own experiences as a man trying to experience the richness of gay life in a world that ultimately rejects who he is. The film's panoramic approach follows Sassoon in his later years, where he's now played by Peter Capaldi.
Remembering what's been lost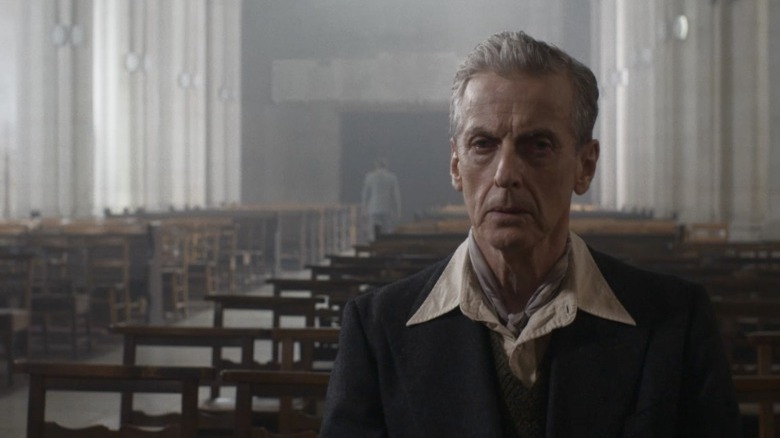 BBC Film
The sharpness and shine of Sassoon's personality are all but a distant memory in his later years, Capaldi's performance transforming the war poet into an embittered old man, unhappily married. He's seeking something that he can never obtain, and the effect of having to live in the shadows and give up his dreams of a happy life to conform to society has clearly beaten him down. It's a striking contrast played exceptionally by Capaldi, who powerfully evokes that devastating feeling over chasing something he can never have, lamenting what has been taken from him. Of course, it's not just Siegfried Sassoon who was robbed of a happy ending, but the countless others forced to live in darkness, never accomplishing their full potential because of antiquated nonsense that still haunts so much of the world.
"Benediction" is true to its title, offering up a blessing — not to the Church, rather, but to those whose lives were never able to be lived to the fullest. The film is more than a beautifully performed, masterfully directed piece of entertainment. It transcends, offering hope to any person yearning for more. It is in equal turns lively, devastating, funny, hopeful, and heartbreaking. "Benediction" proves that Terrence Davies is a director and writer still very much at the top of his game. This is bold, visionary cinema that will linger long after the credits have rolled. Lamenting the lost has rarely felt as beautiful, and more vital than it does here.
/Film rating: 10 out of 10