A Star Trek: Strange New Worlds Star Almost Popped Up In Star Wars First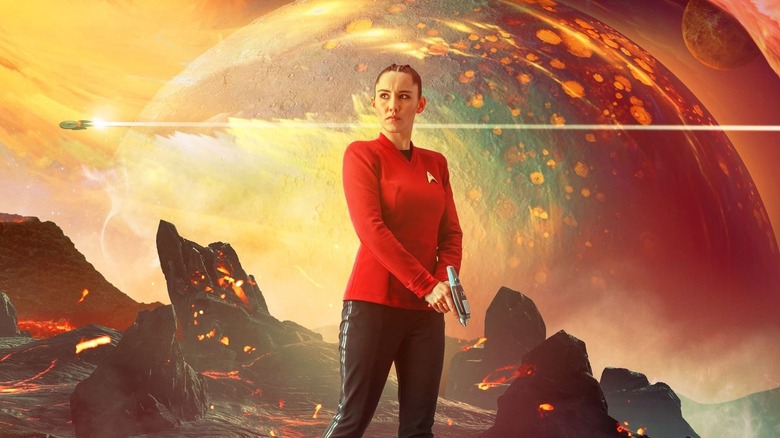 Paramount
The list of people who have worked on both "Star Trek" and "Star Wars" is longer than you might think. Apart from the obvious installations from director J.J. Abrams — who directed two high profile "Star Trek" films, followed by two high-profile "Star Wars" films — multiple supporting players and actors have taken jobs across both franchises. Perhaps most notably, George Takei played both Sulu on the 1966 "Star Trek," as well as a character named General Lok Durd in "Star Wars: The Clone Wars." Brent Spiner, who played Data on "Star Trek: The Next Generation" also voiced a character named Senator Gall Travis on "Star Wars Rebels."
Numerous hard-working character actors would take gigs on both sides of the sci-fi fence, as it were, with "The Clone Wars" also providing gigs for Ron Perlman (the Reman guard in "Star Trek: Nemesis"), Ian Abercrombie (who played two different roles on "Star Trek: Voyager"), Olivia D'Abo, Brian George, Clancy Brown, and George Coe. Also notable: Simon Pegg played Scotty in the 2009 Trek film, as well as an alien in "Star Wars: The Force Awakens." 
The most recent iteration of "Star Trek" is "Strange New Worlds," currently in the middle of its first season. On that show, actress Christina Chong plays La'an Noonien-Singh, the security chief on board the U.S.S. Enterprise, and the descendant of Khan (Ricardo Montalbán) from "Space Seed" and "Star Trek II: The Wrath of Khan" (also "Star Trek Into Darkness," but that hardly counts). 
In an interview with ComicBook.com, Chong revealed that, seven years prior to "Strange New Worlds," she almost appeared in "Star Wars: The Force Awakens." But her scenes were cut. 
The enormity of the set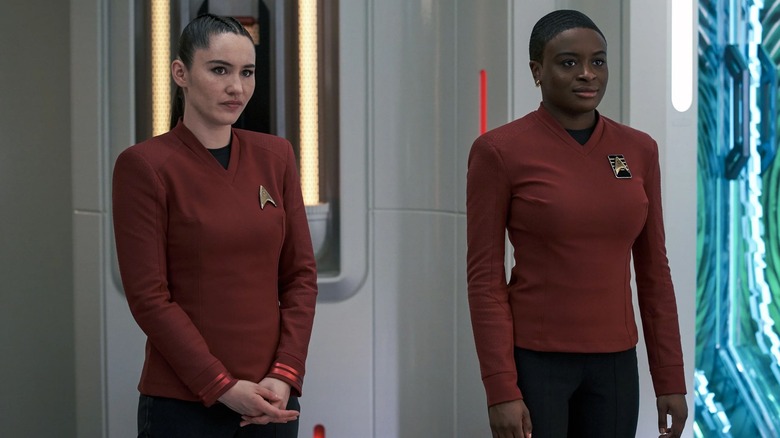 Paramount
Chong's character in "The Force Awakens" wasn't set to have any lines, but she was meant to serve as an important symbol for the character of Rey. Her character was to appear on the planet of Jakku while Rey (Daisy Ridley) was still living as a lonesome scrap salvager. Chong relates the story of what it was like to shoot a "Star Wars" film in the middle of the desert in the United Arab Emirates: 
"I was on set the first day of the shoot in Abu Dhabi in the middle of the desert. I remember I had this whole purple headdress thing on and all this special makeup, so I was some kind of race of something. They were like, 'Look, it's only a small role, but it'll be filming in Abu Dhabi and it'll be great.'"
The set, Chong recalls, was enormous and bustling, appropriate for a production of that size. Chong had underestimated the grandiosity of it all, and even recalls seeing Abrams in a golf cart wrangling the huge number of people required to shoot:
"My scene was with Daisy Ridley, and it was at the beginning, the very first day of the shoot. They had to drive us. I remember just seeing the dot in the middle of the desert, and that was where the set was and then arriving and it being so huge. J.J. Abrams, there were three units on that section of the desert and he was driving to each unit via golf buggy, setting it up and then going to the next, and I guess he probably had to monitor with him on the buggy, I don't know. But the scale of that, that was my first time with such a huge set like that."
Someone's alien mother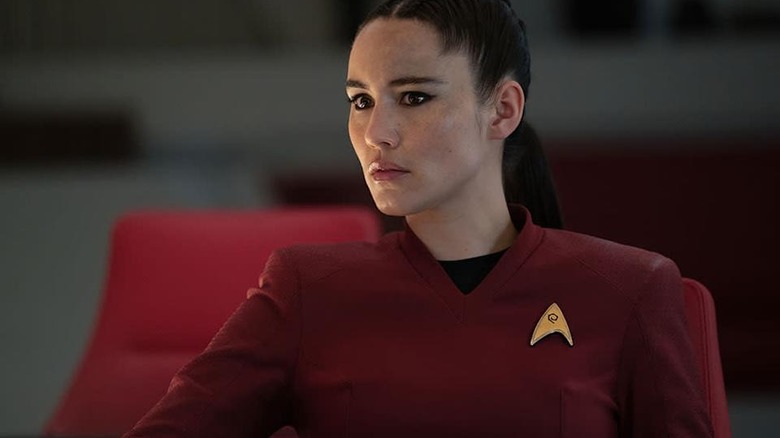 Paramount
What was her scene about? Chong says she cannot rightly remember. She was a background character, but was to interact with Ridley. The character of Rey is an orphan who never knew her parents, and much of "The Force Awakens" entails her emergence from solitude into something resembling a found family. Her actual blood lineage would eventually come into play in Abram's "Star Wars: The Rise of Skywalker," wherein Rey would — in a parallel for La'an Noonien-Singh — find she was the granddaughter of the villainous Emperor Palpatine (Ian McDiarmid). 
Chong's role was to be symbolic. She was an alien mother with a child, meant to symbolize that families still exist on Jakku, highlighting Rey's isolation: 
"My scene involved explosions and crying, and I had a son. I can't remember exactly what the scene was about, but basically, Rey is alone, and I'm leaving with my son on this ship and she's there on her own in the desert."
There is a First Order attack on Jakku, which sees Rey piloting a rickety old flying saucer — the famed Millennium Falcon — to escape. Chong's character wasn't to be seen again. 
Getting paid twice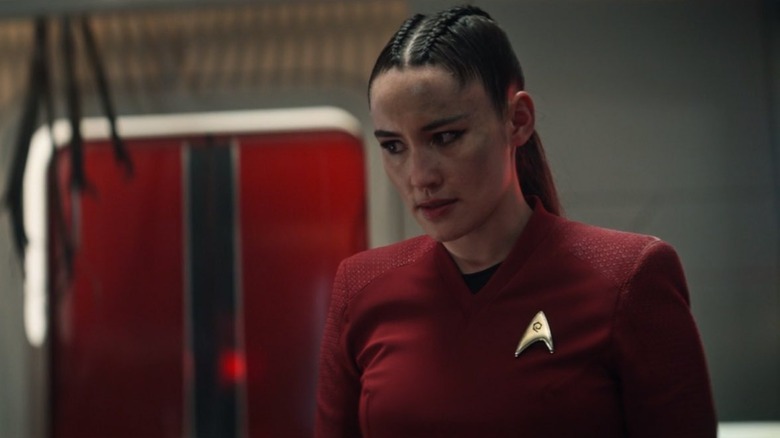 Paramount
Chong's scene was ultimately cut for reasons unrevealed — likely for one of the usual reasons scenes get cut from blockbusters: pacing, tone, or length. She has no regrets. In fact, thanks to the need for "Star Wars" reshoots, Chong also has to re-do some of her scene against a greenscreen at Pinewood Studios in London. In order to reshoot the scene, Chong had to essentially be hired a second time, meaning a second paycheck. Of course she returned: 
"I saw all the stormtroopers and they were rehearsing their movement and stuff. It was incredible," she says. "That was an amazing experience in Abu Dhabi. So random. And then we actually had to re-shoot because, I can't remember, something went wrong and they had to re-shoot it, but they re-shot it at Pinewood in London with a green screen. So I essentially got paid twice to do that job and ended up on the cutting room floor, which is amazing."
 Chong recently appeared in the 2021 film "Tom and Jerry," and has previously acted in "Doctor Who," "Black Mirror," the final season of "24," and the short-lived ABC series "Of Kings and Prophets." You can see her now on "Star Trek: Strange New Worlds," which is currently streaming on Paramount+.