'24: Live Another Day' Trailer: They Don't Know Jack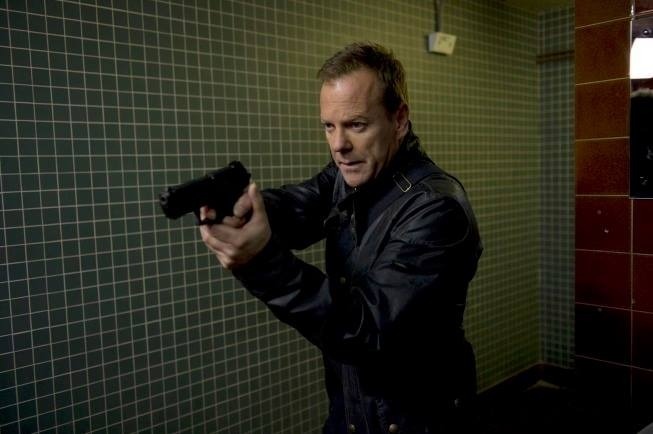 With each new 24: Live Another Day promo, Fox has been revealing more and more of the 12-episode miniseries. So naturally, today's 24: Live Another Day trailer is the meatiest yet. Clocking in at over two minutes, it's stuffed full of action, drama, and really intense glowering. Watch it after the jump.
Certain things about the show have changed. For one, the twelve-episode limit means we don't get one episode per hour over a 24-hour period anymore. For another, Chloe's gotten a serious makeover. But in most respects, 24: Live Another Day looks like the 24 we remember. In a good way.
The limited series picks up four years after the Season 8 finale left off. Jack (Kiefer Sutherland) is a fugitive on the top of the CIA's most-wanted list, but he resurfaces in London when he discovers a terrorist plot. Once again, he finds himself doing what he does best: keeping the world safe from horrible people.
Mary-Lynn Rajskub returns as a Girl With the Dragon Tattoo-ized version of Jack's pal Chloe, along with Kim Raver as Jack's ex Audrey and William Devane as James Heller, now the president of the United States.
New stars include Benjamin Bratt as CIA head Steve Harris; Yvonne Strahovski as CIA agent Kate Morgan; Gbenga Akinnagbe as CIA field operative Erik Ritter; and Giles Matthey as CIA tech Joran Reed. Tate Donovan plays Heller's chief of staff and Audrey's new husband, Mark Boudreau. The series promises some exciting guest stars as well, including Michelle Fairley, John Boyega, and Stephen Fry as the British Prime Minister.
24: Live Another Day premieres May 5 — which, appropriately enough, is exactly 24 days away.