Tina Fey Always Knew 30 Rock Was Courting Cancellation
NBC Universal
In Tina Fey's 2011 memoir "Bossypants," Fey writes that when she and her band of writers created "30 Rock," they set out to create a quotable, American sitcom in the vein of "Home Improvement." Instead, they ended up with a critical darling beloved by comedy nerds and lauded with 16 Emmy awards.
But for Fey, the show's real coup was its mere existence on a major network. In an interview with Rolling Stone, Fey expressed surprise that the show remained on NBC in spite of its off-kilter humor.
"I feel like we made a lot of good episodes of the kind of show that usually gets canceled. The kind where there's 20 episodes and 'only me and my hipster friends know about it.' That part's still true. But we made 140 of them!"
It isn't the first time Fey has voiced shock that "30 Rock" survived. In "Bossypants," she recounts that the cast referred to episode 12 of season 1 as "Goodbye, America," since they believed it would get the show canceled. The episode, "Black Tie," featured "Pee-wee's Playhouse" star Paul Reubens as Gerhardt Hapsburg, the last in the Austrian dynasty's line, whose doll-sized hand and inability to metabolize grapes were the result of generations of royal inbreeding. Yet Fey also notes that "Black Tie" was the episode where "30 Rock" found its voice: "The voice of a crazy person." Instead of a death knell, "Black Tie" cemented the humor of the show, which had struggled to find its tone until midway through its first season. Reubens' character is quintessential "30 Rock," bordering on hilarious and offensive, and drawing on Jane Krakowski's Broadway talents to side-splitting effect as he demands demonstrations of different dance genres.
It's a very specific taste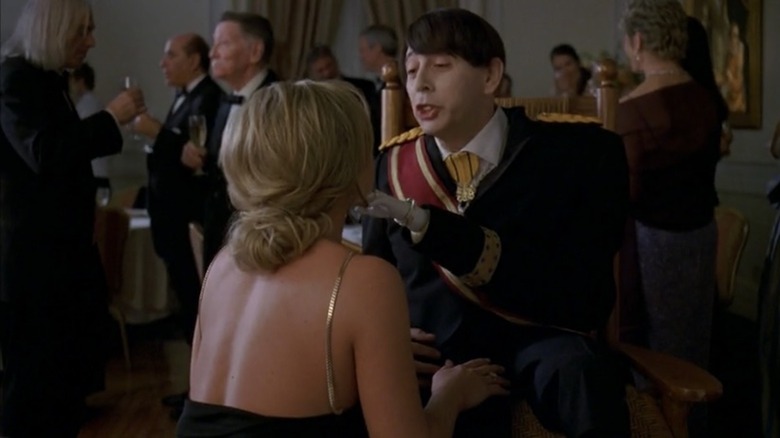 NBC Universal
Even as "30 Rock" hit its comedic stride, it never garnered the commercial success of previous NBC sitcoms like "Seinfeld" or "Friends." That's not surprising given the show's penchant for obscure political and cultural references that included Basquiat, Nixon, and Selena. Fey's co-star Jack McBrayer, who played the gleeful Kenneth "the page" Parcell, told Rolling Stone that the show wasn't popular in his native Georgia.
"It's a very specific taste. My family doesn't get it. They don't watch SNL. There are no references for them to grab on to. There's not a lot I can do to be like, 'OK, here are these crazy references we're making,' because some of them I don't get!"
The niche humor of "30 Rock" birthed other New York-based successors like "The Unbreakable Kimmy Schmidt" and "Girls5Eva," the latter making specific, East Coast references to the Strand bookstore and "The Daily" podcast host Michael Barbaro in a Simon & Garfunkel-infused ballad, "New York Lonely Boy." Both "Kimmy Schmidt" and "Girls5Eva," produced by Fey and her frequent collaborator Robert Carlock, have aired on streaming platforms, where they don't have to compete with the broader humor of other network comedies that might be more likely to lean into laugh tracks than Kim Jong-Il jokes. They're also helmed by Fey protégé Meredith Scardino, who has somehow cranked the show's angsty feminist and absurdist humor up several notches. If there's anything formulaic about those shows, it's that audiences can depend on rapid-fire dialogue, bizarre gags, and the presence of a narcissistic Broadway diva, whether they're played by Jane Krakowski, Tituss Burgess, or Renée Elise Goldsberry.
The Achilles' heel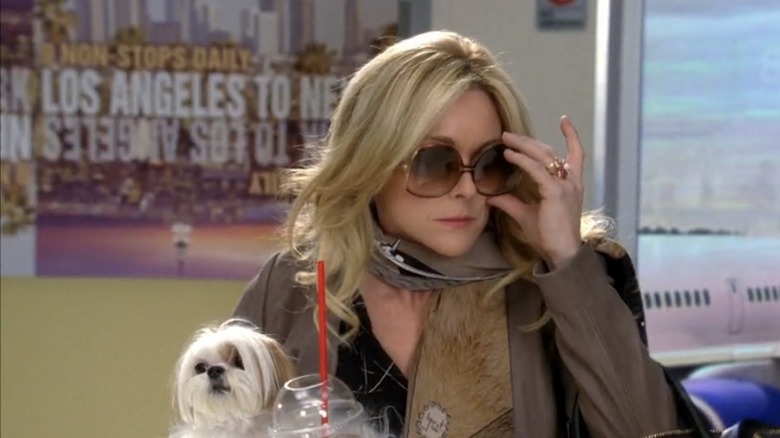 NBC Universal
But while "30 Rock" has left a bizarre legacy in the sitcom world, the show hasn't avoided cancellation altogether. The series frequently made pointed, political commentary, but as critic Alan Sepinwall pointed out to the author of "The 30 Rock Book" (via Vanity Fair), race persisted as Fey and Carlock's Achilles' heel. Amid protests for racial justice in June 2020, several streaming platforms began examining their content for racial sensitivity. That month, Fey, Carlock, and NBC Universal requested that four episodes featuring characters in blackface be removed from both streaming and syndication. In a note obtained by Variety, Fey noted that "intent" was not a free pass to use blackface in the show.
"As we strive to do the work and do better in regards to race in America, we believe that these episodes featuring actors in race-changing makeup are best taken out of circulation. I understand now that 'intent' is not a free pass for white people to use these images. I apologize for pain they have caused. Going forward, no comedy-loving kid needs to stumble on these tropes and be stung by their ugliness. I thank NBCUniversal for honoring this request."
Fey's decision to pull those older episodes may be an attempt to revise the history of "30 Rock," but the true test of Fey's commitment to racial sensitivity in comedy will come with her future projects.