Superhero Bits: Joe Quesada Is Leaving Marvel, The Black Adam Trailer Drops Soon & More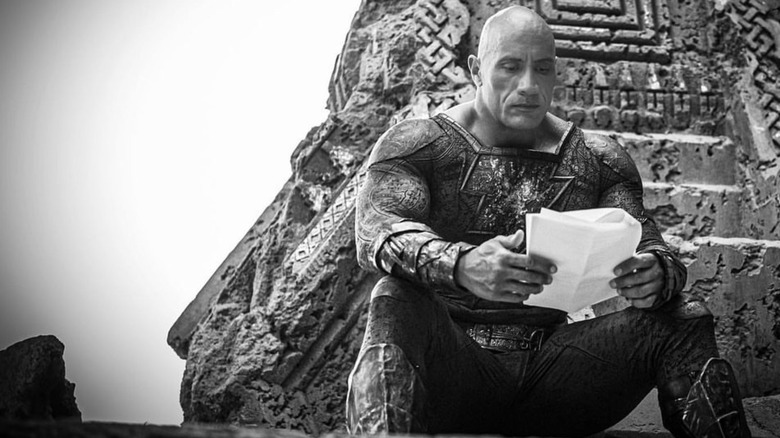 Warner Bros.
(Superhero Bits is a collection of stories, updates, and videos about anything and everything inspired by the comics of Marvel, DC, and more. For comic book movies, TV shows, merchandise, events, and whatever catches our eye, this is the place to find anything that falls through the cracks.)
In this edition of Superhero Bits:
The "Black Adam" trailer gets a release date.
Marvel is losing a legend.
Disney+ Day is coming back for another go-around this year.
"The Boys" releases an anti-drug PSA featuring Soldier Boy.
Watch an orchestra crush the Marvel Future Revolution soundtrack
"Marvel Future Revolution" is a popular mobile game that utilizes various heroes from the Marvel universe. It is not necessarily important that you play the game – or are even aware of it – to enjoy what we have going on here. The video sees the Beethoven Academy Orchestra absolutely crushing segments from the game's soundtrack in a live performance. You merely need a base-level appreciation for music and generally rad things to extract some joy out of this. Check it out for yourself above.
Here's why Gotham Knights won't take place in the Arkham universe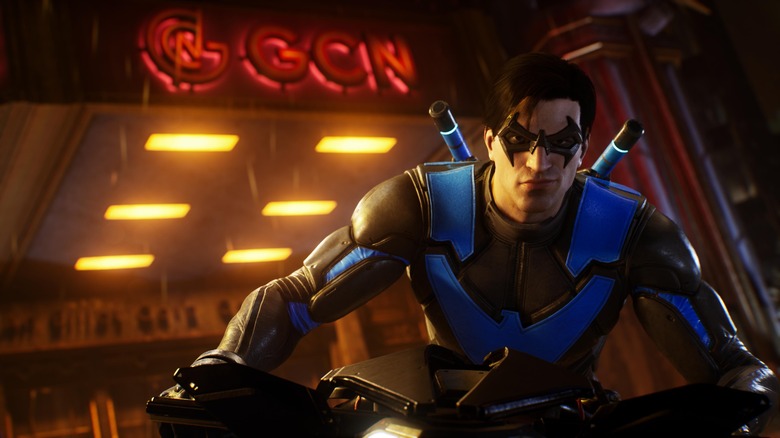 Warner Bros.
"Gotham Knights" is finally set to arrive later this year after quite a long wait. However, those who were hoping that this will be connected to the "Batman: Arkham" games should temper expectations, as this game will be establishing its own universe. As for why that decision was made? Warner Bros. Games Montreal Creative Director Patrick Redding recently addressed that very topic on Discord (via The Direct). Here's what he had to say about it:
"We wanted to be able to interpret and adapt the characters – that's both the heroes and their rogues' gallery – in new ways that would support a new player experience and progression. We wanted to be able to write the history of these characters with an original story without being tied to a particular continuity or feature set."
So there we have it. "Gotham Knights" is set to arrive on October 25, 2022.
Heads up: Disney+ day is happening again, mark your calendars
Last year, Disney decided to celebrate the two-year anniversary of Disney+ with something called Disney+ Day. It served as a convenient excuse to announce a bunch of things. Admittedly, it did not go all that smoothly. Be that as it may, Disney+ Day is returning once again on September 8, 2022, as indicated in the above teaser. This is of note for one because we can probably expect at least a few Marvel announcements at that time, and two because it rolls right into this year's D23 Expo. That is where we can also expect a lot more Marvel-related news. Plan accordingly.
Sony releases a retro trailer for Morbius, whatever that means
Sony is continuing to market "Morbius" now that the movie is available on digital, with the Blu-ray still set to hit shelves in June. Curiously, they have now released the above trailer which is labeled as a "retro" trailer for the Marvel Comics adaptation. However, the only things that are retro about it seem to be the 80s synth music and the text cards. Other than that it's really just another TV spot for the movie with a lot of vampire shenanigans in it. My sympathies to the people at Sony's marketing department who are trying to make something out of nothing here. A thankless job, to be certain.
Soldier Boy does a very bad anti-drug PSA for The Boys season 3
Jensen Ackles will be one of the biggest new additions to "The Boys" season 3 as Soldier Boy. Here, we see him in character doing a little PSA warning against the dangers of drugs. Sort of. This is no Captain America, as Ackles curses up a storm, discusses doing lots of drugs himself, and berates everyone trying to record the video off-camera. It offers a mere taste of what's to come when the new season drops and it appears Ackles is going to be bringing one despicable American hero to life. He should fit right in on the show.
People are re-watching Chris Hemsworth's pixelated butt in the Love and Thunder trailer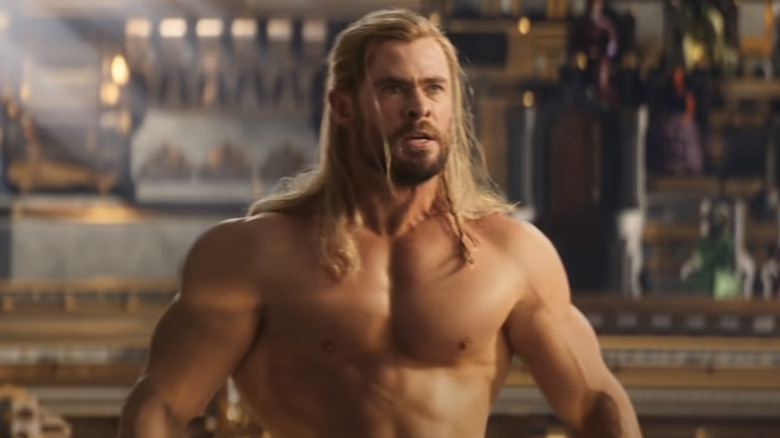 Marvel Studios
As noted by the folks at Comicbook.com, YouTube has begun revealing what moments in videos are the "most replayed." Well, it turns out that a whole lot of people are looking at a particular moment in the recent "Thor: Love and Thunder" trailer that sees Chris Hemsworth's God of Thunder de-robed by Zeus. Even though it's pixelated, audiences are clearly eager to see Thor naked as the day he was born on screen. Whether or not it will actually be censored out when the movie hits theaters in July remains to be seen though.
The Black Adam trailer drops on June 8, The Rock reveals
There are few movies that can say they've weathered a 15-year road to becoming a reality, but that's exactly the case with "Black Adam." Dwayne "The Rock" Johnson was first cast as the DC character back in 2007 and it has been a long journey to actually make it happen. But the movie is indeed arriving later this year, and now, as indicated by the above Instagram post, we're getting our first full-length trailer in just over a week on June 8. It's likely this is going to be the same trailer that debuted at CinemaCon last month. Now, the world at large is finally going to see Johnson in action as a superhero (or anti-hero, rather). We'll be sure to bring the trailer your way as soon as it drops.
Joe Quesada is leaving Marvel after more than 20 years
One of the most consequential figures in the history of Marvel Comics, Joe Quesada, is stepping away from the company after more than two decades. The one-time editor of the largest comic book publisher in the world, as well as the artist behind titles such as "Daredevil" and "Spider-Man," among many others, has revealed in the above Twitter post that he will be stepping down to focus on other projects. It does not seem that there is any love lost though as he will still be doing some work for Marvel Comics in the future. Quesada, during his tenure with the company, had a huge impact, largely being credited as the guy who saw the shift towards writing for collected trade editions, as well as introducing the more adult Max line. As for what Quesada is doing next? We'll surely learn more in the coming days/weeks, but this is the end of a major era.