11 Movies Like Chip 'N Dale: Rescue Rangers You Should Watch Immediately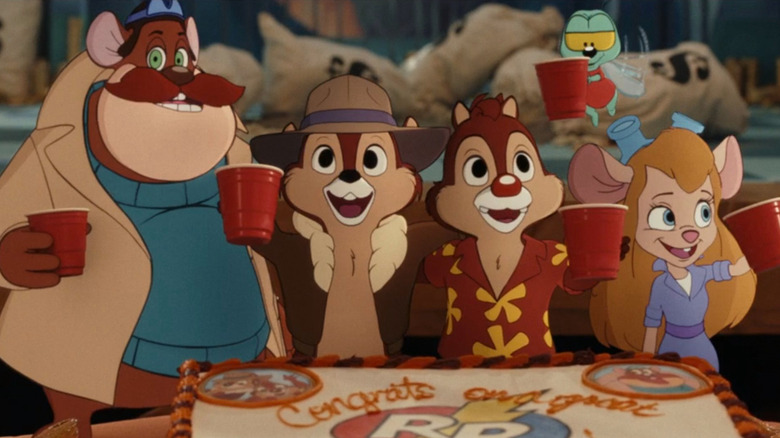 Disney+
There's a throwaway moment in "Chip 'n Dale: Rescue Rangers" that I can't stop thinking about: Chip (voiced by John Mulaney), 32 years removed from his TV heyday, returns home after a long day's work. He removes his headphones. For the briefest moment, "Laid To Rest" by Lamb Of God comes blaring out of them. That is a deep cut by modern metal standards, a selection that suggests Chip's penchant for loud and fast music doesn't end with LoG. It also hints at the maelstrom of resentment and rage Chip has for Dale (Andy Samberg), his former best friend who spurned him three long decades ago.
Does this all seem sort of intense for a "Rescue Rangers" movie? It is! Akiva Schaffer's Hollywood-skewering Disney+ original is drawing comparisons to "Roger Rabbit," but it has just as much in common with his funny but deeply wounded "Popstar" or the honest, time-worn "The Muppets" from 2011. It cares for its characters deeply, whether they're the ugly version of Sonic (teeth!) or the Coca-Cola bear, here a hitman for hire who idolizes Baloo. What's more, "Chip 'n Dale: Rescue Rangers" fundamentally believes that any character can matter to any person, especially in the right creative hands. It celebrates its IP's possibilities even as it loathes the Hollywood reboot cycle. That makes it a film worth thinking about.
Here are 11 movies like "Chip 'n Dale: Rescue Rangers" that you should watch immediately.
Who Framed Roger Rabbit?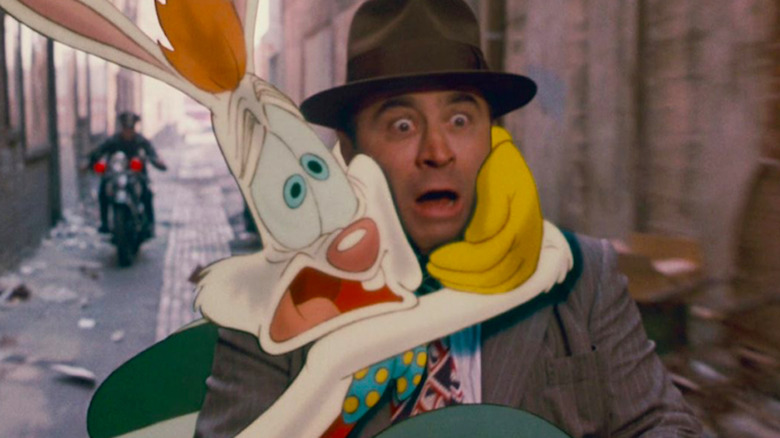 Warner Bros.
Let's get this out of the way: It's ridiculous to compare "Chip 'n Dale: Rescue Rangers" to "Who Framed Roger Rabbit?"
Yes, Schaffer's movie all but invites those comparisons due to its blend of animation and live-action, plus its plot forces B-list characters to solve a grade A mystery. There's even a visual gag in which Chip and Dale do the "Roger Rabbit" with Roger Rabbit. The film brought this on itself.
Nevertheless, that's why you should watch "Who Framed Roger Rabbit?" immediately after "Chip 'n Dale," whether you've seen it before or not. It's a bonafide masterpiece. Robert Zemeckis' game-changing detective yarn is one of the 100 most important films ever made. It anticipates modern Hollywood's ecstatic dance with established IP. It pushes the technology of its time to the limit and creates cinematic magic in the process. More than anything, it's a gateway film noir that is better than many of the darker movies it's inspired by. "Who Framed Roger Rabbit?" is a marvel of plotting, directing, and Bob Hoskins' forever underrated acting. 
It's silly to compare "Chip 'n Dale: Rescue Rangers" to "Who Framed Roger Rabbit" because the latter has never had any equals. It likely never will.
The Muppets (2011)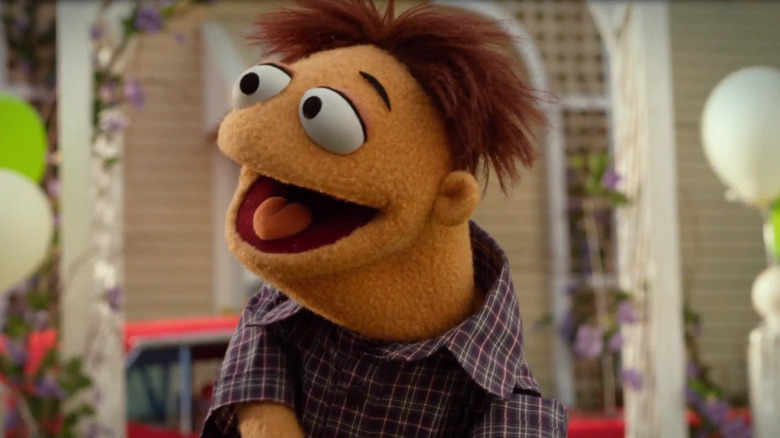 Disney
James Bobin and Jason Segel's "The Muppets" is a movie about loving the Muppets. Its protagonist, Walter, born a Muppet and a lifelong fan of "The Muppet Show," gathers the Muppets together to save their legendary theater. That doesn't appeal to Kermit, who's isolated in a lonely, green-tinted mansion. It doesn't appeal to Animal, who has utterly lost his passion for drumming. Jim Henson's most iconic creations have not only forgotten what made them special, but they've also forgotten they were special in the first place.
This is what makes "The Muppets" an ideal companion piece for "Chip 'n Dale: Rescue Rangers." Segel's most radical screenwriting choice for his "Muppet Movie" sequel was to posit that even Kermit, Gonzo, and Fozzie Bear — beacons of joy — could forget the light they bring to others' lives. Audiences have never stopped loving the Muppets. The Muppets stopped loving themselves. Their madcap, 2011 adventure (which, to be clear, involves kidnapping Jack Black, off-brand puppets called the "Moopets," and a celebrity anger management clinic) teaches anyone who sees it the power of loving yourself. That's a real "Rainbow Connection" if there ever was one.
The Muppet Movie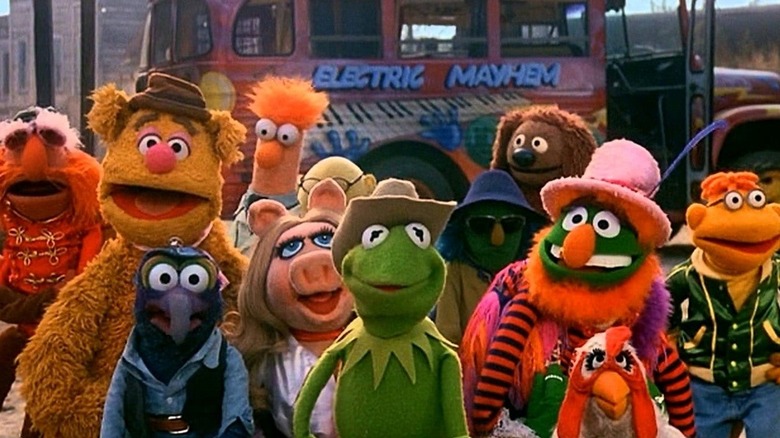 Disney
If you're going to watch 2011's "The Muppets," you must watch 1979's "The Muppet Movie." This isn't a law, but it probably should be. The two are as essential a pairing as peanut butter and jelly — the cinematic equivalent of a covalent bond. "The Muppets" is about what happens to everyone's favorite puppets after their Hollywood careers go astray. "The Muppet Movie" is how those careers start. Though it has more than its fair share of fun with Hollywood (as do the numerous celebrities who make cameos, including Steve Martin, Dom DeLouise, and Madaline Kahn), it's also wide-eyed about performing and the emotional riches that come with it. That's an increasingly rare thing to see.
Less rare are "The Muppet Movie" origin story beats which, in retrospect, anticipate the lore-building many IPs would attempt in modern-day reboots. But "The Muppet Movie" doesn't aim for excess gravitas. It never needs to prove its characters matter. It knows they do and makes the audience feel quietly important for having spent time with them. It's no wonder "The Muppet Movie" was selected by the Library of Congress for preservation in the National Film Registry. It's a movie that makes humanity better.
Bolt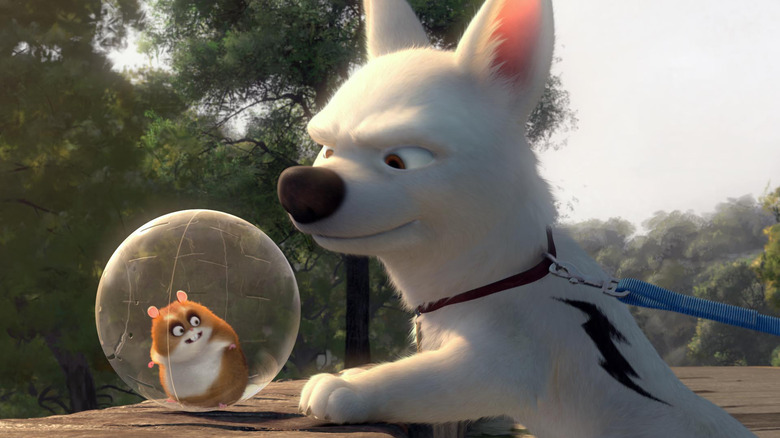 Disney
Beat for beat, "Bolt" is the most underrated Disney animated film of the century. It doesn't have much competition. The ever-evolving and expanding canon of Mouse House releases is subject to immediate scrutiny and rarely goes under-analyzed. Somehow, "Bolt" did. Chris Williams and Byron Howard's sterling, Hollywood-set comedy was co-written by A-list screenwriter Dan Fogelman ("Tangled," "Crazy Stupid Love"), earned loving plaudits, and features endearing performances from John Travolta and Miley Cyrus. It is, inexplicably, less well-remembered than "Wreck-It Ralph" or even "Meet The Robinsons." How did this happen?
Watching "Bolt," the answer isn't clear. It has all the elements that make a Disney movie marketable (plucky hero, cute animals, positive message). There are also some genuinely subversive set pieces. The action sequence that opens "Bolt" is both a parody of a legitimately thrilling chase scene that exposes the wires that make action cinema tick. However, the way this sequence rears its head in the third act of "Bolt" speaks to the heart which makes it great. For all intents and purposes, "Bolt" is a movie about love and authenticity, both of which are hard to come by in Hollywood. It makes sharing them generously look easy.
Wakko's Wish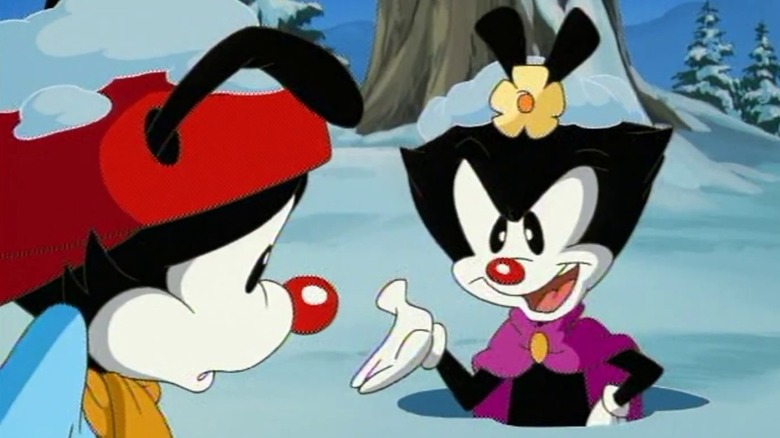 Warner Bros.
"Chip 'n Dale: Rescue Rangers" has primarily been compared to "Who Framed Roger Rabbit." A more accurate point of comparison for its sense of humor is Warner Brothers' "Animaniacs." Tom Ruegger's seminal animated comedy married kid-friendly slapstick to adults-only pop culture references and innuendo. The show threw everything and the kitchen sink into its episodes. "Chip 'n Dale" gleefully does the same. Both shows also share vocal contributions from the legendary Tress MacNeille.
Thankfully, there is a film version of "Animaniacs" that qualifies for this list, albeit a forgotten one. "Wakko's Wish" was released directly to video in 1999 and while it's hardly an "Animaniacs" high point, the series' version of low points still means 10 awesome original songs, Bernadette Peters going HAM on her voice work, and a surprising amount of pathos. As a spin of the morality wheel makes clear, the film's message is "never give up on hope." 
It's a lesson Chip 'n Dale — and audiences — could both stand taking to heart. 
Space Jam: A New Legacy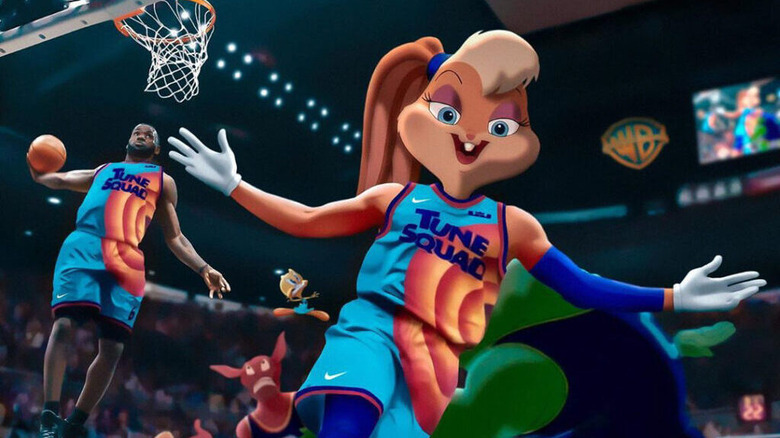 Warner Bros.
"Space Jam: A New Legacy" had its detractors before the movie was ever released. The laundry list of its offenses was endless. The film hired celebrities for voice roles instead of established and more seasoned voice actors (fair!). "Space Jam" is a Millenial touchstone and doesn't need a sequel (sort-of fair!). It went on and on. Time has not been kind to "Space Jam: A New Legacy," yet there's no question that Malcolm D. Lee's uneven follow-up to the Michael Jordan and Looney Tunes collaboration is more intellectually interesting than anyone could have anticipated. 
Like "Chip 'n Dale," "Space Jam: A New Legacy" has a lot on its mind. It is wary of algorithmic project greenlighting even as it plumbs the Warner Brothers canon for characters. More movingly, it asks genuine questions about fatherhood and the generational legacies Black men leave each other. This is a question close to star LeBron James' heart. He has publically expressed a desire to play in the NBA up until the moment his son can join him.
To be blunt, "Space Jam" was a feature-length commercial and basketball campaign that became a cultural sensation. "Space Jam: A New Legacy" is an actual movie. Give it its due.
The Simpsons Movie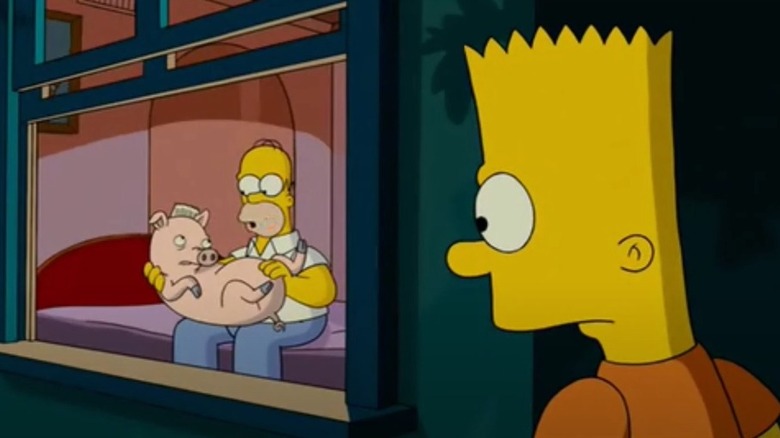 20th Century Fox
The Simpsons make a brief, off-brand appearance in "Chip 'n Dale: Rescue Rangers" as one of the many properties being used to make bad bootleg movies by Sweet Pete (Will Arnett). It's a funny moment made all the better by "The Simpsons'" history. For a show about a typical family living in Springfield, "The Simpsons" has been relentlessly fascinated with entertainers and Hollywood. 
In "The Simpsons Movie," those obsessions are applied to a feature-length picture. The film opens with Springfield's residents drowning the band Green Day (no, really). It then follows the archetypal plot beats of both a disaster film and conspiracy thriller, with Homer polluting Springfield to the point of having to put a glass dome over it. Though the movie is best remembered for the Spider-Man parody "Spider-Pig," it also functions as a lovely summation of why "The Simpsons" has endured. No matter how big or small the show was or is, its cast of characters and sense of humor are indelible. They adapt to any form. They're as timeless as Hollywood itself. No wonder their parodies work so well. Here's hoping they make another one. 
Teen Titans Go! To the Movies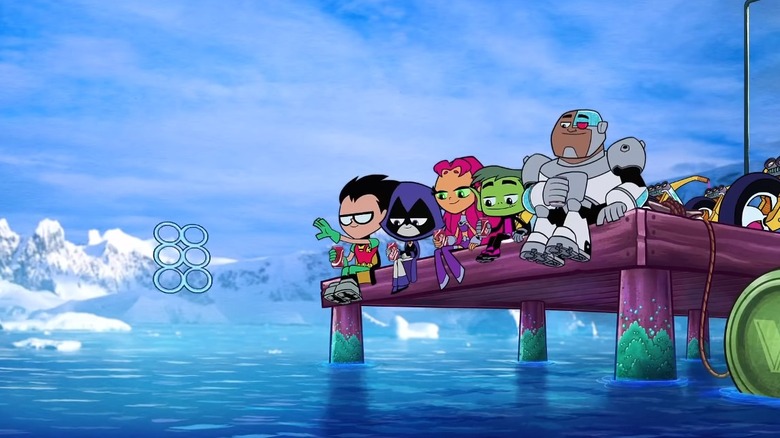 Warner Bros.
Did anyone have "Robin uses the plastic rings from six-packs of soda to tangle up and possibly murder baby Aquaman" on their "Teen Titans Go! To the Movies" shortlist?
My guess is, "no!" But that's just one of the subversive and gleefully dark jokes peppered throughout Aaron Horvath and Peter Rida Mitchell's satirical animated thrill ride. There have been many hysterical comic-book films released this century. "Teen Titans Go! To the Movies" might be the funniest. This is a film in which a member of Hollywood's brass (Kristin Wiig) tells the Teen Titans she'll only give them a movie if they're the last superheroes on Earth, and then, the Titans go and undo the Justice League's origins. Wonder Woman has her lasso stolen. The Titans tell the Waynes not to walk down Crime Alley. And Robin tosses plastic six-pack rings into Aquaman's ocean domicile.
It would be one thing if "Teen Titans Go!" was just dark. What's more remarkable is that of all the major films from Marvel or DC released since 2004's "Iron Man," it is most in conversation with the comic-book movie production conveyor belt. As fun and madcap as it is, the movie genuinely examines our fascination with superhero stories as well as the cynical process that gets them greenlit as films. That makes it a must-watch for fans of both "Chip 'n Dale: Rescue Rangers" and comic book movies.
Detective Pikachu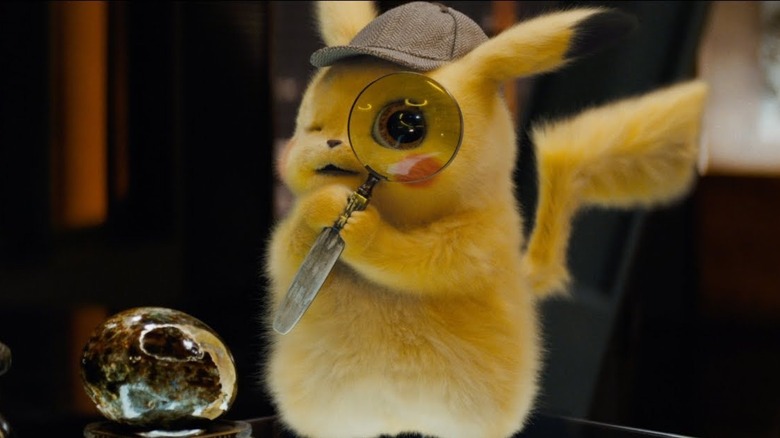 Warner Bros.
"Detective Pikachu" has no interest in satirizing its core IP because it's too busy trying to legitimize it. Rob Latterman's Pokemon noir epic was one of the only 2019 blockbusters shot on film. Its world design feels as indebted to "Blade Runner" as video games. Most importantly, it tells an emotionally solvent story about fathers and sons and the limits both place on interrelationship communication.
"Pikachu" has more on its mind than catching them all. It also features Psyduck admitting he might kill a car full of people if he doesn't get a foot rub. Typical family fare, this isn't. "Detective Pikachu" also shares the live-action and CGI integration "Chip 'n Dale: Rescue Rangers" traffics in. At their best, both films don't just imagine a world where humans and anthropomorphic creatures live side by side, they make it magic and believable. That makes them companions and trailblazers alike. 
Popstar: Never Stop Never Stopping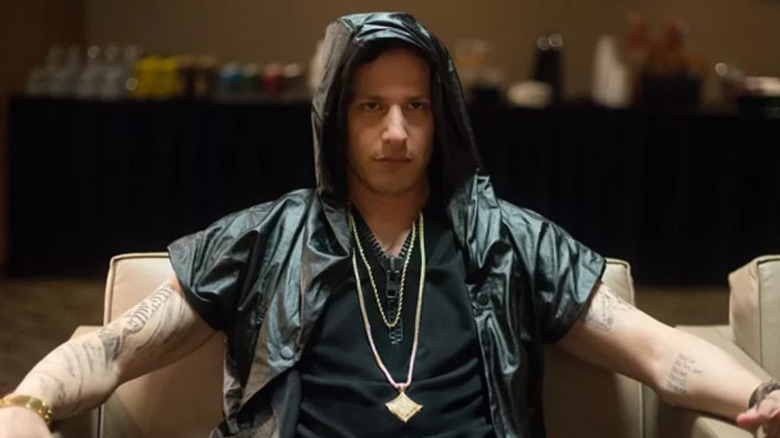 Universal Pictures
When I was growing up, movie reviews made a point of emphasizing whether or not a family film was as fun for parents as it was for kids. There is (no exaggeration) a 95-percent chance that "Chip 'n Dale: Rescue Rangers" is more fun for parents than their children. Akiva Schaffer's film draws from the childhood IP of pop culture-savvy millennials at a mile-a-minute pace. No sooner has Lumiere from "Beauty and the Beast" burned autographs at FanCon than the Lost Boys are ribbing an aging Peter Pan. "Chip 'n Dale" is a fiercely fun watch whether you have kids or not.
Given that, it would behoove me to recommend a movie or two that build on the less family-friendly elements of "Chip 'n Dale" and the most obvious (and hysterical) choice is Schaffer's own "Popstar: Never Stop Never Stopping." Schaffer and The Lonely Island had made big-screen efforts before the 2016 film but none that synergized all their skills and interests so effectively. The pop parody songs are here. The fascination with celebrities and iconic musicians drives the movie's (limited) plot. Most importantly, "Popstar" is an excuse to stage some of the century's funniest on-screen sequences like the wild animal attack with Seal and Chris Reed's "Maybe I did" monologue. There are few American comedies from the last 22 years with moments approaching these. It's a must-watch for fans of comedy — family-friendly or otherwise.
Bowfinger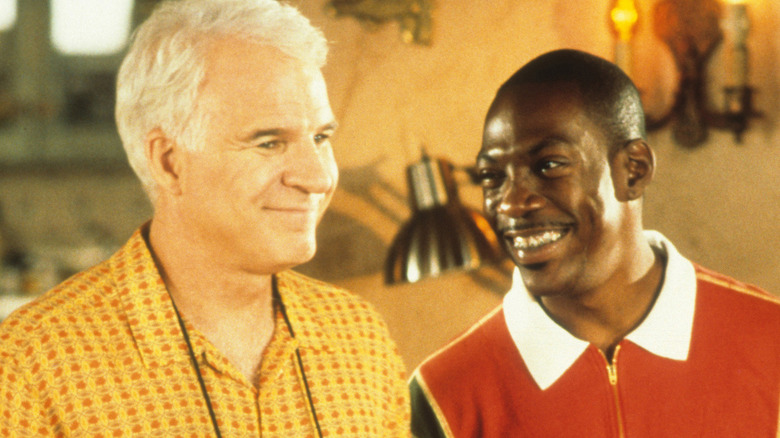 Universal Pictures
"Bowfinger" is great because it's tailor-made for Steve Martin and Eddie Murphy's strengths. That might be by design: the script, which concerns a desperate producer named Bobby Bowfinger (Steve Martin) and his delirious attempt to get one last project off the ground, was written by Murphy. It might also be because Martin and Murphy were alt-comedy royalty that went mainstream and Hollywood scooped up. A story about the madness of film production suits them. It also suits director Frank Oz, a comic legend who previously poked fun at Tinseltown conventions through "The Muppets Take Manhattan." 
That's the secret weapon of "Bowfinger." Everyone involved is teed up to make it work. It catches Robert Downey Jr. ready to claw back towards mainstream stardom. It allows Heather Graham to be a genuine comedic dynamo. More than anything, it celebrates that movies are wonderful even when every single thing that surrounds them is ridiculous. That makes it a worthy cap for this list and worth your time.