Guardians Of The Galaxy: Cosmic Rewind Signals A Fresh Direction For Epcot, Without Forgetting Its Past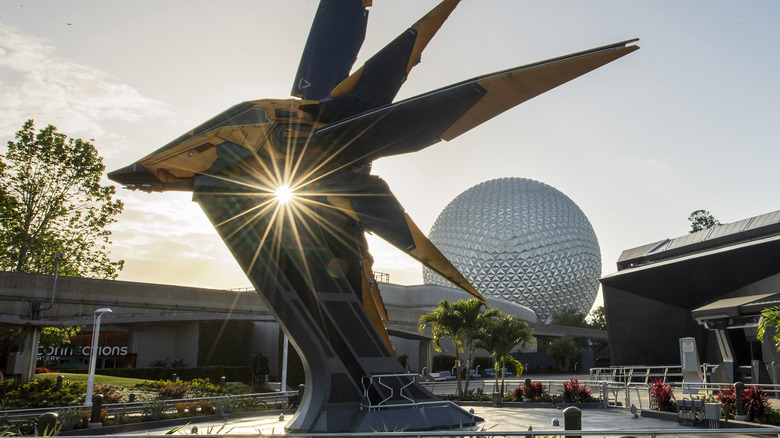 Disney
Walt Disney World diehards visiting Epcot this summer will spy an eye-popping new landmark when they pass through the park's gates. Not far from the iconic Spaceship Earth sphere sits a full-scale Nova Corps Starblaster. For the uninitiated, the vibrant yellow-and-blue craft is a replica of one of the star-cruising vehicles from Marvel's "Guardians of the Galaxy" franchise — and it's set up shop outside of a brand new indoor rollercoaster based on the IP.
Serious fans of Star-Lord, Gamora, Drax, Rocket, and Groot are probably not only well aware of the new attraction — subtitled "Cosmic Rewind" — they're likely already planning a trip to go check it out. But longtime Epcot enthusiasts, especially those who haven't spent the last decade immersing themselves in the Marvel Cinematic Universe, might bristle at the thought of their beloved edutainment theme park hosting an E-ticket ride based on one of Hollywood's biggest brands. And while those Future World faithfuls might be right in thinking this new movie-inspired ride would be a better fit for Disney's Hollywood Studios park, they may also be pleasantly surprised that it actually does a decent job marrying Epcot's past to its present.
For starters, Cosmic Rewind doesn't feel shoehorned into the park's new World Discovery neighborhood, but rather blends pretty seamlessly into both the area's aesthetic and entertainment focus. It's one of Epcot's few thrill rides, not unlike the nearby Test Track, and its sci-fi theme isn't a far cry from those of the neighboring Mission: SPACE and the Space 220 restaurant.
Easter eggs meet mock edutainment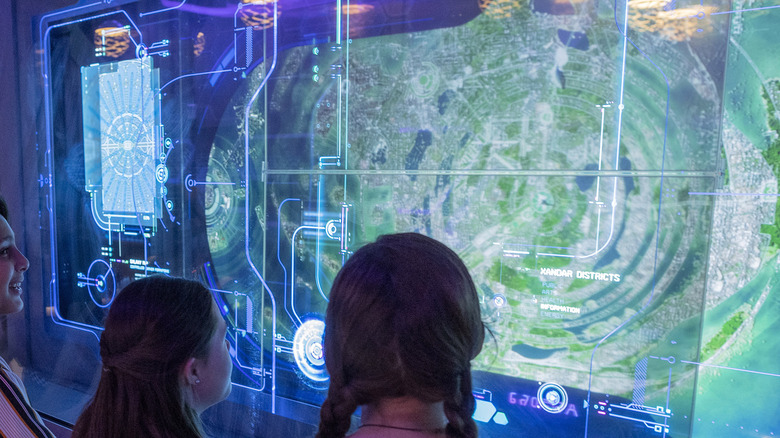 Disney
More than its fitting location and ability to spike park patrons' pulses, Cosmic Rewind contains a number of call-outs to both Epcot and its revered history. Easter eggs, as well as more obvious fan-servicing inclusions, are peppered throughout the coaster's pre-show. References to Walt Disney's early ideas and ambitions for Epcot, subtle audio and visual nods to the old Universe of Energy attraction and pavilion — where Cosmic Rewind now sits — and Star-Lord enthusiastically recalling his 1980s visit to Epcot ("I cannot wait to get to go back and ride Horizons!") are among the coaster's numerous efforts to pay tribute to what came before it.
But Cosmic Rewind goes a good deal further in this respect by tying its story directly to Epcot's early edutainment ambitions. As the tale goes, Star-Lord — inspired by his aforementioned love of Epcot — was instrumental in selecting the park as the location for Xandar's Earth/Terra-based cultural pavilion. Dubbed the "Wonders of Xandar," it's designed to mimic the look, feel, and experience park-goers have when visiting any of the country-based pavilions that make up Epcot's World Showcase. The Wonders of Xandar is also cheekily referred to as the first "Other-World Showcase."
Of course, the big difference here is that it's all fictional, trading easily digestible education for pure entertainment. So rather than, say, strolling through an exhibit on Canada's history and culture, then viewing an informative Circle-Vision film on the country, you learn all about a faux, far away galaxy, then set off to save it.
Merch marries past and present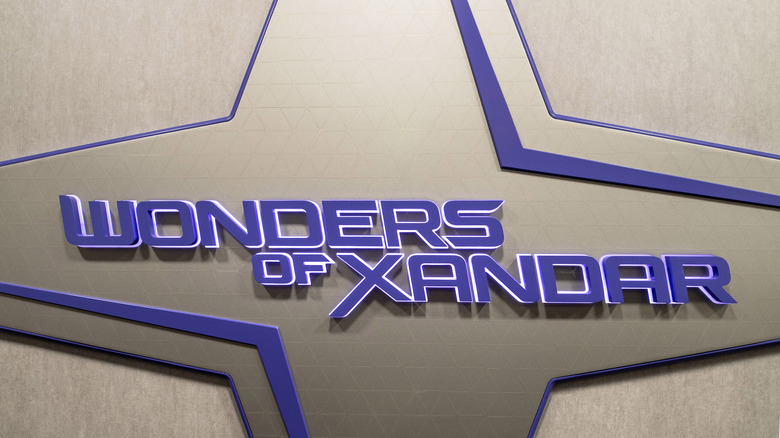 Disney
After serving as a Guardians' recruit, you can head over to Treasures of Xandar, a gift shop that also does its part to pay respect to the park's roots. Much of its retro-inspired merchandise looks a lot like the souvenirs you might have scooped up in the mid-eighties and early-nineties. Some items even merge the Epcot of old with the new Marvel attraction (my favorite is a very '80s-looking t-shirt that has the word "Spaceships" printed above an image of Spaceship Earth flanked by crafts from "Guardians of the Galaxy"). Fingers crossed we'll soon see some Figment-Guardians crossover merch. 
Guardians of the Galaxy: Cosmic Rewind is undoubtedly a significant departure from the days when Kitchen Kabaret had us happily lining up to watch audio-animatronic produce sing and dance. Its placement in the park, as well as the evolution it represents, won't please everyone. That said, it does far more than expected to move the park forward without forgetting its adored past. It slots surprisingly well into Epcot's former Future World, as well as its IP-embracing plans, while also proving a Marvel-themed rollercoaster can work there without putting a Hulk-sized stain on its history.