How Ghostbusters: Afterlife Brought Ray's Occult Book Shop Back To Life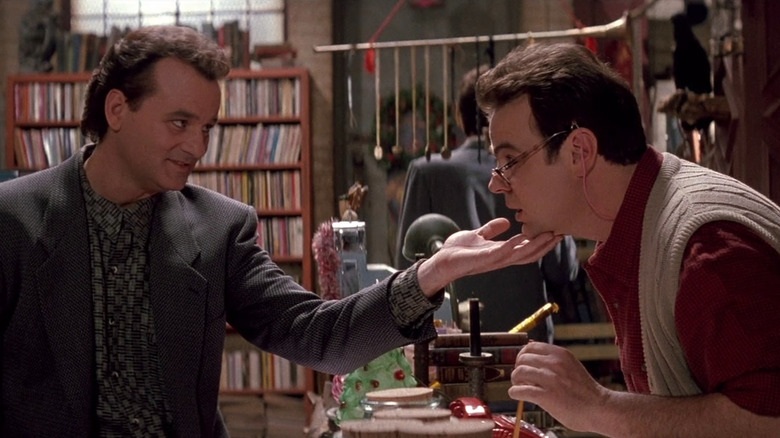 Columbia Pictures
Although the bulk of "Ghostbusters: Afterlife" is set in a fictional Oklahoma town, the movie at one point returns to a familiar location from "Ghostbusters II": namely, Ray's Occult Books in Manhattan. As its name implies, this is the shop owned by Dan Aykroyd's character, Ray Stantz.
After chasing the metal-eating ghost Muncher through the streets of Summerville, Phoebe (Mckenna Grace) and her young friends land themselves in jail for tearing up the town with stray proton pack blasts from the gunner's seat of the Ghostbusters' old Ecto-1 car. Put forth in dialogue by Bokeem Woodbine's sheriff, the well-worn series tagline and question of "Who you gonna call?" is never in doubt. This is, after all, a "Ghostbusters" movie.
Phoebe uses her one call from jail to phone Ray's Occult Books, but for the art department responsible for bringing Ray's side of the conversation to life visually, this presented a challenge in that they had to build an exact replica of the shop from scratch. In the book "Ghostbusters: Afterlife: The Art and Making of the Movie," production designer François Audouy revealed:
"No existing drawings of the set [of Ray's Occult Books] had survived, so we went through forensically and took screen grabs from the movie and began modeling it in 3D. Even though the original set was built on stage, we looked at fire insurance maps of New York to get a sense of scale of the exterior location that served as inspiration."
According to the book, that "exterior location" was the real-life St. Mark's Place in New York City, which the art department referenced via online scale drawings.
'It really smelled like one of those places'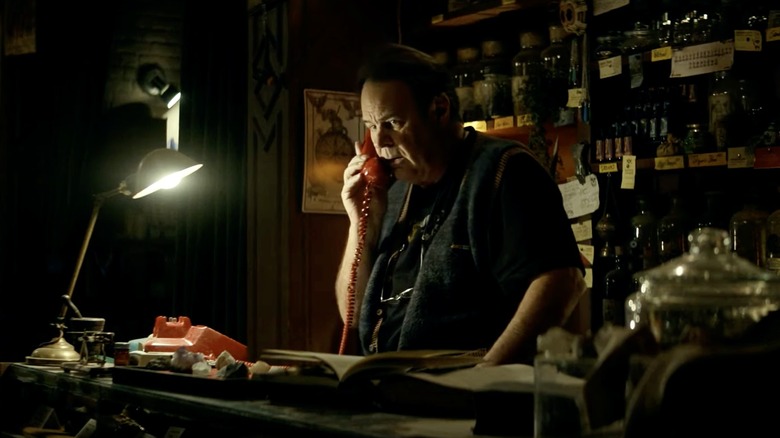 Columbia Pictures
François Audouy also consulted "Ghostbusters Il" art director Tom Duffield, who looked at his fresh renderings of Ray's Occult Books and gave him "notes for adjustments based on his own memory from the set." Shots of the exterior that never made it into the sequel helped the team reconstruct the shop's neon window sign, as other new background details were added in to show the passage of time.
If you look closely, you can see how Ray has "had to branch out to sell other things like crystals and incense in order to stay in business." He has a palm reader in back of the store, and real dust lines the shelves. Audouy even used sage and essential oils to give the place the right aroma. He said in the book:
"We added 30 years of history into the space, and then I asked the special effects department to go through with a dust machine and spread copious amounts over the hundreds of books. The vibe just clicked right into place once that happened. ... It really smelled like one of those places."
Costume designer Danny Glicker put Ray "in a beat-up Ray's Books shirt and an old sweater vest" to show his "dispirited" state, which also comes through in dialogue when Ray tells Phoebe her grandfather, Egon Spengler, "can rot in hell" (before she breaks the news to him of Egon's death and his tone softens). The only question left after all this is whether Ray's Occult Books, with its new inventory of "crystals and incense," also sells Crystal Head Vodka, Aykroyd's real-life brand of occult-themed alcohol.