Every Song In Stranger Things Season 4 Volume 1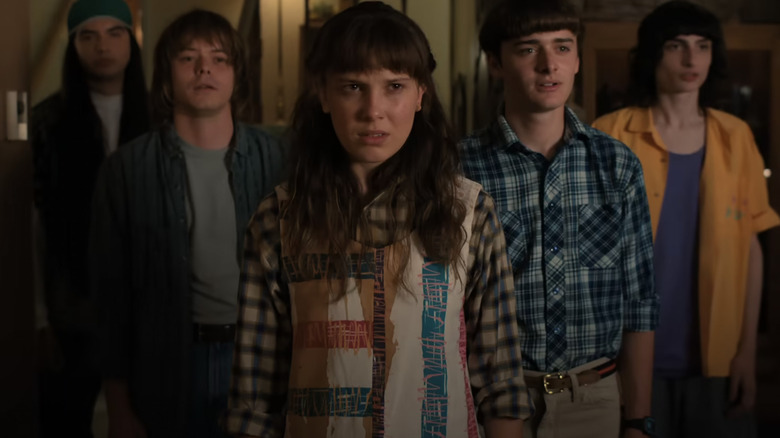 Netflix
"Stranger Things" is back, and so is '80s nostalgia.
In the newest season, El (Millie Bobby Brown) becomes the favored target of a cruel bully, Max (Sadie Sink) isolates herself from her friends, Lucas (Caleb McLaughlin) has to choose between popularity and loyalty, and Mike (Finn Wolfhard) and Dustin (Gaten Matarazzo) are linked to a murderer. Did I mention a dark wizard is also stalking townsfolk and tormenting them with their nightmares? 
And I thought my high school days were rough.
El and her friends are once again teaming up to save the world and each other, but this time they find an unlikely savior in music. Season 4 gives us a familiar world of mullets, acid wash jeans, and gaudy earrings that blends with alternate dimensions, Demogorgons, and some sweet synth music. Here are the songs you'll hear in the new season.
Episode 1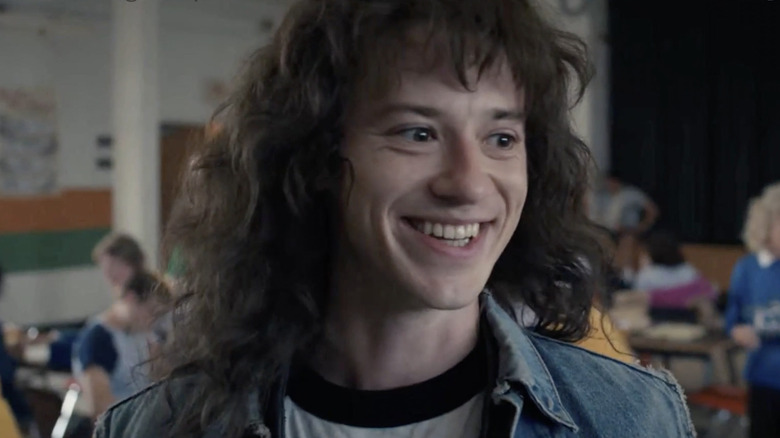 Netflix
Track 1: "California Dreamin' (24-Bit Remastered) by The Beach Boys
After the title sequence roles on the premiere episode of "Stranger Things 4," we hear the voice of Eleven (Millie Bobby Brown) telling Mike about her new life in California. She explains how great everything is and how well everyone is fitting in over the happy tunes of The Beach Boys. The song continues to play as El arrives at school, gets ignored in the hallways, and takes a spitball to the face. The stark contrast of Eleven's version of her life versus the reality we are shown is even more tragic with the upbeat song playing over the scene. 
Track 2: "Object of My Desire" by Starpoint
Robin and Steve carpool to school, discussing their love lives and mutual appreciation of "boobies." Robin shares her fear of being outed if she asks out the wrong girl. 
Track 3: "The Red Army is the Strongest" by Red Army Choir
This Russian song plays as Joyce receives a package covered with hammer and sickle stamps. She cuts it open, finds a creepy doll inside, and calls everyone's favorite conspiracy theorist, Murray (Brett Gelman). 
Track 4: "Running Up That Hill (A Deal with God)" by Kate Bush
El has to give a presentation on a historical figure for one of her classes. El's biggest tormentor, Angela (Elodie Grace-Orkin), ridicules El's project in front of the class, and this track plays as El, clearly upset, rushes away down the hall. Next, we see Max walking down the hall with headphones on her ears. She's stone-faced as she glances around at other kids laughing and making out in the halls. At one point, she shares a tense look with her ex-boyfriend, Lucas, as she passes him in the hall. Max is isolated and sad, just like El, and the song playing over both scenes is used to connect their emotions. This track will pop up again later in the season and prove to be an important element in the story. For now, we'll leave it there. 
Episode 1, Part 2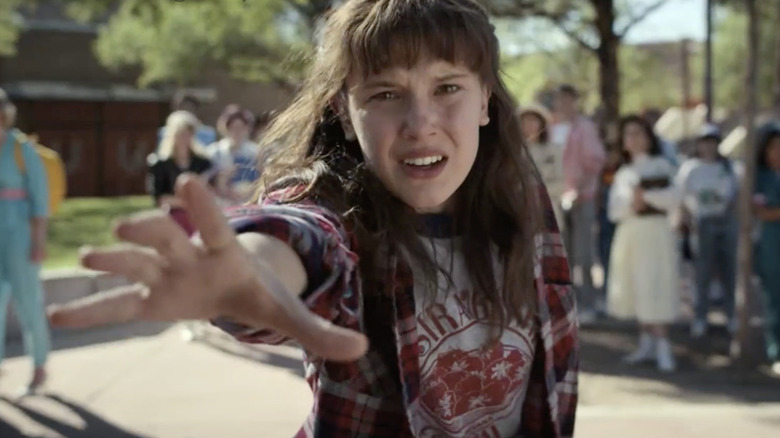 Netflix
Track 5: "I Was A Teenage Werewolf" by The Cramps
This song plays over our first glimpse of Eddie Munson (Joseph Quinn), the leader of The Hellfire D&D Club and the school "freak." The track plays as Eddie reads from a Newsweek article focusing on the links between D&D and satanism, ritual sacrifice, and murder. The punk track hints at Eddie's rebellious edge as he jumps onto the cafeteria table and mocks other hobbies that aren't demonized. He targets the basketball team in particular, yelling across the room and describing the activity as, "a game where you toss balls into laundry baskets."
"Track 6: "Fever" by The Cramps
Eddie's mood gets even worse when Dustin explains that Lucas has to play in the basketball tournament rather than Hellfire's D&D campaign. "Fever" plays as Eddie refuses to postpone the game, and orders Mike and Dustin to find a replacement for Lucas.
Track 7: "Chica Mejicanita" by Andrea Litkei and Ervin Litkei
Murray and Joyce discuss the strangeness of the Russian doll and a plan to crack it open. Murray strips out of a karate uniform and sinks into an ice bath.
Track 8: "Play with Me" by Extreme
We see a montage of Dustin and Mike attempting to find a replacement for Lucas, but no one in high school wants to join the D&D club, so they recruit Lucas's sister.
Track 9: "Steve's Rocking Star Spangled Banner" by X-Ray Dog
Mike, Dustin, and their new recruit, Erica (Priah Ferguson), walk down the hall on their way to Hellfire, with Erica draped in an American flag cape.
Track 10: "Detroit Rock City" by KISS
This song plays as the scene cuts between the championship basketball game and the D&D campaign.
Episode 2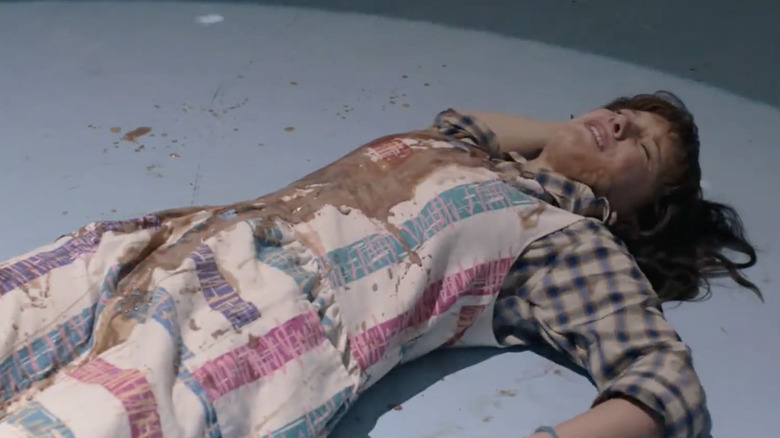 Netflix
Track 1: "Surf Time" by The Surf Riders
Murray and Mike arrive in California to visit the Byers. 
Track 2: "You Spin Me Round (Like a Record)" by Dead or Alive
El, Mike, and Will (Noah Schnapp) are at the local skating rink, where El insists she hangs out all the time. She continues to lie to Mike until she comes face to face with Angela. 
Track 3: "Rock Me Amadeus" by Falco
Angela and her gang of bullies spot El and Mike skating together. 
Track 4: "Tarzan Boy" by Baltimora 
Angela pulls El away from Mike and Will and takes her into the rink, where she is surrounded by bullies. Will tries to tell Mike that El has been having problems with bullying, but Mike doesn't want to believe he's been lied to.  
Track 5: "Wipe Out" by The Surfaris
One of the bullies tosses a chocolate milkshake at El and she falls, all of which is caught on tape. Mike realizes El hasn't been honest with him about her life in California. 
Track 6: Iolanta, Op.69: Scene 5, Ibn-Hakia's Monologue" by Bolshoï National Theatre
Hopper is beaten by the Russians, but they don't break him. One of the guards thinks his strength can be of use to "the motherland" and sends Hopper to Kamchatka. 
Track 7: "Psycho Killer" by The Talking Heads
Eddie disappears after being accused of murder, and Dustin, Robin (Maya Hawke), Steve (Joe Keery), and Max (Sadie Sink) call his friends in an attempt to find him. 
Episode 3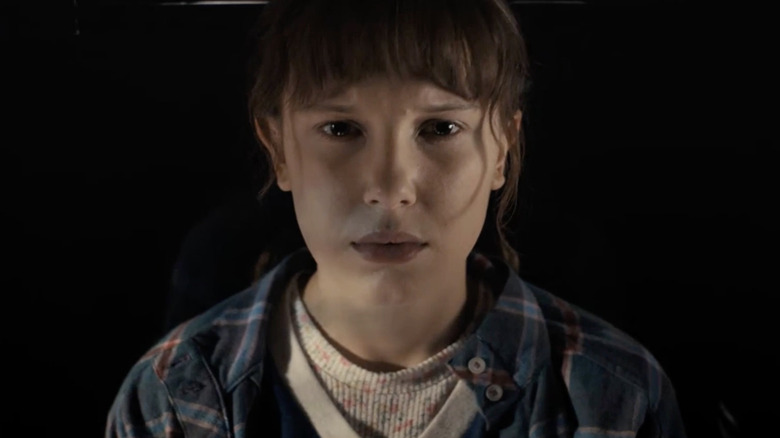 Netflix
Track 1: "Rigoletto, Act III: V'ho Ingannato. Colpevole Fui" by Nadine Sierra
The gang comes home from the skating rink to find Murray in their kitchen making risotto. 
Episode 4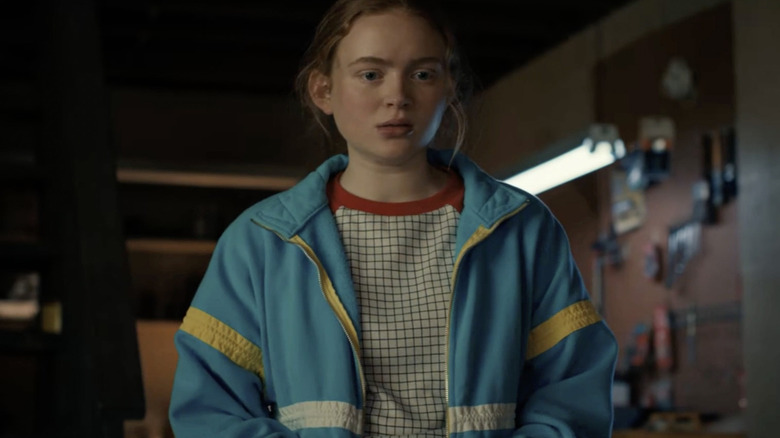 Netflix
Track 1: "Legless" by Hipbone Slim
Jonathan's (Charlie Heaton) stoner friend, Argyle (Eduardo Franco), answers the phone at Surferboy Pizza and rattles off his feelings about pineapple on pizza.
Track 2: "Pass the Dutchie" by Musical Youth
The quintessential stoner anthem plays as Argyle travels to the Byers' house with pizza.
Track 3: "Dream a Little Dream of Me" by Ella Fitzgerald
Victor Creel (Robert Englund) remembers this song playing on the radio the night his family was murdered. This clue helps the group save Max from Vecna a few scenes later.
Track 4: "Running Up That Hill (A Deal with God)" by Kate Bush
As a result of Max's trauma over her brother's death, Vecna curses her, and pulls her into his alternate reality. Dustin's supercharged ham radio allows Nancy and Robin to explain their theory that music might bring Max back to the real world, so they put headphones on Max and play her favorite song. As Kate Bush's voice fills Max's ears, a rift appears in Vecna's reality, which creates a portal back to the real world. After remembering a series of happy moments with her friends, Max breaks free of Vecna's grasp, runs towards her friends, and escapes certain death.
Back in the real world, Max scurries into Lucas' arms, and allows him to hold her. It's a climactic moment for her because she's been keeping her friends at arm's length since the death of her brother. After this scene, she is less closed off, and more open with her friends about her feelings. She even allows herself to have a conversation with Lucas, who makes her laugh.
Ah, the power of music.
Episode 5
Netflix
Track 1: "Traveling Man" by Ricky Nelson
After discovering the Russian doll is a message from Hopper, Murray and Joyce meet with a pilot who is supposed to smuggle Hopper back to the U.S., but he betrays them. Real shocker, I know. Who could have seen that coming? Anyway, Murray and Joyce are tied up in the back of the smuggler's plane while this track plays.
Episode 6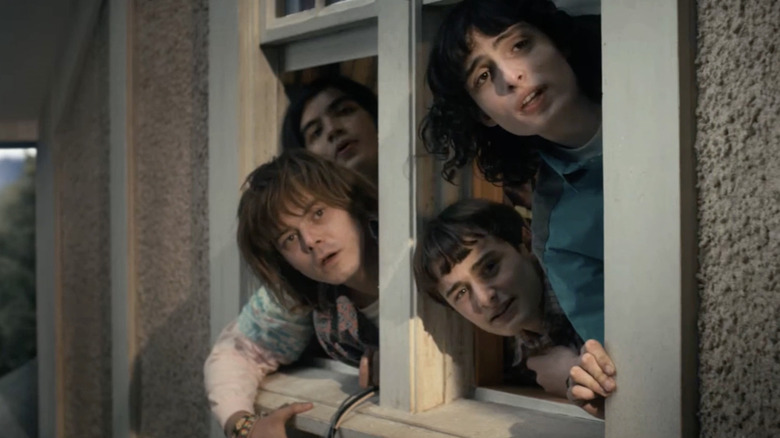 Netflix
Track 1: "Violin Concerto, Op. 35: III. Finale. Allegro assai vivace" by John Wilson, RTÉ Concert Orchestra, Andrew Haveron
Mike, Will, Jonathan, and Argyle visit Dustin's girlfriend and meet all of her eccentric siblings. My favorite is the little Ed Wood making a movie in the living room.
Track 2: "The Snow Maiden: Chorus of the People and the Couriers" by Andrey Chistiakov, Russian State Chorus, and Russian State Orchestra
Hopper and his fellow prisoners are brought into a room full of food. The others devour the feast, but Hopper is suspicious they are being fattened up to be eaten by a Demogorgon.
Episode 7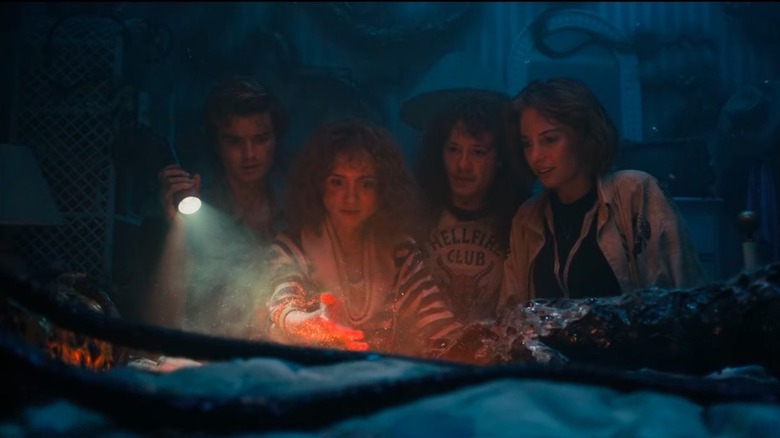 Netflix
In the last episode of Volume 1, we hear Kate Bush's "Running Up That Hill (A Deal with God)" once more as Max is pulled into the game of Lite-Brite with Dustin, Lucas, and Erica (Priah Ferguson). It's a gentle reminder that music is the only thing keeping Max from Vecna's claws.
And of course, while there aren't any other songs on the soundtrack, the score remains incredible. Michael Stein and Kyle Dixon continue to do excellent work with the synth-heavy instrumental tracks that pulsate throughout the series, and we can't wait to hear what they have cooked up as the season reaches its crescendo in Volume 2.
"Stranger Things 4" is currently available to stream on Netflix, and two final episodes will be released on July 1, 2022.