Top Gun: Maverick Scores A Huge $19 Million In Thursday Previews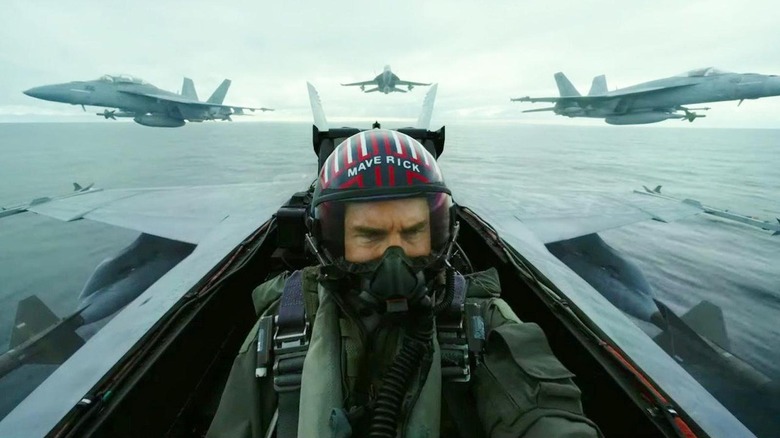 Paramount
When the Covid pandemic put the hurt on the global box office, some studios panicked and released their entire slate day-and-date via theatrical and streaming, jolting a paradigm that not only kept exhibitors in business but encouraged viewers to prioritize seeing new movies on the big screen. This placed filmmaking as we've known it for decades in serious jeopardy.
And Tom Cruise wasn't having it.
Exhibition isn't entirely out of the woods just yet, but I guarantee you that theater owners would love to plant a big, sloppy kiss on Cruise's lips right about now. Cruise refused to allow "Top Gun: Maverick" to skip multiplexes, and the three-year wait (the film wrapped principal photography in April 2019) was absolutely worth it. Per Deadline, the movie took in a stratospheric $19.3 million from Thursday previews (beginning with 3 p.m. showtimes) and a standalone Tuesday fan event. This is the biggest preview gross ever for Paramount and Cruise, suggesting that early projections of a $100 million Memorial Day weekend were far too conservative. At this point, "Top Gun: Maverick" appears poised to blow by the $140 million holiday record currently held by "Pirates of the Caribbean: At World's End."
Flying some seriously friendly skies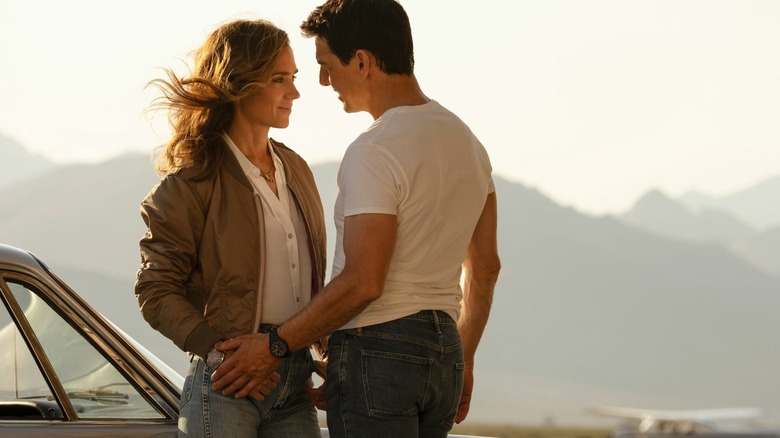 Paramount
According to early audience polling, the long-awaited sequel's box-office journey is just getting started. Deadline reports that "Top Gun: Maverick" hit a 96% positive rating/84% definite recommend on ComScore/Screen Engine's PostTrak polling system. Even better, the film has a 97% fresh rating at Rotten Tomatoes, with old-school critics who disliked the first movie acknowledging that the sequel is worth seeing despite its U.S. Navy-approved jingoism. People need an escape right now, and this movie seems to be hitting all the right buttons.
"Top Gun: Maverick" won't be seeing any serious wide-release competition until "Jurassic World: Dominion" smashes into theaters on June 10, so it should soar past the $220 million domestic take of "Mission: Impossible – Fallout" to become Tom Cruise's highest grossing U.S. release. That's amazing for a sequel to a 26-year-old movie. So when are we getting "Risky Business: Goodson?"
After more than 30 years of service as one of the Navy's top aviators, Pete "Maverick" Mitchell is where he belongs, pushing the envelope as a courageous test pilot and dodging the advancement in rank that would ground him. Training a detachment of graduates for a special assignment, Maverick must confront the ghosts of his past and his deepest fears, culminating in a mission that demands the ultimate sacrifice from those who choose to fly it.