Winnie The Pooh Is In The Public Domain, So Of Course He's A Slasher Villain Now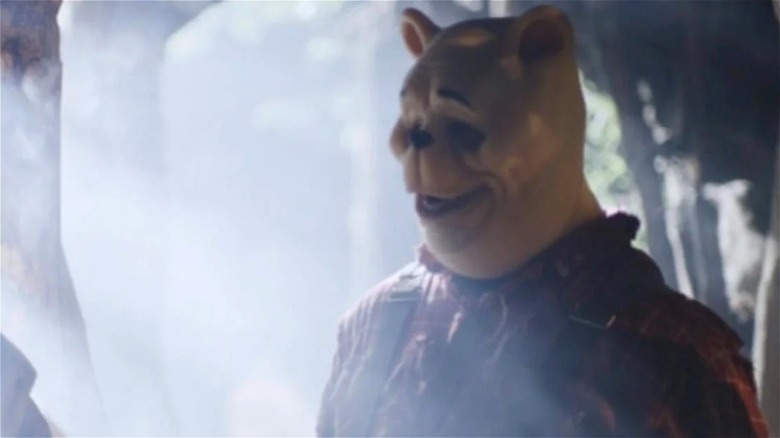 Jagged Edge Productions
Disney's Winnie-the-Pooh is a comfort character for many. For much of the character's 98-year history, the A.A. Milne and E. H. Shepard creation was known as a cuddly bear with a love for "hunny," whose kindhearted thoughtfulness reflected in his friendships with other creatures in Hundred Acre Wood. Pooh is an anthropomorphic teddy bear belonging to Christopher Robin, and the character first appeared onscreen in the 1966 Disney short, "Winnie the Pooh and the Honey Tree." Residing in the Hundred Acre Wood, wherein other anthropomorphic creatures live, Pooh spends most of his time eating honey and bonding with his friends, including Piglet, Tigger, and Eeyore, and others. 
Sometime in January 2022, the Winnie-the-Pooh universe entered the public domain — except for Tigger's character, which is still copyright protected — meaning anyone can take the essence of the character and transform it into anything they deem fit, as long as it is original. Director Rhys Frake-Waterfield has injected a macabre aspect into his upcoming slasher horror, "Winnie the Pooh: Blood and Honey," in which an iteration of Pooh is a monstrous killer (via Bloody Disgusting). 
First-look images from the film feature an individual wearing a frightening Pooh mask, and a rather messed-up version of Piglet, who seem to be stalking a group of people for nefarious ends.
Has Winnie the Pooh always been a bit creepy?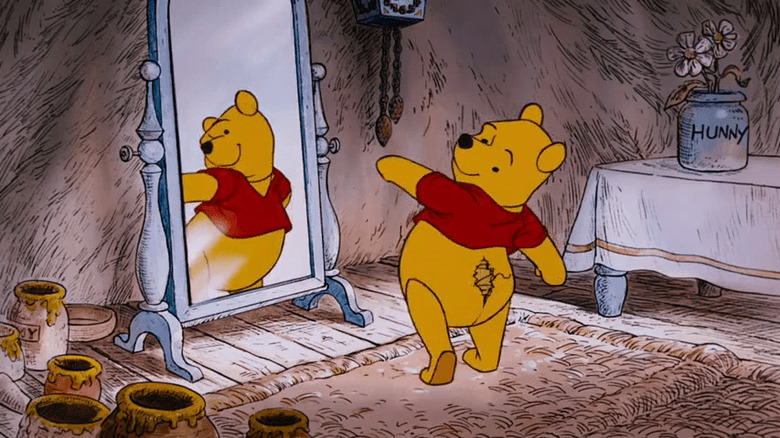 Disney
While Pooh is remembered as a charismatic, lovable teddy bear, has there always been a subtly macabre touch to the classic animated woodland creature? The 1977 film "The Many Adventures of Winnie the Pooh" movie saw Pooh exercising in the mirror while breaking into song, abruptly rotating his head all the way around while casually stitching himself up after his fur gets ripped while doing squats.
There's something off-putting about a sentient teddy bear putting himself back together as his fur rips, especially considering that the adventures at Hundred Acre Wood are meant to symbolize Christopher Robin's vibrant imagination — none of the creatures are real.
Perhaps it is not too surprising that Pooh has been reimagined as a feral killer, as the internet has been home to numerous Winnie the Pooh creepypastas way before the conception of Frake-Waterfield's horror slasher. Additionally, the director spoke to Variety about the slasher reimagining of the classic characters, describing Pooh and Piglet as "the main villains going on a rampage" after being abandoned by an adolescent Christopher Robin:
"Christopher Robin is pulled away from them, and he's not [given] them food, it's made Pooh and Piglet's life quite difficult. Because they've had to fend for themselves so much, they've essentially become feral. So they've gone back to their animal roots. They're no longer tame: they're like a vicious bear and pig who want to go around and try and find prey."
"Winnie the Pooh: Blood and Honey" seems to be keeping the animated roots of the characters in mind, and expanding on a trajectory in which things go horribly wrong, as the film's premise sounds extremely dark.
New sleep paralysis demon, unlocked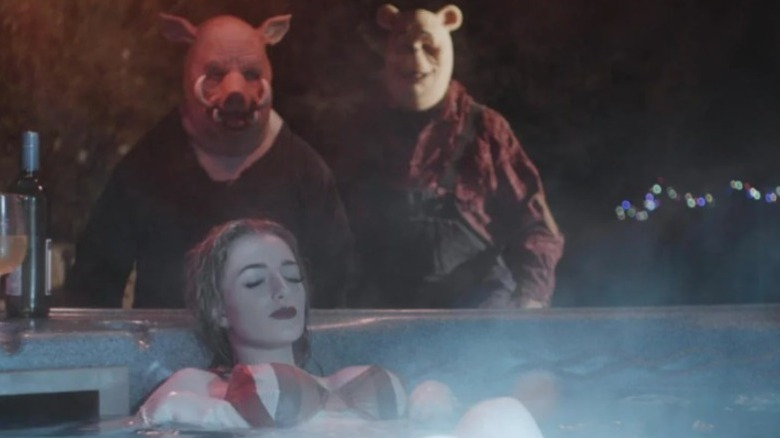 Jagged Edge Productions
Variety reports that "Winnie the Pooh: Blood and Honey" wrapped filming earlier this month, and is currently in post-production along with four other films directed by Waterfield, including "Firenado" and "Demonic Christmas Tree." Filming was done in England, near Ashdown Forest, which served as the original inspiration for Milne's idea of Hundred Acre Wood in "Winnie the Pooh." The film is being produced by Jagged Edge Productions, while ITN Studios will be taking care of distribution. 
IMDb has listed "Blood and Honey" as a "horror retelling of the famous legend of Winnie the Pooh," and the film stars Craig David Dowsett as the murderous Pooh, Maria Taylor as Maria, Danielle Ronald as Zoe, May Kelly as Tina, Natasha Tosini as Lara, Amber Doig-Thorne as Alice, and Chris Cordell as Piglet, among others.
Waterfield went on to describe the tone of the film as one that balances horror and comedy within the ambit of "a wacky concept." While there has been ample room for reinterpretation due to the "Winnie the Pooh" franchise being in the public domain, Waterfield has altered the appearance of the characters drastically, adding an ominous tint to the familiar creatures. While Pooh dons a lumberjack-like attire with suspenders, Piglet wears all-back, as opposed to the telltale pink the character is known to don.
While the limits of human imagination are boundless, turning a bear who is clearly a symbol of friendship and kindness into a frightening killer indulging in weird, twisted shenanigans surely does push boundaries in terms of artistic liberty. 
A release date has not been revealed for "Winnie the Pooh: Blood and Honey" at the moment, but the slasher is expected to release sometime this year.