Tim Roth Replaces Ian McShane In Paramount+ Drama Last King Of The Cross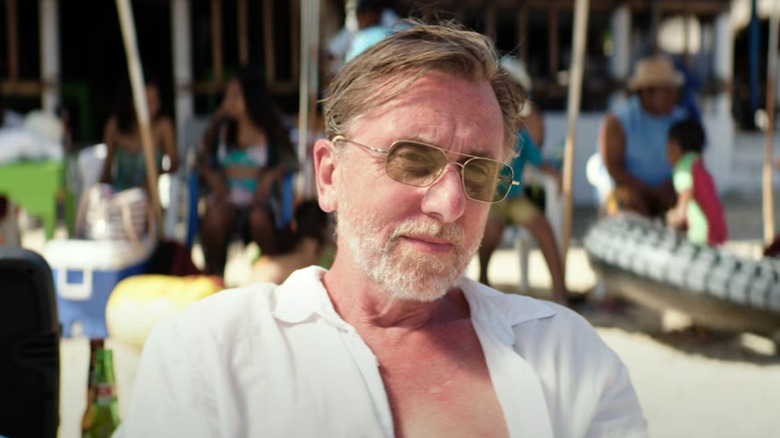 Bleecker Street
The upcoming Paramount+ television show "Last King of the Cross" has added a new member of its ensemble, although the circumstances surrounding this addition could be better.
Tim Roth has boarded the series, which is based on accused crime ringleader John Ibrahim's autobiography (via Deadline). He will be playing Ezra Shipman, the titular and self-appointed "king" of Sydney's nightclub district and the show's de facto antagonist, at least through the eyes of Ibrahim (Lincoln Younes). Shipman and Ibrahim are expected to have a complex rivalry, with the latter reminding the former of his younger years.
If the name sounds familiar, it's because the character had already been cast. Ian McShane, the actor best known for his roles in "Deadwood" and "John Wick," was originally cast as Shipman in March according to an earlier Deadline report. However, it wasn't scheduling conflicts or creative differences that caused the actor to withdraw from the role.
Why Ian McShane withdrew
Although specifics have not been released to the public, McShane was said to have dropped out of "Last King of the Cross" for health reasons. In a statement made by the show's executive producer Mark Fennessy to Deadline, this undisclosed health problem was acknowledged along with Roth's casting:
"It's unfortunate that Ian is unable to join us and we wish him a speedy recovery. We are truly delighted that the super brilliant Tim Roth joins our cast as Ezra and cannot wait to see him breathe life into yet another unforgettable character."
In all honesty, it is commendable that McShane has continued to work over these past few years. The actor has built up a memorable filmography, with many of his major roles being achieved in his later career. At 79 years old, there aren't many actors currently working that have built up the consistently successful workflow that he has, and we hope that he has a stress-free and comfortable recovery.
Hail to the king
As previously mentioned, "Last King of the Cross" will adapt the autobiography of the same name by John Ibrahim. The businessman has made a name for himself throughout Australia for his nightlife empire, with some accusing him of being tied to organized crime rings (via The Sydney Morning Herald). 
The show will center around John and his brother Sam as they rise through the ranks of the King Cross crime circuit in Australia. Unfortunately, as teased by the show's synopsis, the two will "organize the street but lose each other in their ascent to power." In particular, the show will focus on John and his "rise from a poverty-stricken immigrant with no education, no money, and no prospects, to Australia's most infamous nightclub mogul in Sydney's Kings Cross." 
Kieran Darcy-Smith, who directed the 2012 drama "Wish You Were Here" and episodes of "Wolf Creek," will be writing and directing the 10-episode series. Filming is currently ongoing in Sydney, with Paramount+ not yet setting a release date for the show.