Star Wars: The Bad Batch Season 2 Trailer: Attack Of The Clones, Again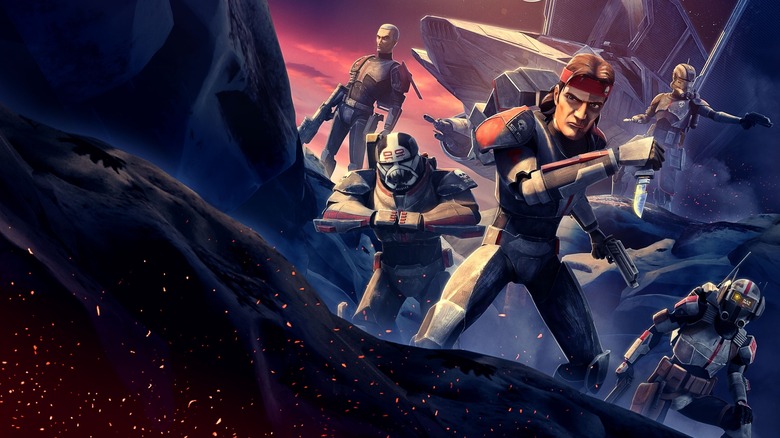 Lucasfilm
There's just something different about "Star Wars" in animation. Both "The Clone Wars" and "Rebels" took advantage of the medium, pushing the boundaries of what George Lucas' original vision could look and feel like on their way to becoming some of the most well-received and critically acclaimed installments of the entire franchise (though not without some growing pains, of course). Even the live-action Disney+ shows seem aware of this fact, with "Star Wars" guru Dave Filoni bringing entire characters and storylines over from previous animated shows — the Darksaber, Bo-Katan, Ahsoka Tano, and Cad Bane, just to name a few — in a concentrated effort to further connect the universe, Marvel-style.
"Star Wars: The Bad Batch" perhaps doesn't reach the heights of some of its animated predecessors, but the Clone-centric series serves as both a sequel and a spin-off to "The Clone Wars." After its debut last year, fans quickly gravitated towards the continuing adventures of the elite commando unit known as Clone Force 99. Burdened with genetic mutations and an actual sense of agency that immediately sets them apart from their other Clone peers, the fabled Bad Batch made up of Hunter, Tech, Crosshair, Wrecker, and the cyborg Echo embarked on a journey that took them from mindless tools of the nascent Empire to their own unique path focused on the plight of Clones after the events of the prequels.
With season 2 already confirmed before the first season even ended, this year's Star Wars Celebration has now brought us our first look at the new adventures of the returning Clones. Watch it for yourself below!
Star Wars: The Bad Batch season 2 trailer
Developed by Dave Filoni and Jennifer Corbett, "The Bad Batch" stars voice actor Dee Bradley Baker as the various members of Clone Force 99 — all of whom first made their debut in season 7 of "The Clone Wars" — along with Michelle Ang as the mysterious Omega, a female Clone who eventually falls in with the rest of the Bad Batch. Various other characters from throughout the "Star Wars" universe also appeared in the inaugural season, from Captain Rex (also voiced by Dee Bradley Baker) to a younger version of Fennec Shand (Ming-Na Wen) to Admiral Tarkin (Stephen Stanton) and Saw Gerrera (Andrew Kishino), as well. The first season ran for a total of 16 episodes, diving deep into the lore of the series and ultimately resulting in a first season with plenty of room for improvement.
This next season of "The Bad Batch" promises to up the ante even further, bringing back Clone Force 99 and picking up the action as the Empire continues to expand into a force (no pun intended!) to be reckoned with. Filoni will oversee the project in his usual role as executive producer, with Jennifer Corbett as head writer and Brad Rau as supervising director. 
"The Bad Batch" season 2 will premiere exclusively on Disney+ in Fall 2022.