Only Murders In The Building Creator John Hoffman Teases 1970s Serial Killer Vibes In Season 2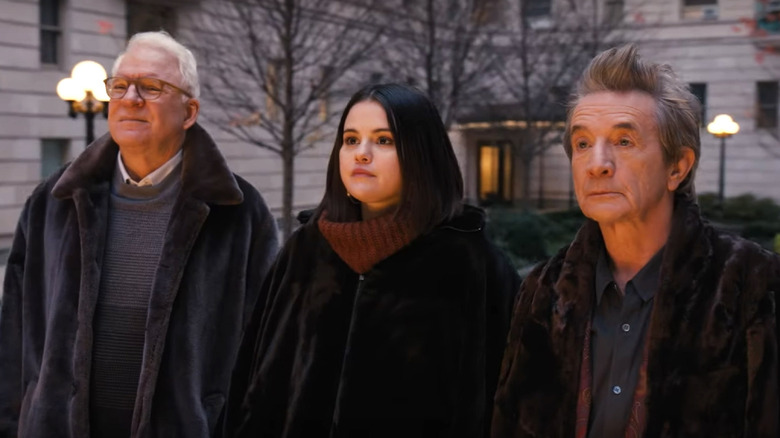 Hulu
After winning laughs and hearts alike with a charming first season, "Only Murders In The Building" proved to be one of the most addicting new shows of last year. And with its cozy coats and sweet friendships, it also earned its place as a Fall comfort watch. Now the murder-mystery comedy is gearing up for a second go and this time, it's injecting serial killers into the mix! What more could you want from a relaxing Tuesday night romp in New York City?
The series follows three residents of the affluent Upper West Side apartment building, the Arconia: former '90's TV star Charles Haden-Savage (Steve Martin), washed-up broadway director Oliver Putnam (Martin Short), and a mysterious young woman renovating her aunt's apartment, Mabel Mora (Selena Gomez). Short, Martin and Gomez certainly make an unexpected trio, but that's the magic of the show! As series co-creator and executive producer John Hoffman put it during a chat with the Deadline podcast: "The whole show is built on classic meets modern."
The three true-crime-obsessed neighbors first bond over their podcast listening habits but when a real murder occurs in their building, decide to not only solve it, but also record a podcast of their own about the investigation. While they managed to figure out who was responsible for season 1's murder, a new body has raised even more questions for season 2. So where do the serial killer vibes fit it? Turns out, it's all part of the Arconia aesthetic.
Taking inspiration from Rosemary's Baby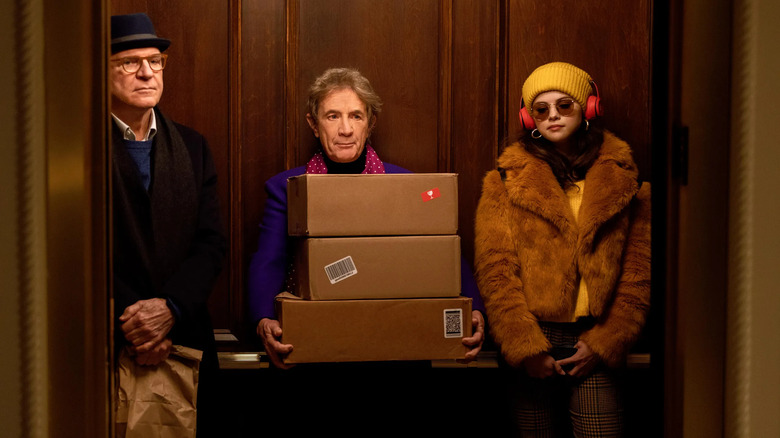 Hulu
Hoffman explained that he arrived at the series through executive producers Martin, Dan Fogelman, and Jess Rosenthal. Once the bones of the show were presented he jumped at the opportunity.
"Immediately, like a good idea does, it brought forth like a volcano of other ideas ... The first thing I thought was oh my god, I've wanted to do a show in New York City my whole life basically. I was born in Brooklyn and it was a dream of mine to do a show or movie in New York. And then when I heard the idea — I thought. a pre-war apartment building? My first thought was 'Rosemary's Baby.' There hasn't been a great signature apartment building show or film since then. And you pointed to something that's maybe a bit of a spoiler or teaser for this coming season, because of what you referenced in the 1970s serial killer attitude that happened around that time in New York."
Between the promise of "serial killer" vibes and the reference to "Rosemary's Baby," the second season of "Only Murders" sounds even more intriguing than the first — which is really saying something. So far, the show has put the Arconia to great use — the building certainly feels very classic Manhattan, elegant and historical, but with a nice dash of mystery thanks to those long halls and its many mysterious residents. The Arconia probably isn't haunted by literal Satanists in the same way that the Bramford was, but the residents are definitely the biggest source of horror: it seems that more than one of the trio's neighbors has a penchant for murder. The second season follows yet another Arconia-based murder, per the synopsis:
Following the shocking death of Arconia Board President Bunny Folger, Charles, Oliver & Mabel race to unmask her killer. However, three (unfortunate) complications ensue – the trio is publicly implicated in Bunny's homicide, they are now the subjects of a competing podcast, and they have to deal with a bunch of New York neighbors who all think they committed murder.
Season 2 of "Only Murders in the Building" is set to premiere on Hulu on June 28, 2022.