The Spike Lee Film That Had A Massive Impact On Edward Norton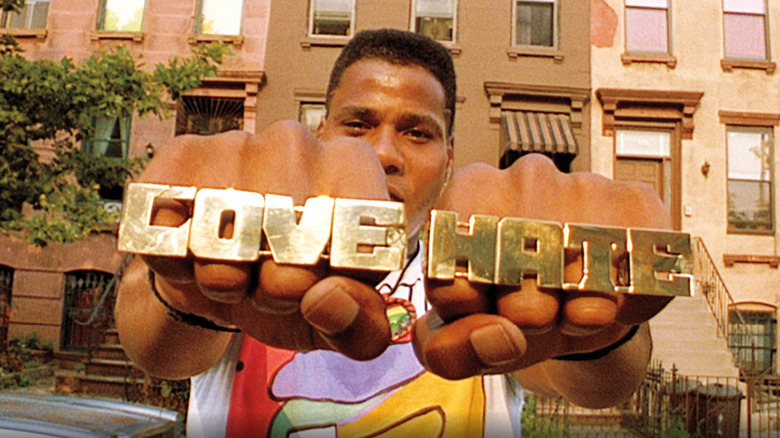 Universal Pictures
Edward Norton has worked with some of the finest filmmakers on the planet (e.g. Ridley Scott, David Fincher and Miloš Forman), but getting to star in Spike Lee's "25th Hour" was a dream come true. Whenever the director comes up in an interview, Norton will rave at length about his movies. He loves to tell the story of being so blown away by 1998's "He Got Game" that he promptly wrote gushing letters to Lee and Denzel Washington. But there is one Spike Lee movie that he cherishes above all the others, one that not only blew his mind, but completely changed the way he approached acting and cinema in general. And of course it's "Do the Right Thing."
In a career-spanning 2020 interview with Yahoo Entertainment's Kevin Polowy (pegged to the release of his long-awaited second directorial effort, "Motherless Brooklyn"), Norton explains how the era-defining film shook him up.
An amazing, audacious, original thing
"'Do the Right Thing' had a massive, massive impact on me," said Norton, adding: 
"It was probably one of the definitive films of my young adult life. When we were doing ['25th Hour'], Phil Hoffman and I talked about how much 'Do the Right Thing' changed our goals. It changed our aspirations for the kind of work we wanted to do because it was so... joyful, it was so funny, it was so entertaining. But it was also this really serious dive into some of the thorniest issues of American life. [Lee] was this kid. He was, like, a couple of years out of film school, and he writes and produces and directs and stars in this movie about his neighborhood, and it's one of the greatest American films of the last fifty years. It was like, 'Holy crap, what a swing. What an amazing, audacious, original thing – and it's serious, too.' It was like, 'That's what you're going for.' So we came on to ['25th Hour']... pretty steeped in Spike."
A real, raw movie about race relations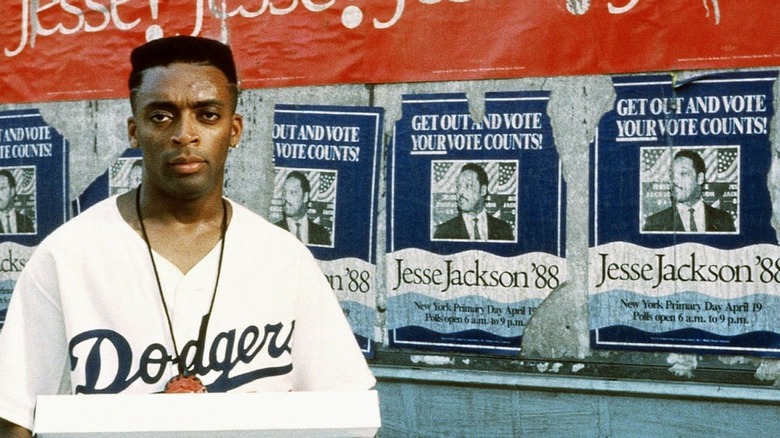 Universal
Lee was actually 32 when "Do the Right Thing" struck American pop culture like a thunderbolt, but Norton is right to be blown away by what the filmmaker pulled off under the aegis of a major studio. When it came to tackling the subject of race relations, Hollywood's track record was tremendously spotty. Aside from rare exceptions like "Odds Against Tomorrow," "In the Heat of the Night," and "Sounder," the studios preferred conciliatory takes on the subject that often centered on white characters (e.g. "Guess Who's Coming to Dinner," "Mississippi Burning," and "Cry Freedom"). Also, due to the industry's depressing dearth of Black filmmakers, these movies were almost always directed by white men.
Norton is equally astute in noting that the film was not, as several white critics and essayists claimed at the time, a reckless incitement to violence. For the majority of its run time, "Do the Right Thing" is an ecstatic depiction of urban life. Lee's Bedford-Stuyvesant neighborhood is alive with music, trash talk, and sensuality. It's vibrant, hilarious and damn sexy. Hollywood movies didn't look or sound anything like "Do the Right Thing," largely because people who looked like Lee weren't allowed to make films about people who looked like him (which is why the director went to the mat and then some to land the "Malcolm X" gig).
Crossover appeal without crossing over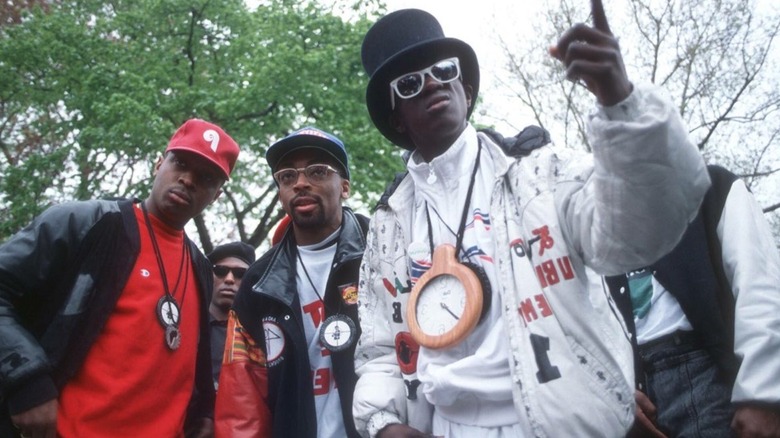 Motown
Norton also marvels at Lee's ability to wear multiple hats while concocting such a singular vision. 33 years later, this might be the director's most important achievement. Lee wasn't just an artist. He was a salesman who sold himself. His "She's Gotta Have It" character Mars Blackmon played clown to Michael Jordan's straight man in those classic Nike commercials. In 1990, Lee opened a store in Fort Greene, Brooklyn called Spike's Joint, which sold merchandise tied to his films. If a reporter placed a microphone in front of him, he was more than happy to speak brazenly and at length (which sometimes landed him in hot water). Lee's rise also dovetailed with the explosion of "Yo! MTV Raps," where his music video for Public Enemy's "Fight the Power" was featured prominently throughout 1989.
Spike Lee was everywhere! Sure, he had his detractors, but for Gen X creatives like Norton and Hoffman, the filmmaker was an inspiration in his ability to bring daring, innovative cinema to the mainstream. There's never been anyone like Spike, and we are deeply in his debt for inspiring so many great artists across a myriad of mediums. Here's hoping he continues to roil the waters with captivating cinema for many more years to come.