Movies Like The IT Franchise You Should Watch Next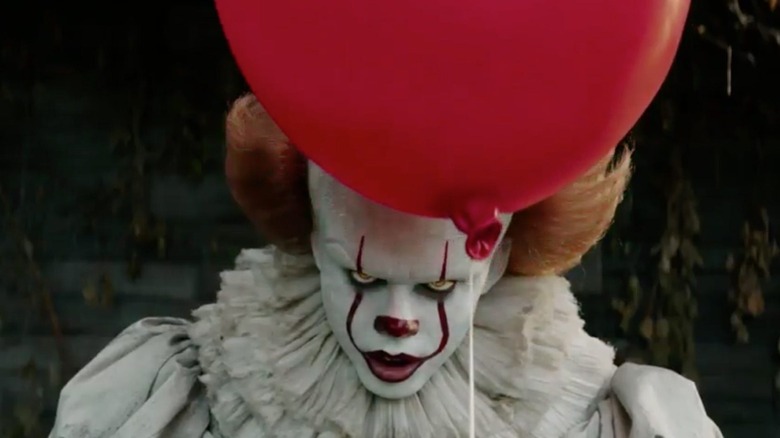 Warner Bros.
Andy Muschietti's "IT" franchise might have left fans with some unanswered questions, though there's no denying it set the horror world ablaze with its cosmic weirdness and killer clown. As fans speculate about the series' next directions, currently poised to be an HBO Max miniseries, they're like to find a giant, Pennywise-shaped hole in their heart. "It: Chapter 2" was a divisive entry, and both fans and casual audiences are likely looking for something to satiate their horror appetites, at least until the fourth season of "Stranger Things" premieres.
"It: Chapter 1" and "2" adroitly encapsulated the eighties fever dominating the film and television landscape at the time. With a mixture of full-borne horror and coming-of-age sensibilities, the "It" franchise was cinema's answer to "Stranger Things" and the remunerative nature of nostalgia. Adapting a classic text and shifting it to a classic decade worked like gangbusters. Perfectly balancing comedy and cosmic horror, "It" left its mark. These 15 movies, in some capacity or another, embody the dastardly spirit of Pennywise and are certain to make the wait for more "It" that much more bearable.
Summer of 84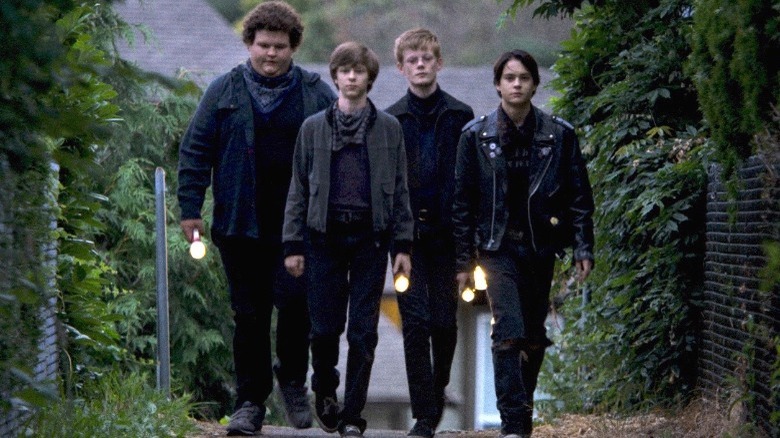 Gunpowder & Sky
"Summer of 84" is distinct insofar as it had not just one or two directors but three. François Simard, Anouk Whissell, and Yoann-Karl Whissell all worked together on their '80s-set iteration of "Rear Window" meets "Stranger Things," though it would be impossible to tell from the finished product, given how assured and resonant it ended up being. In the decade preceding the summer of 1984, over a dozen young boys have gone missing in Cape May, Oregon, though no one seems all that interested in connecting the dots.
Enter Davey Armstrong (Graham Verchere), a young paperboy who is unusually suspicious of his police officer neighbor, Wayne Mackey (Rich Sommer). After Wayne spots a missing boy entering Wayne's house, he and his friends — in classic synth fashion — endeavor to prove to their town that Mackey is the "Cape May Slayer." "Summer of 84" starts as a cruder riff on "Stranger Things," though its third act sets it apart considerably. "Summer of 84" gets dark, going to places most genre properties shy away from. It's a disorienting tonal shift that works in the movie's favor, helping to distinguish itself from sundry other nostalgic horror rides.
Scream (2022)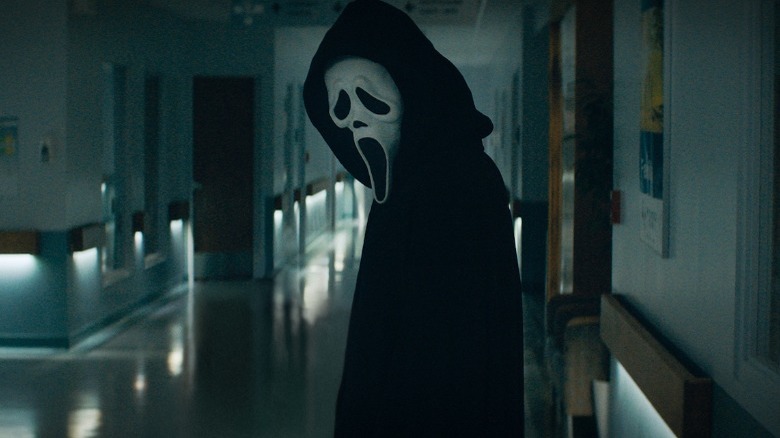 Paramount Pictures
Directing duo Radio Silence (Matt Bettinelli-Olpin and Tyler Gillett) accomplished the impossible with their sequel to the late Wes Craven's long-running meta-slasher franchise. A pitch-perfect balance of carving out a new identity and honoring the past, the fifth entry in the "Scream" franchise feels akin to an impossible achievement. It not only works but also feels right at home alongside the four preceding entries. In other words, it's a movie Wes Craven would have been proud of.
Tapping into the burgeoning "requel" trend whereby studios resurrect old properties with legacy players and new stories, "Scream" is a caustic and consistently hilarious skewering of the current state of filmmaking. It taps into the adolescent interplay that made "IT" so successful without sacrificing genuine scares and tension in the process. It's the best entry in the series since the second and proves, like Andy Muschietti did with "IT," how effective new blood is at making something old feel fresh again.
Stand by Me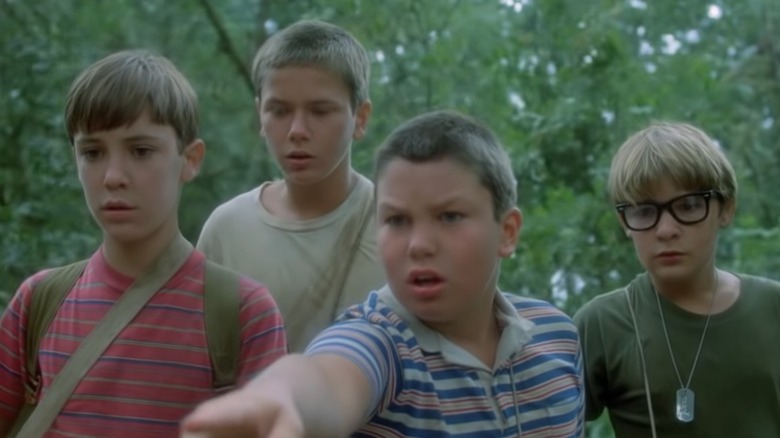 Columbia Pictures
Rob Reiner's "Stand by Me," adapted from Stephen King's novella, "The Body," is perhaps "IT's" second most conspicuous influence outside of "Stranger Things." King himself might as well have included Pennywise alongside the young cast since in doing so, little would have changed. That isn't a bad thing, either. While it lacks "IT's" bonafide scares, "Stand by Me" more than makes up for it with genuine pathos and a whirlwind of sensational adolescent performances from Wil Wheaton, Jerry O'Connell, Corey Feldman, and the late River Phoenix.
Trapped in a perennial state of childhood ennui, Wheaton's Gordie and company embark into the woods one summer afternoon to see if they can track down a dead body. It's the kind of lark only young boys know, a day's long excursion to see a dead guy. Nothing more, nothing less. A troubling, dour heart beats beneath the surface, though, with Reiner successfully tapping into the nuance of King's writing to convey the hidden pain and grief these young boys have internalized. "Stand by Me" is "IT" without the killer clown, and it remains a coming-of-age touchstone for good reason.
Super Dark Times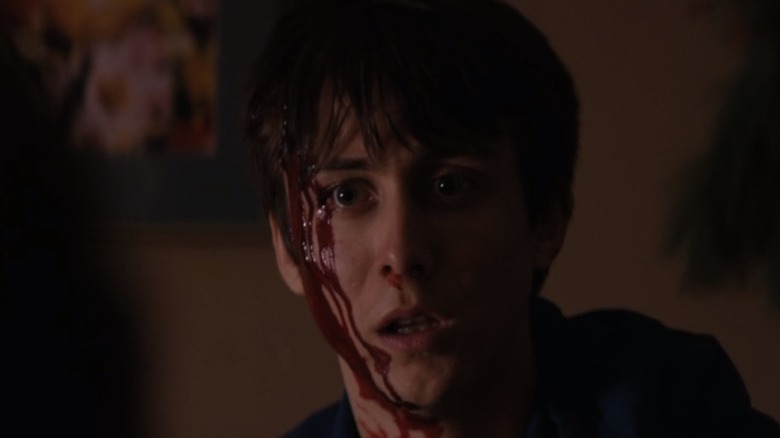 The Orchard
Everything audiences need to know about Kevin Phillips' "Super Dark Times" is in the title. Ostensibly a character study that distinctly trades in the iconography of the 1990s, "Super Dark Times" is secretly a horror movie. Phillips slowly unfurls his crafty narrative web throughout the runtime, culminating in a third-act twist that completely upends expectations in the best possible way.
Zach (Owen Campbell) and Josh (Charlie Tahan) are two best friends living in Upstate New York in the 1990s. One day, they decide to screw around with a sword, and their acquaintance, Daryl (Max Talisman), is accidentally killed by Josh. Rather than reporting it, the boys decide to hide Daryl's body. Consequently, they're racked with grief and paranoia, especially Zach. Strangest of all, however, is just how little Josh seems to care. As Josh pilfers his brother's marijuana stash and grows in popularity, he swaggers around like someone who hasn't just accidentally killed another person. No spoilers here, but trust that "Super Dark Times" is very much a horror movie that plays the same nostalgic fiddle as "IT." However, the monsters in "Super Dark Times" are very much human.
Annabelle: Creation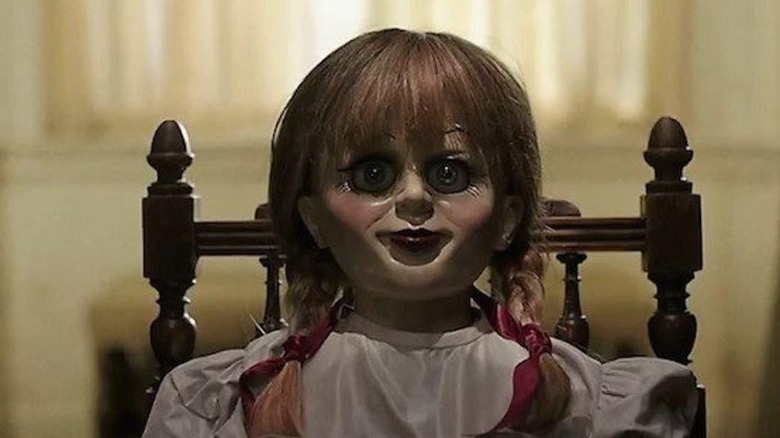 Warner Bros.
John R. Leonetti's 2014 "Annabelle" is a better movie than most might give it credit for, though it is an objectively odd way to introduce the titular Annabelle doll (first featured in James Wan's "The Conjuring") to her own quasi-franchise. One of the core problems is Mia, portrayed by Annabelle Wallis. Wallis is great, but a movie about a possessed doll almost demands an adolescent perspective. It's strange to see so many adults grapple with a haunted porcelain Annabelle in the first place.
Director David F. Sandberg, fresh off the success of "Lights Out," seems to have understood this. A prequel, "Annabelle: Creation" traces the origins of the titular doll, flanking her with a group of orphans and their new accommodations at a rural ranch. The shift in perspective imbues "Creation" with a vibe not quite unlike "IT," with bullies, the power of friendship, and relative strangers banding together to combat an unstoppable evil. It helps, too, that "Annabelle: Creation" is seriously scary, delivering some of the best jolts the expansive "Conjuring" universe has ever seen.
Closet Monster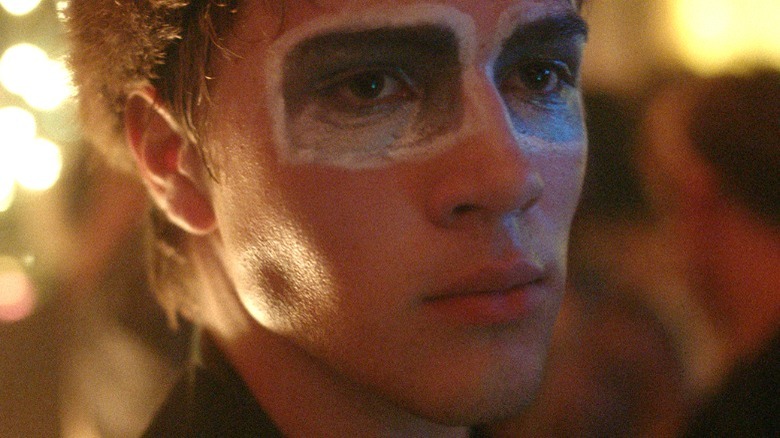 Elevation Pictures
"Closet Monster" is one of the last decade's most underrated indie debuts. A body horror movie with coming-of-age sensibilities, "Closet Monster" is never especially scary, though Stephen Dunn's script could easily be attributed to the likes of Stephen King on account of how tenderly conveyed its central metaphor is. Oscar Madly (Connor Jessup) is 18 and closeted, living with his explicitly homophobic father after his parents divorced a decade prior. He is haunted by severe stomach pain and hallucinations, reminders of a violent homophobic attack he witnessed growing up.
Oscar grapples with a new crush, adolescent ennui, and even the care of his pet hamster, Buffy, who he imagines can talk. It's wildly creative, with the body horror elements most pronounced when Oscar tries to explore his sexuality. Given how much "IT: Chapter 2" stumbles with its queer representation, "Closet Monster" could serve as something of a palate cleanser, with Dunn adroitly merging genuine representation with effective horror elements.
Little Monsters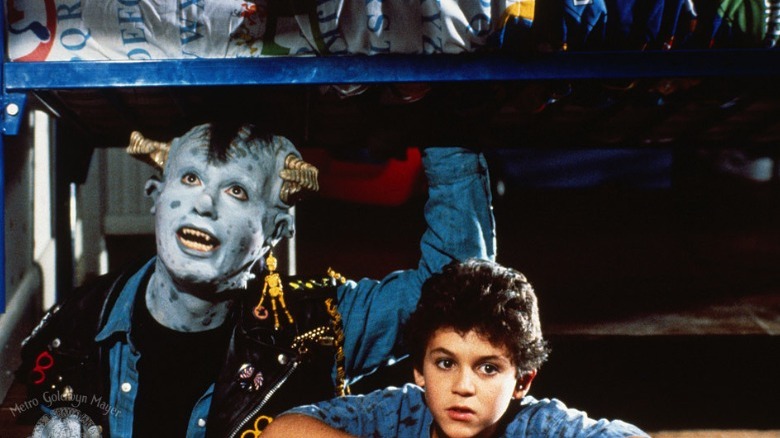 United Artists
This isn't the 2019 Lupita Nyong'o zombie movie, though that one is also very good and worth seeing. No, this is Richard Alan Greenberg's "Little Monsters," the 1989 kid-friendly comedy-horror movie starring none other than Fred Savage. Fred Savage was everywhere in the 1980s and 1990s. He was in "The Princess Bride," "The Wonder Years," and even cameoed as himself on "Seinfeld."
He stars as Brian Stevenson, a young boy who traps a monster named Maurice (Howie Mandel) in his brother's room and discovers a world of monsters living beneath. All former children, these monsters have access to beds around the world. In the dark of night, they sneak into bedrooms to pull pranks and cause general mischief. Though fun at first, Brian develops a growing awareness that the monsters sometimes take it too far, and worse still, the longer he stays there, the closer he comes to transforming into a monster. It's all kid-friendly fare, but it has a genuine heart, especially as the central kids team up to (of course) combat the big monster baddie. A family-friendly "IT," "Little Monsters" is mandatory Halloween viewing.
Haunt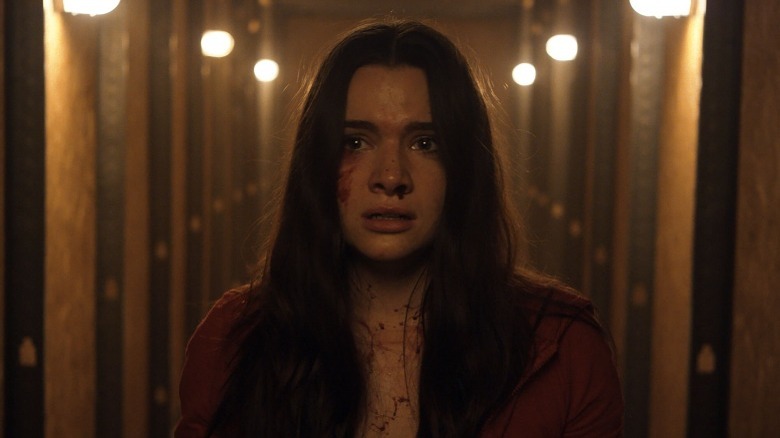 Momentum Pictures
Fresh off the success of "A Quiet Place," writers Scott Beck and Bryan Woods helmed "Haunt," a Halloween slasher that did more to revitalize a waning subgenre than most other 2019 releases. A back-to-basics template that prioritized scares and playful misdirection over subversive twists and seismic formula shifts, "Haunt" captivated audiences.
Katie Stevens stars as Harper. On Halloween night, she and several friends visit an off-the-path haunted house, ostensibly of the extreme variety, that asks them to sign liability waivers and surrender their cell phones. As haunts themselves have swelled in popularity, it's a grounded, believable set-up to isolate the core group of young adults, leaving them to the mercy of the haunt's proprietors. Of course, the danger inside is real, and Harper and her friends are left to contend with a variety of masked maniacs. Balancing Andy Muschietti's wit with some bonafide scares, "Haunt" is an indelible throwback to the subgenre's heyday.
The Hole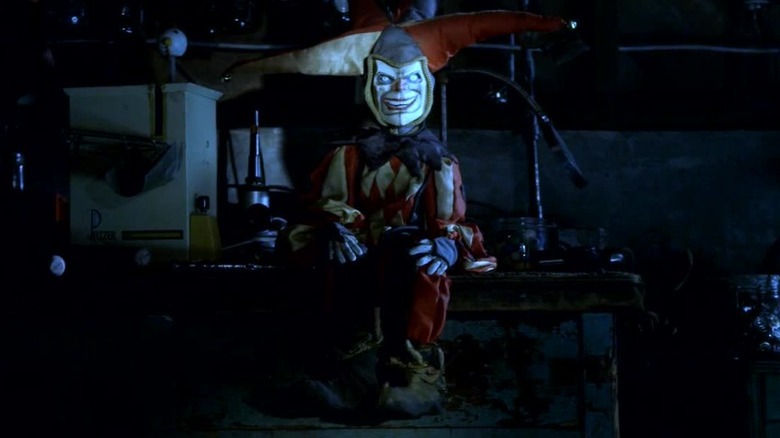 Big Air Studios
Director Joe Dante of "Gremlins" and "Small Soldiers" fame has all but retired from directing features (although he has several projects in the works), with his last, "Burying the Ex," released in 2014. It was five years before that when he directed "The Hole." Once the apotheosis of devilishly dangerous kid fare, Dante's presence might have waned, but his sensationally fun wit, as evidenced in "The Hole," remains a core part of his filmmaking style.
Conspicuously working with fewer resources, "The Hole" still entices with its giddy, throwback charm. Dane and Lucas Thompson (Chris Massoglia and Nathan Gamble) are brothers who discover a large bottomless hole in their basement. Alongside new crush, Julie (Haley Bennett), they endeavor to unravel the mystery of what the hole might be. With cosmic horror elements and an accessible family-friendly verve, "The Hole" harkens back to the horror of the 1980s in the best possible way. It's scary, it's fun, and it's perfect for audiences who want the feeling of "IT" without all the gore.
The Gate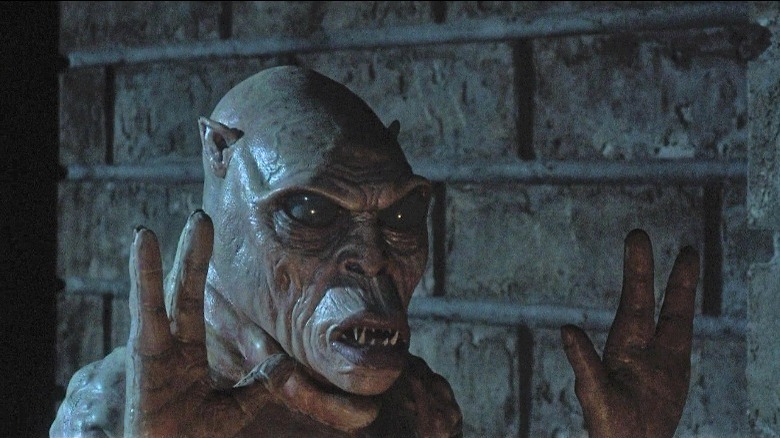 New Century Entertainment
Speaking of holes, Tibor Takács' "The Gate" also deals liberally in the horrors of random, bottomless holes. Middle schoolers Glen (Stephen Dorff) and Terry (Louis Tripp) discover a large hole and a geode in Glen's backyard after the completion of some construction work. Not wanting to leave well enough alone, they break open the geode, read some incantations, and accidentally unleash a horde of demons from within the ground.
Not just a regular hole, it's actually a gateway to a domain of evil gods. With Glen's parents out of town, it's up to him, his sister Al (Christa Denton), and Terry to stop the evil. A mixture of "Gremlins" and "IT," "The Gate" is darker than most kid-centric offerings, but it's still the perfect horror gateway for young fans. With the adolescent banter and accessibility of "IT," "The Gate" is a wonderful springboard for burgeoning horror fans.
Stitches
MPI Media Group
"Stitches" features a death scene set to Cutting Crew's 1986 hit "(I Just) Died in Your Arms Tonight." If that's not enough to sell an audience, there's no telling what is. Conor McMahon's horror comedy follows the clown Stitches (Ross Noble) after he returns from the dead to seek revenge on the teenagers who caused his death years prior in a prank gone awry. As the teens party, drink, and smoke, Stitches lurks, picking them off one by one.
The killer clown subgenre might seem like a given, especially on the heels of Andy Muschietti's "IT," but it's considerably smaller than most audiences might realize. Worse still, even those few entries it does have rarely register as something worth watching. "Stitches" thankfully leans hard into its comedy roots, delivering heaps of gross-out gore, sensational gags, and a terrific performance from Noble as the undead killer clown. Fun, funny, and craftier than it needs to be, "Stitches" leaves its audience in ...  stitches.
Night of the Creeps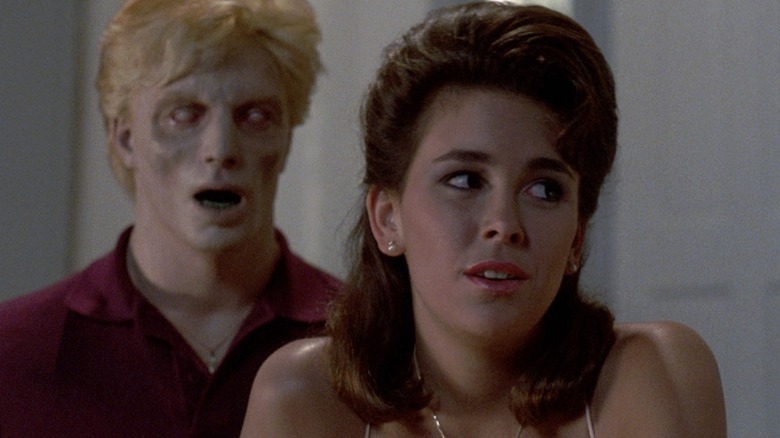 TriStar Pictures
"Night of the Creeps" taps into such a specific vein of nostalgia, that it's almost impossible to resist. Director Fred Dekker's feature debut adroitly captures the minutiae of the freshman experience, first love, and the follies in trying to make sense of the world as a young adult. It's so tender and finely tuned that "Night of the Creeps" would have arguably worked even without the parasitic slugs turning everyone into zombies.
Jason Lively stars as Chris Romero, a fraternity pledge caught in the middle of what amounts to an alien invasion from a horde of nasty, slimy slugs. With elements of 1950s B-movies, George A. Romero's "Night of the Living Dead," and slasher flicks thrown in to round it out, "Night of the Creeps" is a hodgepodge of horror subgenres that never feels anything less than deliberate. It matches "IT" in terms of balancing scares, gore, and humor. And like Stephen King's works, it has an endearing, beating heart at its core. Horror rarely gets better than this.
The Babysitter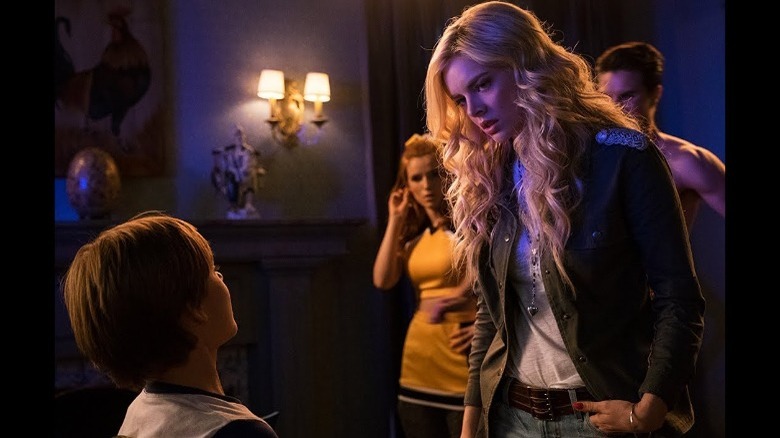 Netflix
McG's directorial style isn't for everyone. It's so frenetic, flashy, and replete with quick cuts and stylistic flourishes that it's as liable to produce nausea as it is enjoyment. While "Rim of the World" features his quasi-juvenile impulses at their worst, "The Babysitter," distributed by Netflix, shows how much promise his manic energy can yield. That "The Babysitter" works at all despite its broad humor and childish gags is attributable to stars Samara Weaving and Judah Lewis.
Lewis stars as Cole, a bullied young kid whose babysitter, Bee (Weaving) happens to be the hottest girl in town. She's a geek's fantasies incarnate. She knows comics and sci-fi, likes classic rock, and even lets her charges have a drink or two — a secret shared just between them. Unfortunately, Bee is also a cultist, and she and her other high school friends have planned to sacrifice Cole to the devil. "The Babysitter's" tongue is planted firmly in cheek, and supporting players Robbie Amell, Bella Thorn, and Hana Mae Lee work wonders to make the material more palatable. It's a sweet, uber-violent coming-of-age parable in the vein of "IT," and it marks one of Netflix's best original horror offerings in years.
Waxwork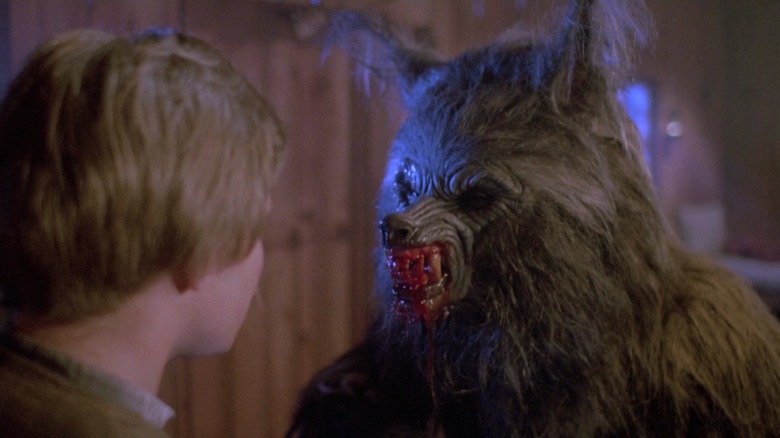 Vestron Pictures
A core component of Pennywise's modus operandi is his capacity to embody his victims' greatest fears. Whether werewolves, geysers of blood, or germ-ridden lepers, Pennywise knows exactly what form to inhabit to continue his cosmic workings. Anthony Hickox's "Waxwork" works similarly, trapping six teens in a mysterious wax museum with the curious capacity to transport their bodies into the stock horror displays. "Waxwork" leans hard into the diversity of horror that helped make Pennywise so successful as a horror villain, ensuring its scares and monsters never wear out their welcome.
Led by Zach Galligan of "Gremlins" fame, the hapless teens contend with werewolves, vampires, the Phantom of the Opera, a mummy, and several other hallmarks of horror iconography. Like "IT," the film deftly balances genuine scares with smatterings of adolescent humor, paying homage to an entire genre in one wonderfully crafted slasher with a setting Vincent Price would be proud of.
Scary Stories to Tell in the Dark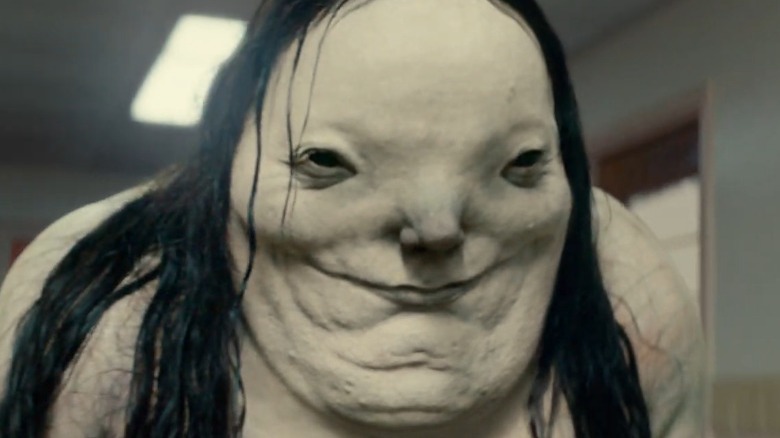 Lionsgate
André Øvredal's "Scary Stories to Tell in the Dark" should not have worked. A long-gestating adaptation of Alvin Schwartz's children's book series of the same name, fans have long acknowledged that it's Stephen Gammell's charcoal and ink artwork that made the series a generational touchstone. That's no slight against Schwartz, a writer who successfully translated centuries of folklore and urban legends for a younger audience, but Gammell's illustrations were so provocative and subversive that without them, a movie would never stand a chance.
Luckily, Øvredal and producer Guillermo del Toro preserved the best of Gammell's work when streamlining the three-book series to film. Rather than being told in episodic or anthology form, writers Dan and Kevin Hageman created a new central narrative around a cursed book whose stories come to life. With its period setting, boundary-pushing scares, and sensational villains, "Scary Stories to Tell in the Dark" might be best thought of as the PG-13 alternative to "IT."